Inheriting many of the desired qualities that made her mother an exceptional athlete, 8-year-old Argentine mare LAC Lápiz (Open Vital x Pato) has already made an impact in her American debut, helping Farmers & Merchants Bank reach the FMB Silver Cup® Final. A homebred from Lucas Criado's breeding operation LAC (Lucas Alberto Criado), Lápiz was hand-picked by 18-year-old Luquitas Criado for his Santa Barbara string. Meaning "pencil" in Spanish, Lápiz was born with the endurance and competitive spirit to inspire confidence in the young 4-goaler. Playing the 24-goal Campaña and Copa Provincia in Argentina, Lápiz arrived in the United States February 2021, performing well with Lucas Criado Sr. in the 12-goal before stepping up to the 16-goal level.
A natural polo talent like her mother and siblings, Lápiz is powerful and energetic on the field yet calm and easy to handle, quickly transforming into an ideal high-goal prospect. A stunning dark bay distinguished by a healthy dose of dapples and prominent white star, Lápiz is saved exclusively for the sixth chukker, proving to be a solid choice in the most pivotal moments of the game. Returning to the field to write her own story in the Pacific Coast Open Semifinals, Lápiz is just the horse capable of leading Criado Jr. to his first 16-goal trophy.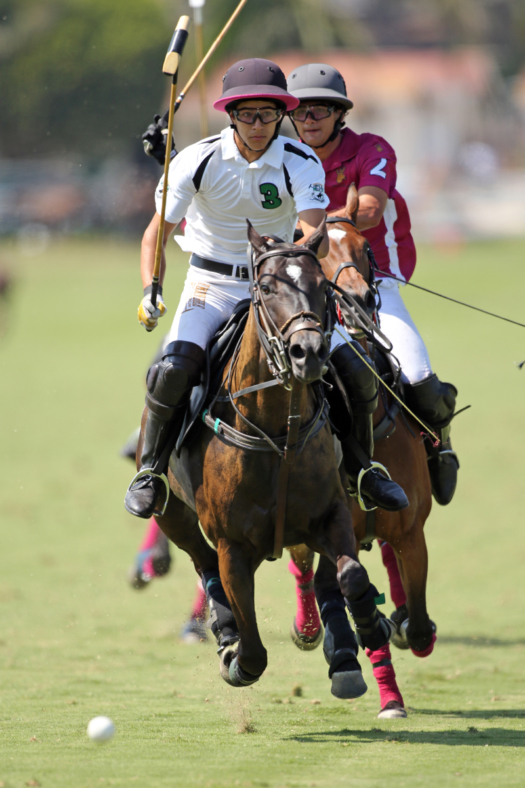 Luquitas Criado played LAC Lápiz throughout the 2021 Farmers & Merchants Bank Silver Cup®. ©David Lominska
How did you get started in polo?
Lucas Criado: "I am a first-generation polo player and I started playing polo at 17-years-old when I had the opportunity to work with Gonzalo Pieres at Ellerstina. I've been in polo now for 30 years and I was lucky because when I started working with Ellerstina in 1990 it was a good organization that was growing and I learned so much there. After that I started traveling and I played in New York, Florida, and spent a few years in England.
I started breeding my own horses 16 years ago at my farm El Pegual in Buenos Aires, Argentina. I had bought some good horses when I started playing and when the mares retired I decided to start breeding them. I have a group of people in Argentina who work year-round and begin training the horses for polo when they are born."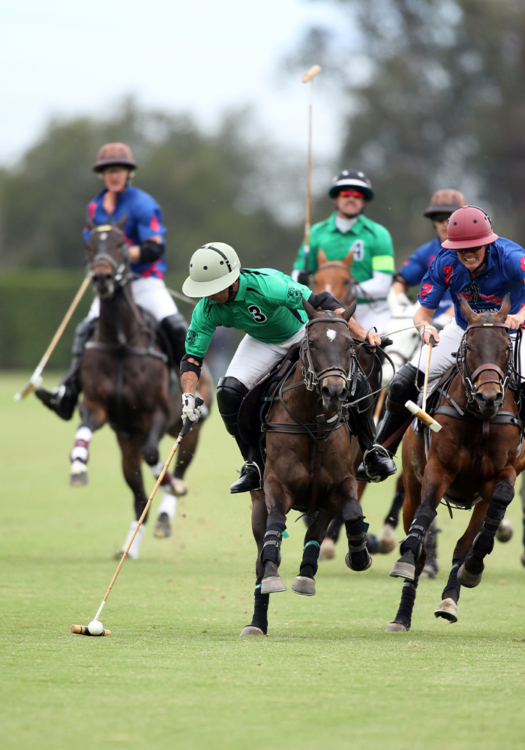 LAC Lápiz began the season at Santa Barbara with Lucas Criado Sr. in 12-goal competition. ©David Lominska
Why did you decide on this breeding combination?
Lucas Criado: "I played Pato in the Argentine Open for six or seven years and then I brought her to the United States to play in Florida for two or three seasons. She was amazing so I decided to send her back to Argentina as a broodmare and she has become one of the top dams in our breeding operation. All of Pato's offspring are easy to make into polo ponies because they are very natural from the beginning and like to play the game.
We've bred different stallions with Pato but the combination with Open Vital is good and we already have a few sisters out of her. I bought Open Vital 10 years ago at an auction and I now have three generations of his offspring. We are playing six of Pato's offspring [Bandana, Pava, Aji, Patita] here in Santa Barbara including LAC Lápiz's full sister Pataleta, but Lápiz is very special because Luquitas and I both played her previously in Argentina. Luquitas really likes her and that's why he chose her to be on his horse list for the Santa Barbara season."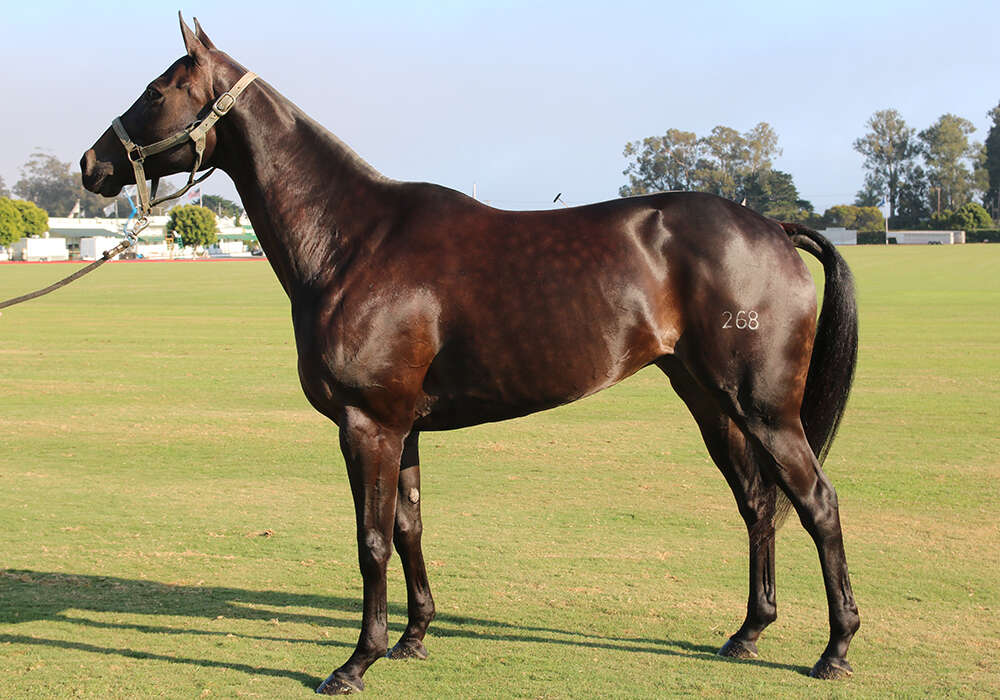 ©United States Polo Association
"I have played Lápiz since she was four years old and she has continued improving. I don't think she has reached her peak yet, but I believe she will next year because she has been playing really well in Santa Barbara." – Lucas Criado
What are her best qualities on the field?
Luquitas: "Lápiz is very quick, handy and has a lot of strength. She can play for an entire chukker and a half without stopping. In the game against Bensoleimani.com in the FMB Silver Cup® I played her almost five minutes in the sixth chukker and three-and-a-half minutes in overtime.
Also, her mentality is amazing and she knows when to get prepared for a big ride off and when to go hard. It's like she's been playing for a long time, but she's only been playing competitively for two years. She wants to win every play and she's very confident on the field. When I'm on Lápiz I know I'm going to win the play and that gives me a boost of confidence."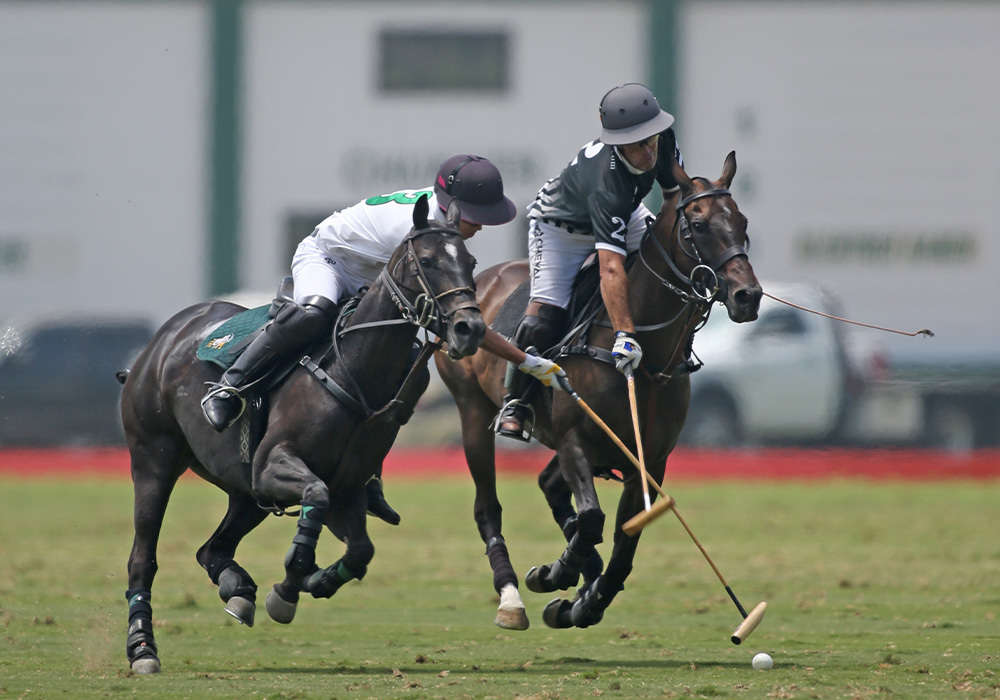 Farmers & Merchants Bank's Luquitas Criado moves to tap the ball forward on the nearside, Bensoleimani.com's Santiago Wulff in pursuit during the 2021 Farmers & Merchants Bank Silver Cup®. ©David Lominska
Which chukker do you typically play her?
Luquitas: "I always play Lápiz in the sixth chukker. She gives me the confidence to make plays that I wouldn't normally do because she gives everything she has to each play. I can go into a play knowing that I have to do my best because I know she is going to win the ride off."
Do you have a favorite playing memory this season on Lápiz?
Luquitas: "In the FMB Silver Cup® Semifinal against Lucchese I made a play where I stole the ball from Jeff Hall and scored a goal. Lápiz came from behind and she started to push forward so I was able to steal the ball."
What are your plans for Lápiz after the Pacific Coast Open and in the future?
Lucas Criado: "She is going to rest here in California until next season.
We are working on organizing Luquitas to compete in the Florida season so I see Lápiz playing with him or another player there in the future. Also I would like to see her play in the Argentine Open like her mother. When she retires I would like to send her back to Argentina to breed."