After three rounds of competitive 8-goal polo, ML Bar Ranch (Abby Benton, Cody Ellis*, Drew Luplow, Joe Wayne Barry) and Horsegate/Tonkawa (Jeff Hildebrand, Jimmy Seward, Lance Stefanakis, Shane Rice) met for the second time at the H. Ben Taub Memorial Final matchup on Sunday, September 26, at Houston Polo Club (Houston, Texas). Starting off with a goal on handicap, ML Bar Ranch managed a successful start to secure a halftime lead which would provide the needed cushion to claim the championship title 11-8.
While ML Bar Ranch became the first team to advance to the final with a perfect 4-0 record, Horsegate/Tonkawa had to survive a three-way sudden death semifinal shootout between BTA and Pegasus/Propaganda in order to claim their spot in the final.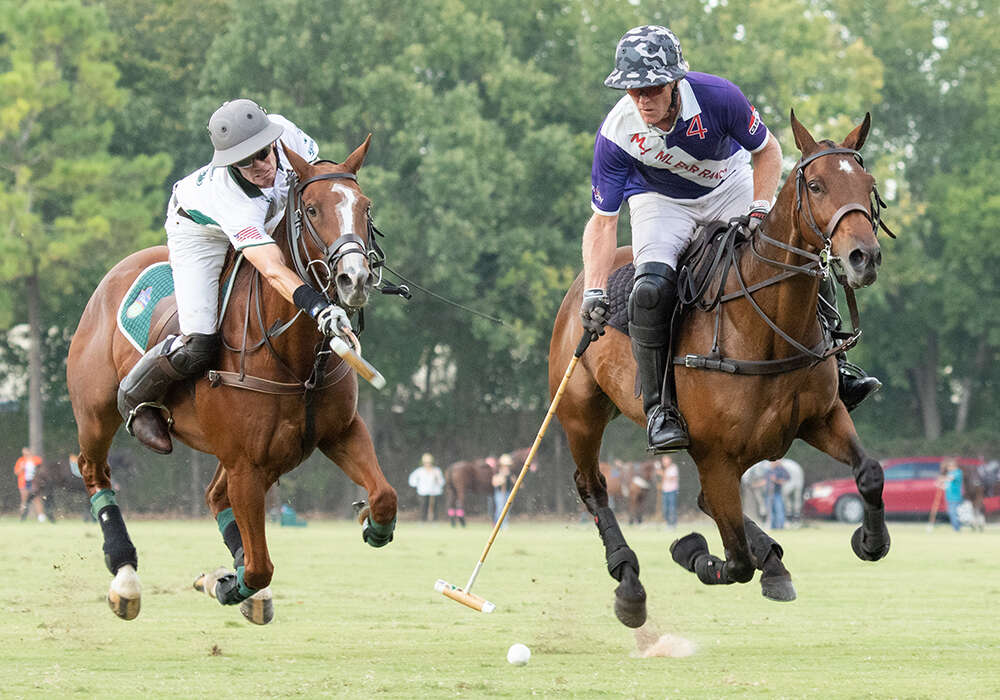 Horsegate/Tonkawa's Jimmy Seward reaches for the hook on ML Bar Ranch's Joe Wayne Barry.
Previously meeting in the first round of match play , ML Bar Ranch began their undefeated streak in the H. Ben Taub Memorial with a decisive first victory over Horsegate/Tonkawa 12-5. Setting his sights on redemption in the final rematch, Horsegate/Tonkawa's Shane Rice struck first to score the opening goal in the first chukker. Regaining the narrow lead, Joe Wayne Barry immediately countered with a field goal of his own. Responding quickly to Horsegate/Tonkawa's push was strategically important for ML Bar Ranch. "In the first game we caught them off guard," Joe Wayne Barry said. "We knew they would fix all their mistakes and come out twice as hard in the final. As a team we decided to play hard man-to-man."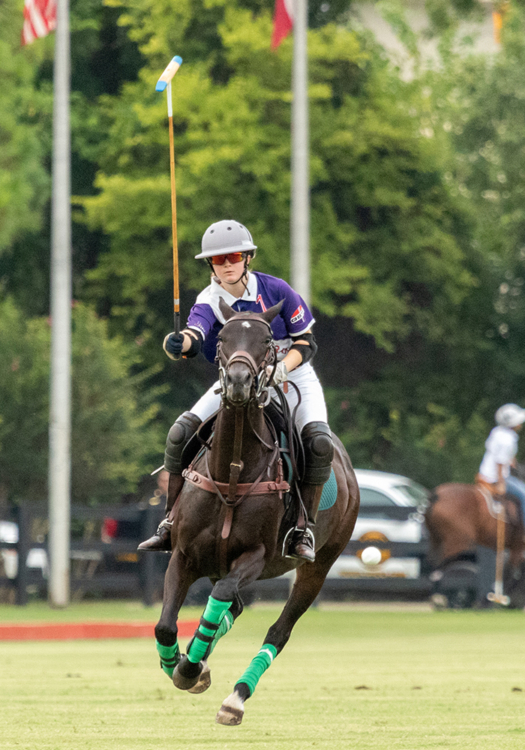 ML Bar Ranch's Abby Benton keeps her eye on the ball on a breakaway.
Striking first once again in the second, Shane Rice added a penalty goal to the tally. Capitalizing on a Penalty 2, Abby Benton answered back with her first goal of the day. Competing in her first 8-goal season, Benton's valuable contributions did not go unnoticed by her teammates. "She has adjusted well and quickly to the speed of the game, which is helping our team greatly," Drew Lupow commented. ML Bar Ranch continued to put pressure on Horsegate/Tonkawa in the third as Barry and Luplow both added a goal to the tally. Responsible for all Tonkawa/Horsegate's goals in the first half, Rice proved himself to be highly effective on the penalty line, converting two consecutive goals to bring his team within two at halftime 6-4.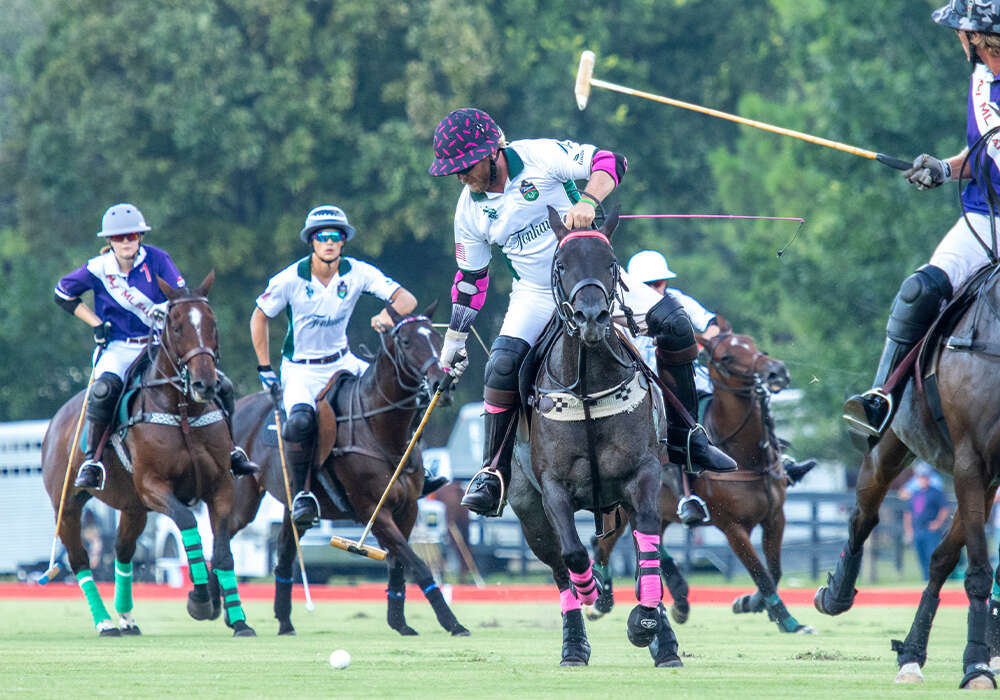 Horsegate/Tonkawa's Shane Rice maneuvers through the pack.
Focused on maintaining their advantage, Lupow continued the momentum for ML Bar Ranch in the second half, scoring the only goal of the fourth chukker as strong defensive play kept a trailing Horsegate/Tonkawa off the scoreboard. "We all have our assignments and adjust well even if things don't go according to plan," Lupow shared. Once again, the two teams traded goals in the fifth as ML Bar Ranch entered the final chukker of play with a three-goal advantage. Continuing to shine in the sixth chukker, Wayne Barry scored his fourth and fifth goals of the day, as Lupow followed up with one of his own.
With a six-goal disparity on the scoreboard, Horsegate/Tonkawa made a final, valiant push for comeback and despite answering with three consecutive goals of their own, ultimately were unable to overtake the lead in the final minutes. ML Bar Ranch's consistent offensive play and communication proved to be the deciding factor in their H. Ben Taub championship win 11-8.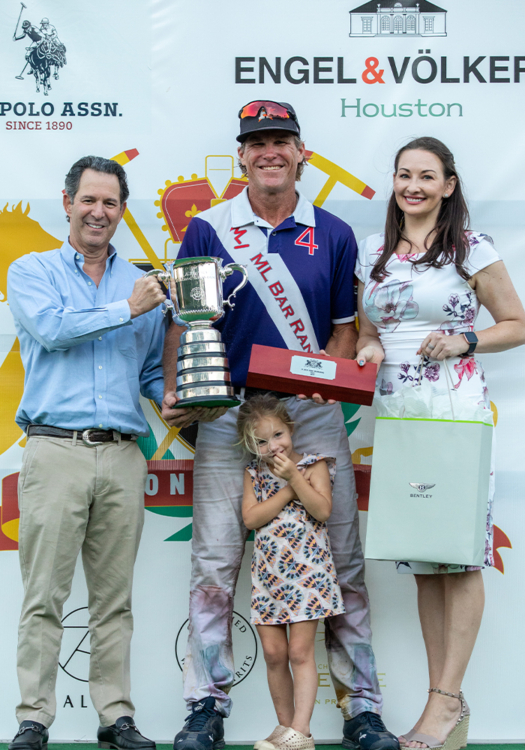 Most Valuable Player, Joe Wayne Barry with daughter Clementine. Presented by Kitch Taub and Sarah Wilbur from Bentley of Houston.
As ML Bar Ranch celebrated the victory, the legacy of H. Ben Taub, medical professional, philanthropist and former USPA Southwestern Circuit Governor for whom the tournament commemorates, was not far from the mind and memory of Joe Wayne Barry who knew Taub since childhood. "H. Ben Taub was always good to me and always in a great mood – he had a great sense of humor," Wayne Barry said reflecting. Abby Benton was also elated to share the stage with her teammates and take home her first H. Ben Taub Memorial title. "We came together as a team very quickly and played disciplined polo," Benton said. "Each of us worked hard for the team and the atmosphere was very supportive."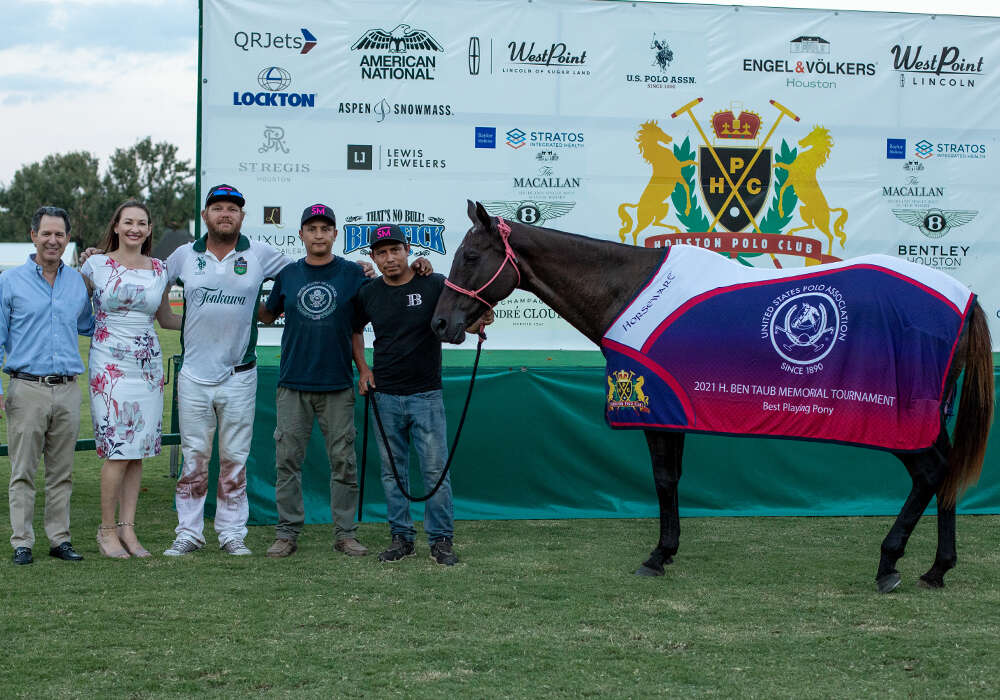 Best Playing Pony was awarded to Summer, played and owned by Shane Rice. Pictured with Johnathan Lezama and Vincent Vargus, presented by Kitch Taub and Sarah Wilbur from Bentley of Houston.
Best Playing Pony was awarded to Summer (Cape Town x Jill Miner), a 16-year-old Thoroughbred mare (racing name Blood Diamonds) owned and played by Shane Rice. "I purchased Summer from Joseph Stuart when he stopped playing polo and I've owned her for almost six years," Rice said. "She's one of the fastest horses in my string and you can go anywhere you want at just about any speed."

Scoring five total goals, Joe Wayne Barry was named Most Valuable Player. "It was great to win this tournament especially because I knew H. Ben Taub personally" Barry said. "I remember he even took me for a ride in an old muscle car he had after a practice game once. Except as we took off he handed me a fire extinguisher because he 'had some problems with the car in the past,'" he chuckled.
*Cody Ellis is a graduating Team USPA Member. Team USPA is a USPA program designed to enhance and grow the sport of polo in the United States by identifying young, talented American players and providing mentored training and playing opportunities leading to a pool of higher rated amateur and pro players and the resultant giveback to the sport of polo.
All photos courtesy of ©Kaylee Wroe.