"It takes a long time [and] lot of work during many years, but it's pretty amazing to see the horses you bred playing the Argentine Open [and] competing in Palm Beach [Florida]." – Nick Manifold
Two years have passed since Nick Manifold visited Argentina for the last time. Being a big polo enthusiast, Nick was eager to go back not only to play, but also to visit Los Machitos, the breeding operation he runs in Buenos Aires alongside Mariano Aguerre. "I've been playing polo every day and also working with Los Machitos, so I've been to the farm too. It's great to be back and see how everything is going," Nick told CLICKPOLO.
What does it mean for an international player to be in Argentina during this time of the year?
"This is the best place in the world to play polo by far. Having the opportunity to be in Argentina—most Americans would like to do it. I know there are tournaments in Florida right now like the ones [at] Grand Champions Polo Club [in Wellington, Florida] which is fantastic too, but to be here is downright incredible."
How long will you be staying in Argentina?
"I'll be here until the end of the Argentine Open and then we [will be] sending some horses to Florida to get ready for our season over there."
What are your plans for next year in the United States?
"I've [got] a team to play the 16-goal competition in the new tournament, the Wellington Tour [at Patagones Polo Club in Wellington, Florida, featuring the Outback Invitational, Continental Cup and State of Florida Cup]. It's great for polo to have a new competition, and I think it will be very fun. There will be a lot of polo in Florida from Grand Champions [Polo Club], the GAUNTLET OF POLO® [International Polo Club Palm Beach, Wellington, Florida] with the U.S. Open Polo Championship®, and now this new league. I think this can be one of the best seasons ever in Florida."
What team will you be playing with in Florida?
"I'll [be playing] with Kris Kampsen, Lerin Zubiaurre and Andrew Seibert [on] Loudmouth Polo. I'm very fortunate to [be able to] play the whole season there."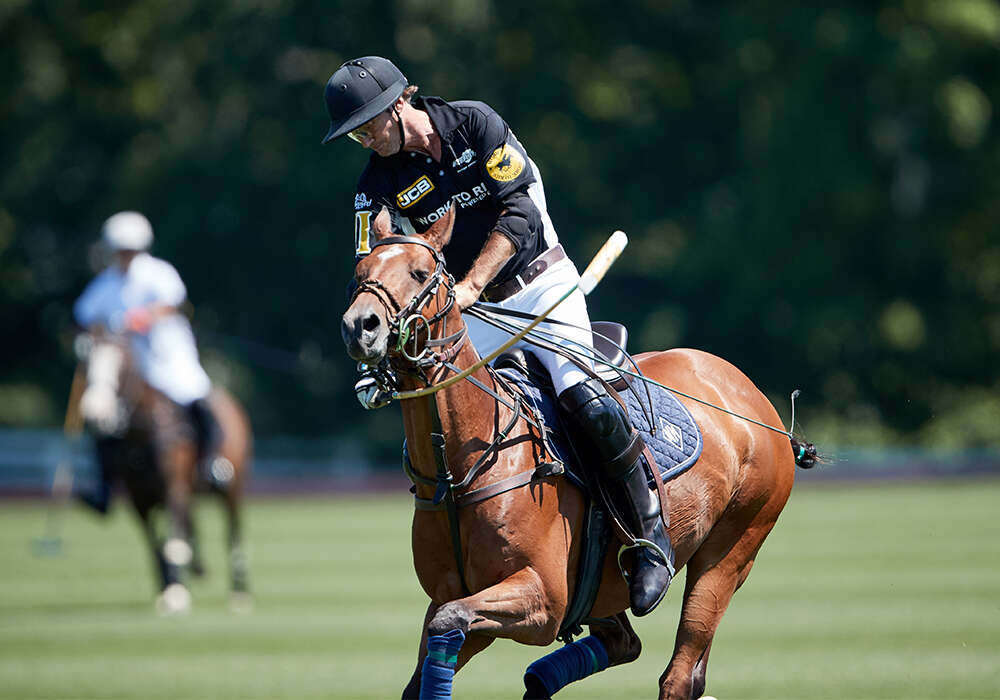 Manifold will be competing in the 2022 USPA Gold Cup® and the U.S. Open Polo Championship®. ©Chichi Ubina
How is breeding going?
"Breeding is great. It takes a long time [and] a lot of work during many years, but it's pretty amazing to see the horses you bred playing the Argentine Open [and] competing in Palm Beach [Florida]. We have Los Machitos horses in Argentina, the United States, and also Europe. Last season we had horses playing the Gold Cup with Monterosso, and La Indiana when they went to England too. In Florida, Mariano Aguerre, of course, Lerin Zubiaurre, and possibly Polito Pieres."
How do you see American polo, particularly on the East Coast?
"East Coast polo last summer was the best ever. We had six teams in the 16-goal in Greenwich during June and July, and four teams played in the East Coast Open. It was a fantastic event with huge crowds. I think polo in the United States is starting to grow again, and not only on the East Coast. Santa Barbara [California] was also very successful too."
More than a polo player, Nick Manifold is currently managing a breeding operation. Many people breed horses, but few are successful in this long term and demanding business. One of Nick's prides is Los Machitos, the breeding organization he has in Argentina alongside Naco Taverna and nine-time Argentine Open winner Mariano Aguerre. "I met Nick many years ago, during the early nineties. He is a guy from the school of Héctor Barrantes. I liked the way he rode but also the way he [sees] horses in general, like most of the people who started with Barrantes," Aguerre told CLICKPOLO.
Through Barrantes, Nick joined with Peter Brant's organization White Birch, just like Mariano, that's when their relationship started. "When Gonzalo Pieres went to Ellerston to play with Kerry Packer, Nick and I were left in charge of White Birch. Nick was the Manager and player, I was the main player of the organization," Aguerre said.
When he's not competing Manifold currently manages the Los Machitos breeding organization in Buenos Aires, Argentina. ©Chichi Ubina
Mariano, how did Los Machitos start?
"It started many years ago when Peter Brant and Kerry Packer sent breeding mares to Argentina. We inherited those mares alongside others we had from Barrantes, which are today very successful strings. One example is Cumbia, mother of Lambada, and many others. When this happened, we contacted who we thought at that time was the most important breeder, Héctor Barrantes. Not only did we have passion for what we were starting to do but we also thought it was a pity to miss the chance of doing a business like this with so many good mares. That's how Los Machitos started!"
What's the situation of Los Machitos today?
"Los Machitos is based in 25 de Mayo, Buenos Aires, in a 400 hectare-farm that's dedicated exclusively to polo. It is difficult for me to say our situation, as I might be biased, but I think we are [doing] really well today. Los Machitos has worldwide recognition, we've [had] very important achievements and, most importantly, we know what we want. Naco, Nick and [I] are very proud of the society we have."
Mariano turned 52 this year but he continues to be a very active polo player. He recently played the Camara de Diputados Cup, the most important competition of the Argentine Season after the Triple Crown, and he reached the semifinals with Los Machitos, where they lost to the champions, La Irenita II.
Will you play in the United States next year?
"Yes, I will play a lot. I will play the USPA Gold Cup® and the U.S. Open Polo Championship® [at International Polo Club Palm Beach, in Wellington, Florida]. Most importantly, I will be playing with my son Antonio, which makes me very happy and proud."