Under clear blue skies in Paris, Kentucky, the National Arena Delegate's Cup concluded on Sunday, September 26 at Commonwealth Polo Club with the final between Orea Polo (Petra Sobotova, Nik Feldman, Jorge Vasquez) and Three Trees (Will Boland, Angus Middleton, Carter Carnegie). Following up a decisive semifinal win, Orea Polo were moments from victory until a two-point goal from Middleton tied the game 10-all, forcing the final into a shootout. With the tournament title on the line, Orea Polo confidently sent both of their attempts into the goal to secure the nail-biting victory.
"Three Trees was a very physical team. They worked hard to wear us down and did a good job of it. It was a fight until the end." – Nik Feldman
Beginning with two goals on handicap, Three Trees conceded an opening goal to Orea Polo's Feldman, but quickly responded with consecutive field goals from Middleton and Boland. Extending their advantage to three, Three Trees' defense tried to keep Orea Polo off the scoreboard for the remainder of the first chukker yet fell into foul trouble which ultimately resulted in Penalty 2 conversions for Feldman and Vasquez. Teaming up for an offensive outburst at the end of the half, Feldman and Vasquez scored four unanswered goals that abruptly changed a two-goal deficit into a two-goal lead.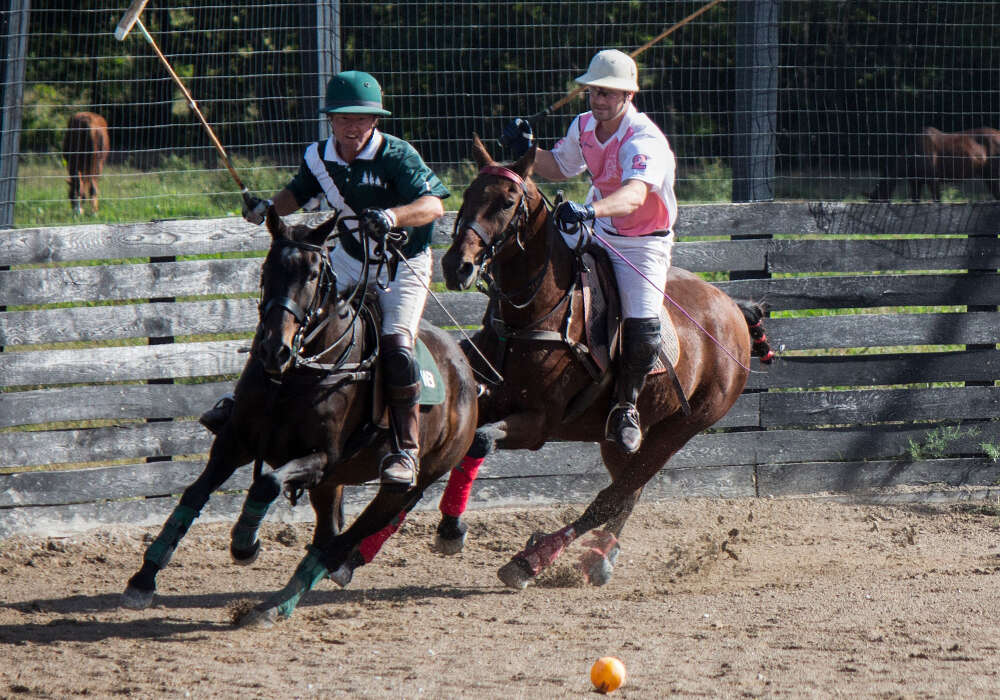 Three Trees' Will Boland, riding Best Playing Pony Chiquita, in a race for possession with Orea Polo's Nik Feldman. Nik Feldman was named Most Valuable Player scoring six goals on the day. ©Lindsay Dolan
Building on their momentum from the first half, Orea Polo extended their goal streak to five on Feldman's fifth goal of the game. Determined to fight their way back into the game, Three Trees refocused defensively, Carnegie picking up a second goal for his team in the third. Facing a three-goal discrepancy 9-6, Three Trees was left with just one chukker to close the gap. Boland and Feldman exchanged goals for their respective teams to begin the final chukker, as time continued to tick down. A crucial Penalty 4 conversion for Carnegie gave Three Trees a glimmer of hope, trailing by two.
In arguably the play of the game, Middleton found an opportunity to shoot from distance, nailing a two-point goal to tie the game 10-all and force a shootout to determine the champion. "We won the coin toss to see who would go first and we chose to let them go first, to put the pressure on them!" Vasquez revealed. "Nik [Feldman] made his first shot and [Three Trees] missed their second shot. It was my turn to hit, and I kept thinking about how many times I have taught people to hit penalties, so I said I have to preach what I teach and put it down the middle and that was the game!"Under immense shootout pressure, Orea Polo emerged victorious to claim the 11-10 overtime victory.
Incredibly, the final was decided in a penalty shootout for the second consecutive year, with Nik Feldman on the winning team on both occasions. "Last year I played with Stan [Feldman] and Chad Middendorf," Feldman said. "We played against Jorge [Vasquez] and Petra [Sobotova] in the 2020 final and I am lucky to have skimmed by both finals on shootout wins!"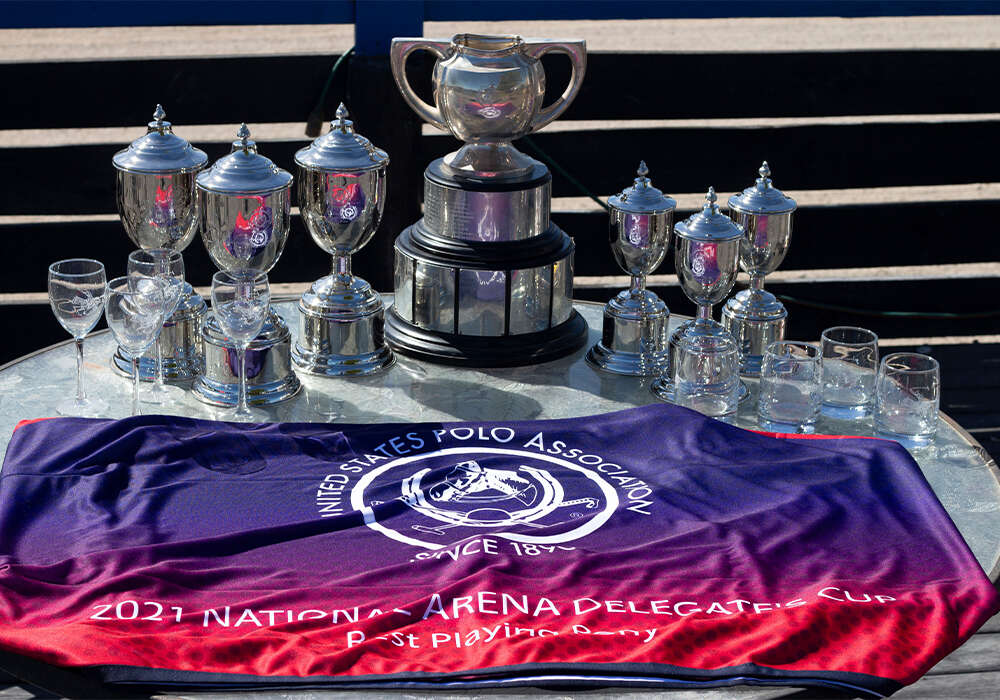 2021 National Arena Delegate's Cup trophy table presentation.
Falling short in last year's National Arena Delegate's Cup Final, Petra Sobotova and Jorge Vasquez found themselves on the winning side in 2021. "This game meant a lot because it was my second USPA final win in a row on a team with Jorge [Vasquez], and I think that we work well together," Sobotova explained. After a dominant semifinal victory, Sobotova relayed how Orea Polo's strategy differed in the tough final. "The final was about keeping the ball close as Three Trees was very effective in intercepting our passes," Sobotova shared. "As a result, Jorge [Vasquez] and Nik [Feldman] had to maintain control of the ball more than in Friday's semifinal."
Finishing with six goals, Nik Feldman was named Most Valuable Player for the second year in a row. "I am grateful to be given the MVP, however it was generous for me to receive the award," Feldman said with humility. "I think Jorge [Vasquez] played the best throughout the tournament. Anytime he competes it's fun and memorable for everyone involved." Feldman continued by praising his teammates, "Petra did a great job as well. She has developed immensely as a player since starting only two years ago and has a bright future in the sport".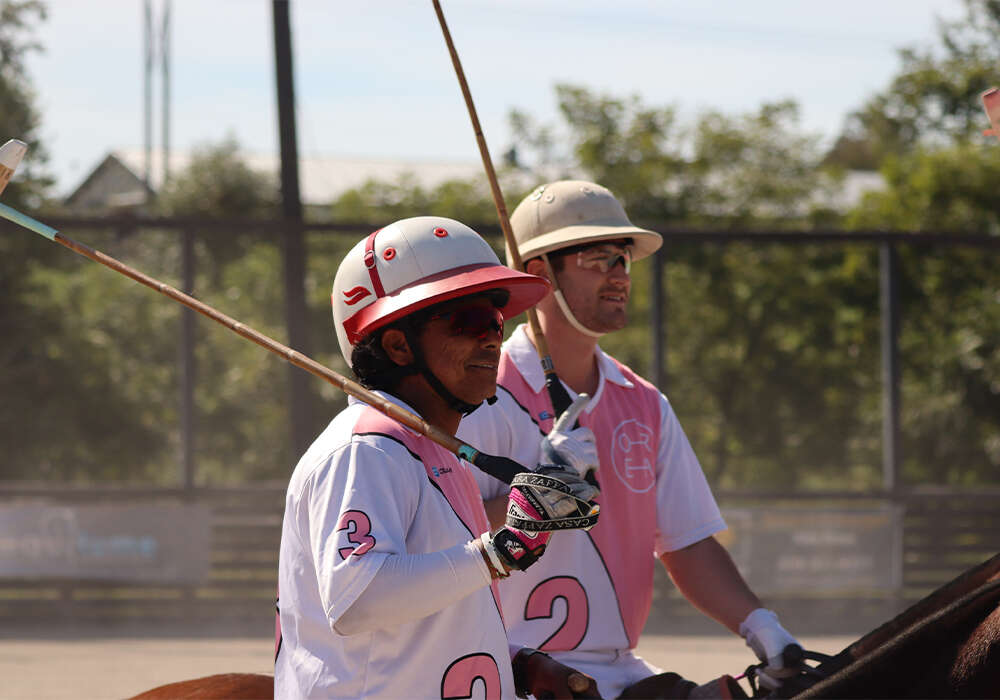 The 2021 National Arena Delegate's Cup was the second USPA finals win in a row for teammates Jorge Vasquez and Nik Feldman. ©Daisy Johnson
Will Boland's third chukker Thoroughbred mare Chiquita won Best Playing Pony, an honor that hit close to home. "Chiquita was purchased for my father, who is currently still playing polo at 80 years old, from Jorge Vasquez at Commonwealth Polo Club a few years ago," Boland stated. "I chose to play her because I was confident she would know the arena and be comfortable and perform as solid as she did. You could say she returned home to Commonwealth to claim Best Playing Pony!"
At the end of a successful weekend, Feldman shared his thoughts on Commonwealth Polo Club's third time hosting the event. "I played Commonwealth Polo's horses, which is a testament to the quality of the club's offerings," Feldman said. "Jorge Vasquez and Juan Valerdi have built an amazing club for arena polo and it's one of the main reasons I choose to stay close to home in Kentucky from later spring through early fall. It's great to have polo that's so easy and accessible to play."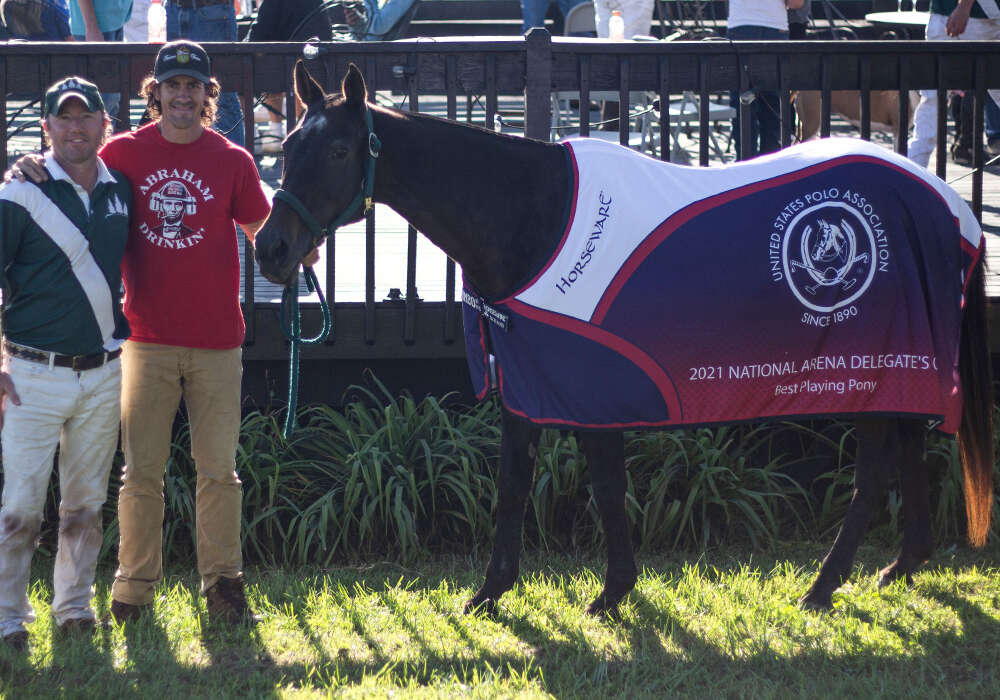 Best Playing Pony was awarded to Chiquita, played and owned by Will Bolland. Pictured with Emilio Berenguer. ©Lindsay DolanCOMMONWEALTH POLO CLUB