Concluding an exceptional weekend of elite women's polo in the Houston area, the Texas Women's Open Final on Sunday, November 14, featured undefeated Engel & Volkers Houston (Grace Mudra, Lily Lequerica, KC Krueger, Sarah Wiseman) against Rocking P (Bridget Price, Summer Kneece, Maitena Marre, Mili Sanchez), a team they had defeated previously in open play. After giving up a three-goal lead in their first-round loss to Engel & Volkers Houston, Rocking P was in search of redemption, preparing tirelessly for their second opportunity in Sunday's final. "We probably watched the film six times and said, 'if we play them [Engel & Volkers Houston] again, we're beating them'", Bridget Price stated. Ultimately Rocking P's preparation and determination came to fruition on Farish field at Houston Polo Club (Houston, Texas) as they claimed the trophy 6-5.5.
Engel & Volkers Houston's KC Krueger stretches for the ball on a bump from Rocking P's Bridget Price.
"This was a comeback win from COVID-19 and not being able to compete in the U.S. Open Women's Polo Championship® Semifinals in Florida." – Carl Price, Patriarch of Rocking P
Showcasing a youthful line-up of four players all aged 21 and under, Rocking P entered the rematch against Engel & Volkers Houston with .5 on handicap, but fell victim to a slow start. Running downfield on the opening play of the game, Krueger left the ball in the goal mouth for Lequerica to hit the backshot and give Engel & Volkers Houston the early lead. For the second consecutive play, Krueger and Lequerica's connection resulted in a goal, leaving Rocking P trailing by two before two minutes had come off the clock. Settling in, Rocking P found the scoreboard on an impressive hook and backshot from Kneece, who was playing women's high-goal for the first time.

"These ladies are so good," Kneece mentioned. "I feel like I'm learning from the best players, every single one of them". Facing a 4-1.5 deficit at the end of the first chukker but armed with a renewed defensive focus, Rocking P held Engel & Volkers Houston off the scoresheet in the second chukker, allowing them to cut into the lead before the end of the half. Despite missing two penalty attempts, Rocking P came within two after Sanchez shot through traffic to leave the score 4-2.5 entering halftime.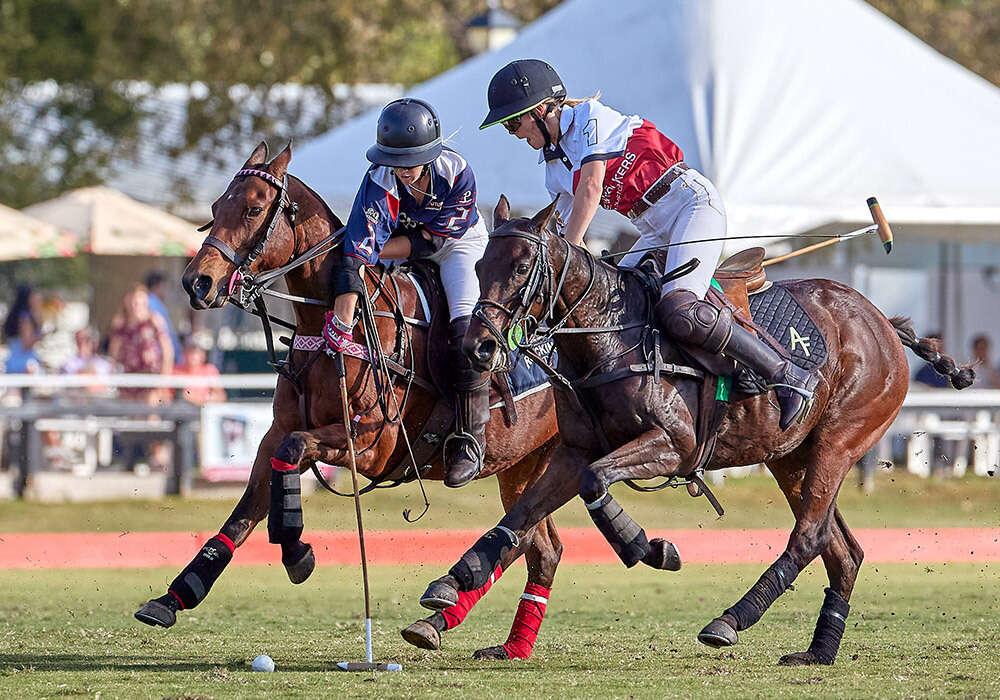 Rocking P's Summer Kneece taps the ball in front of defending Engel & Volkers Houston's Grace Mudra.
Determined to make their comeback attempt, Rocking P raced out of halftime with the guidance of coaches Tiger Kneece and Marcos Villanueva and the strong play of Marre and Sanchez. "Maitena [Marre] and I can do a lot because we know each other from Argentina," Sanchez said. "We play together a lot and have the confidence to tell each other things so it's very good." Sanchez contributed back-to-back goals including a run to goal off a pass from Marre, allowing Rocking P to hold their first lead of the game with the handicap advantage 5.5-5.

Rocking P turned their attention to the fourth chukker, hoping for a different outcome than their previous contest against Engel & Volkers Houston. For nearly four minutes of play, all eight players were closely marked with their defender consistently on their hip to maintain the 0.5 goal difference in favor of Rocking P. Running down the left side of the field on London, Sanchez raced past her defender and completed the goal to extend Rocking P's lead to 1.5. Not looking back for the remainder of the game, Rocking P secured the 6.5-5 victory to claim the Texas Women's Open.
"This win means a lot because I've seen Rocking P play in this tournament for years and to be on the team and win is a wonderful opportunity and experience!" – Summer Kneece
Rocking P's Summer Kneece stays focused on the ball on her way to goal.
A mainstay in women's polo, Rocking P was set to compete in the 2020 U.S. Open Women's Polo Championship® Semifinals before COVID-19 postponed the remainder of the tournament. They also opted out of the 2020 edition of the Texas Women's Open. "We took a break last year because of COVID-19," Price shared. "Rocking P's been in the tournament pretty much every year so when we came back I got to play with great teammates." Her father Carl continued by saying, "my daughter Courtney [Price] has won this tournament and now its Bridget's turn. It's the best feeling ever!"
Assembling the team was a challenge after travel restrictions from England and a broken ankle led to Marre and Sanchez travelling from Argentina. "We talked to Tiger [Kneece] and planned it last year [with Summer Kneece], and got Maitena [Marre] and Mili [Sanchez] from Argentina, which was really thrilling because not a lot of girls from Argentina have come down before," relayed Bridget after the victory.
Rocking P mounted three of their players with nine homebreds. "We have been breeding for a while and selling horses here in Texas," mentioned Rocking P Manager and coach Marcos Villanueva. "We knew we had the horses, and the girls were playing great." Joining the team for the first time and instrumental in bringing Marre from Argentina, Sanchez spoke to the experience of joining Rocking P. "I'm very grateful to Rocking P, Marcos Villanueva and the whole organization who first had this in mind," Sanchez said. "This is the first time I have played here in Texas and the truth is I'm very happy because the Texas Women's Open is a very good tournament and it's great to compete with friends."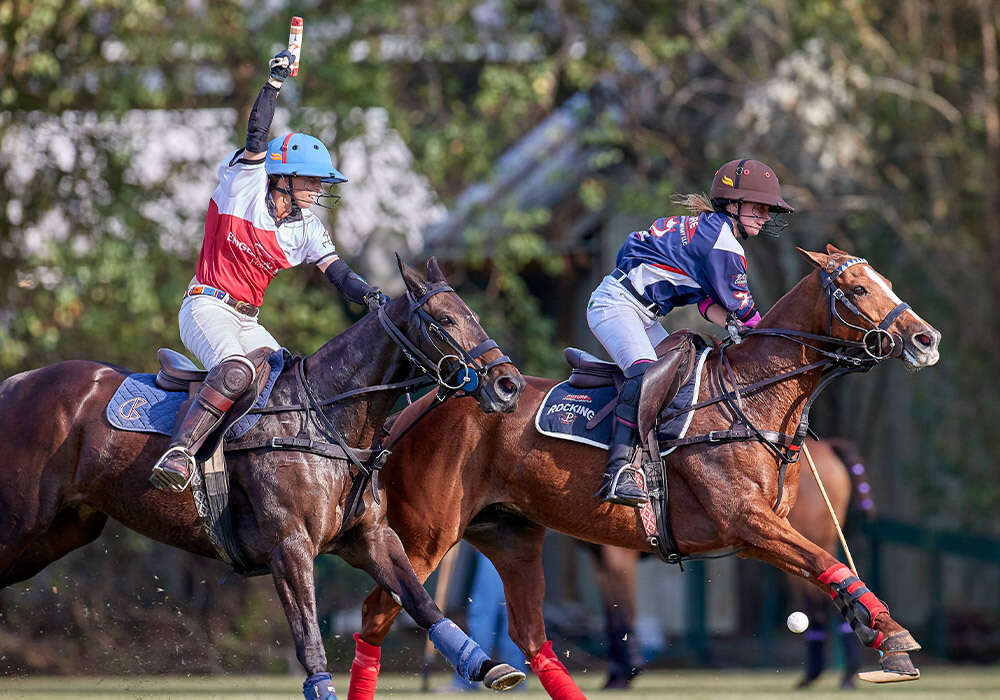 Rocking P's Mili Sanchez charges to the goal on Professional Best Playing Pony London ahead of Engel & Volkers Houston's KC Krueger.
Making a two-day trip, Summer Kneece brought her own horses after a successful Aiken season. "We were lucky because Aiken's season had just ended," Coach Tiger Kneece explained. "All the horses were fit, they were already playing and we just packed them up and brought them." At just 16 years of age, Kneece has had an exceptional year, winning the Girls' National Interscholastic Championship, National Youth Tournament Series Girls' Championship® and now the Texas Women's Open. "It means a lot because I've seen Rocking P play in this tournament for years and to be on the team and win is a wonderful opportunity and experience!" Summer Kneece exclaimed.
Scoring four goals, including three during Rocking P's run in the second half, Sanchez was named Most Valuable Player. "The strategy was creating space and it was essential to go in with a lot of fire because it was a very difficult game," Sanchez said. "We were unlucky at first, but I don't know if we changed anything because we improved minute by minute."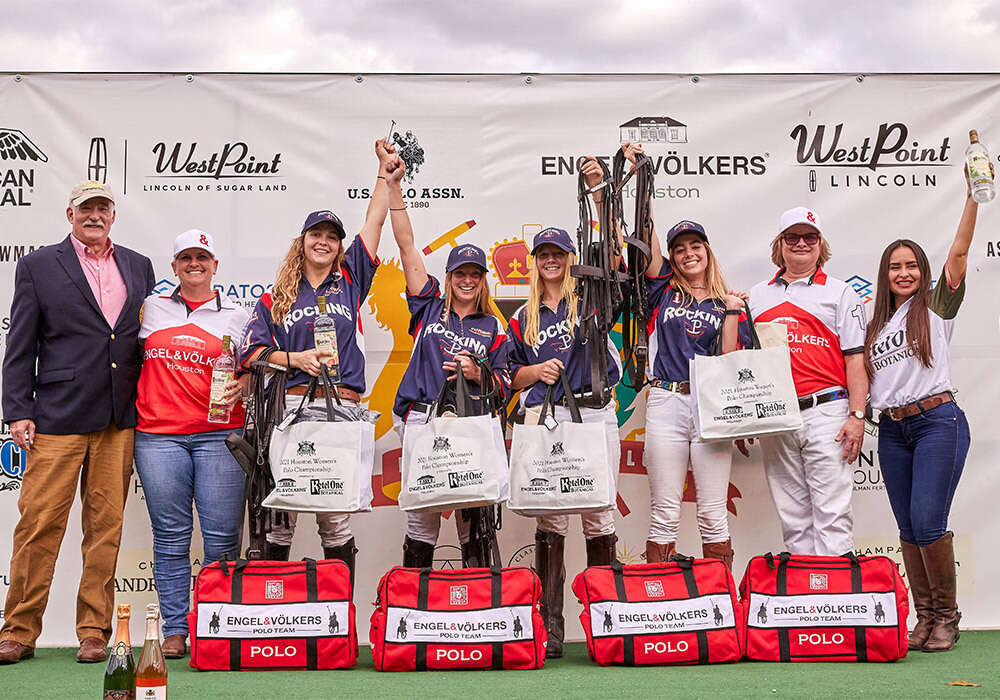 Rocking P's Maitena Marre, Mili Sanchez, Summer Kneece, Bridget Price. Presented by USPA Governor-at-Large Steven Armour and pictured with Engel & Volkers Houston Jenny Vargas, Brooks Ballard and Ketel One Botanical Sponsor Sara Arias.
Best Playing Pony Professional honors were presented to London, an 11-year-old homebred mare owned by Rocking P and played by Sanchez in the third and fourth chukkers. Sanchez was able to score the impressive goal in the fourth chukker on London which secured the victory. "This is the second time she's won Best Playing Pony here in the women's tournaments," Carl Price said. "Sarah Wiseman played her the first time she was named Best Playing Pony."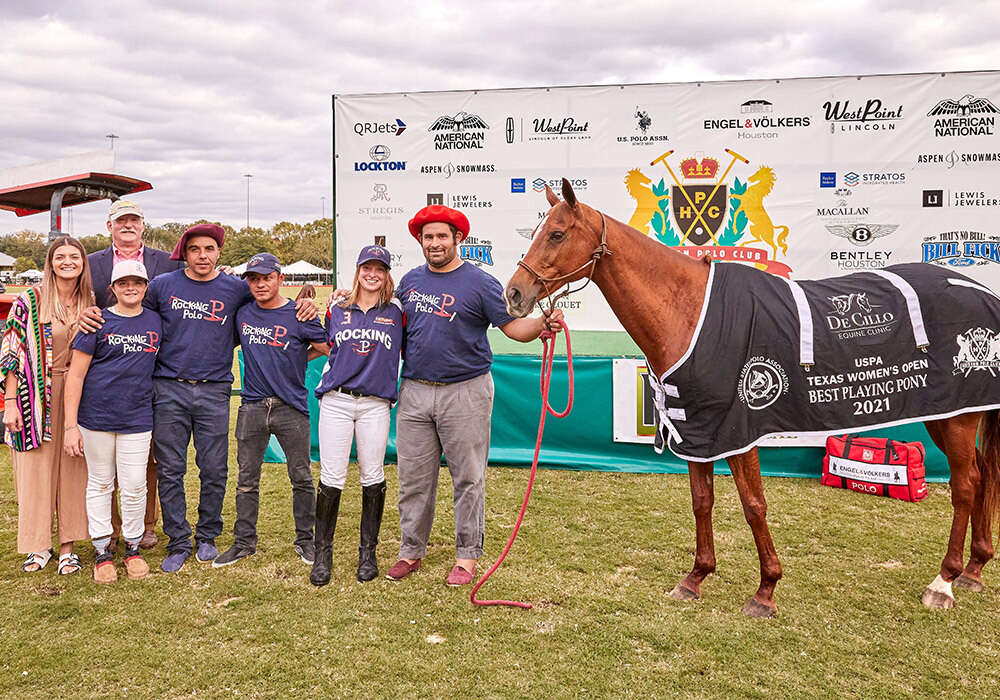 Best Playing Pony was awarded to London. Presented by Mili Sanchez and owned by Rocking P. Pictured with Beatriz Siqueria De Cello representing the De Cello Equine Clinic, USPA Governor-at-Large Steven Armour, Francisco Varela, Alberto Pascal, Uma Villanueva and Chino Payan.
Best Playing Pony Amateur went to Lily Lequerica's 13-year-old gelding Mike, bred by LA Waters Quarter Horses and registered with AQHA under the name 'Charro Cowboy'. Finished by Lequerica's horse trainer parents CJ and Sheila Lequerica, Mike has been a part of the family since Lequerica was a young girl. "He's always been my number one and I always play him in the fourth" Lequerica said. "Mike has the best mouth and he's very chill. Every time I go to a man, I've never lost a ride-off on him."
Taking a moment to relish their victory, the Rocking P champions will quickly move into their next endeavours with Sanchez and Marre travelling back to Argentina to prepare for the Women's Argentine Open, where Sanchez will play on La Irenita alongside American Hope Arellano. Bridget Price will move right into interscholastic play next weekend. "It's one thing after another, so we'll shut down until after Thanksgiving and then immediately start practice for arena polo," Carl Price said. "But tonight we'll celebrate this accomplish with an asado with [Engel & Volkers Houston] and have a great time."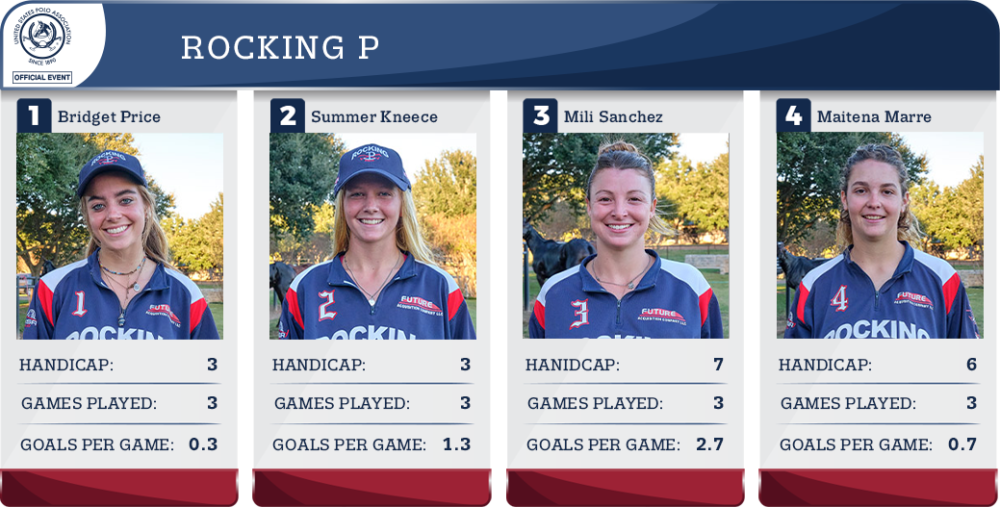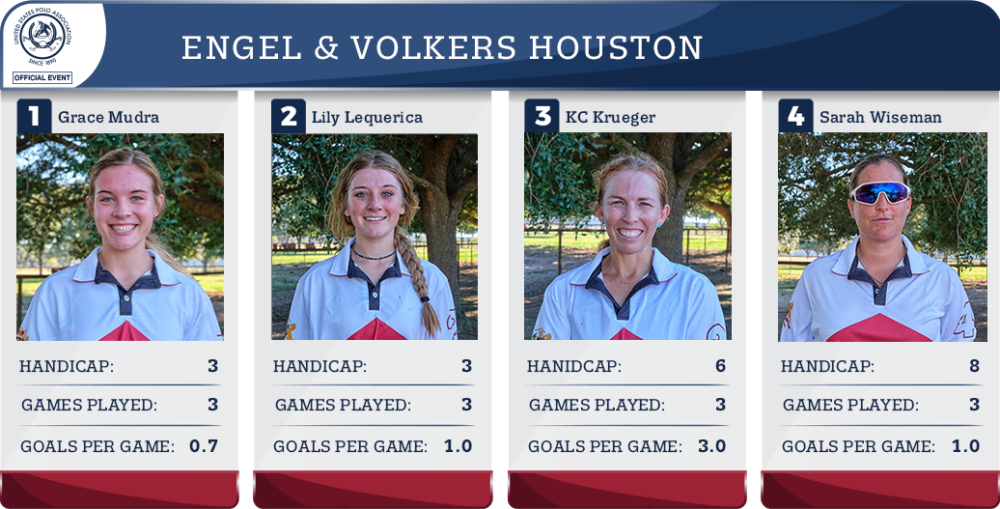 All photos courtesy of ©David Murrell.