POSTED BY: THE REPORTER AUGUST 20, 2021
Support Westfield Playhouse, Carmel's Children's TherAplay Foundation
Westfield Playhouse's annual polo match at Hickory Hall Polo Club, 7551 E. County Road 100 N., Whitestown, which was rescheduled in June due to weather, is all set for Saturday, Aug. 20. This year the playhouse is partnering with Children's TherAplay Foundation, 9919 Towne Road, Carmel, for an evening of outdoor family fun.
According to Carol Shadle from Westfield Playhouse and Main Street Productions (MSP), the entire MSP organization is run by volunteers, making events like this vital to keeping community theater alive.
"This event seemed like a good way to solve two challenges for us," Shadle said. "It helps us with funding, and this gets our name out to a whole new bunch of people and it is great for Hickory Hills to get their organization's name out there for new people too."
Shadle said this event will be fun for adults and children alike.
For the adults, there will be a wine pull and a 50/50 raffle.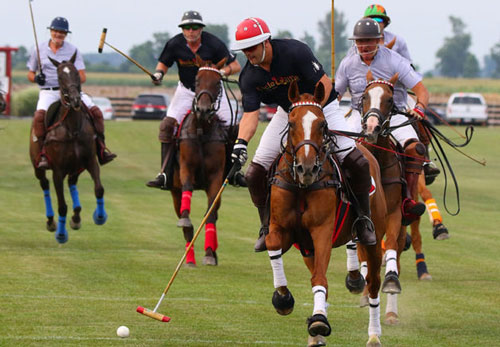 "We sell tickets for the raffle during the first half of the match in between chukkas, which are periods of play," Shadle said. "We will announce the winner between the third and fourth chukka. There are four chukkas and they are seven minutes and 30 seconds long unless the referee calls fouls."
For the kids, there will a kid's zone with one of TherAplay's therapy horses and stick races.
Children's TherAplay Communications Manager Emily McDermott told The Reporter her organization has been looking at the possibility of a polo event for the last couple years.
"TherAplay does pediatric physical and occupational therapy for kids with special needs," McDermott said. "Our kiddos come in for one-hour sessions. Half of that session happens in our clinic. It is play-based therapy because especially for kiddos with special needs the therapy really does need to be play-based so it's not just coming in and doing exercises."
TherAplay works with children from 18 months to 13 years old.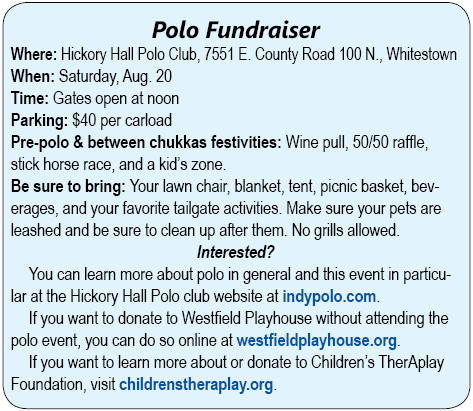 "The other half of each session in in our open-air arena, which is connected to the clinic, and that happens on horseback," McDermott said. "It's called 'hippotherapy.' The child is on the horse and their physical or occupational therapist is treating them. They walk alongside the horse actively treating the child while that child is on the horse. We are not necessarily teaching them how to ride the horse, but they are using the horse as a tool. The movement of the horse is unique because it has a three-dimensional pelvic movement that mimics human movement. When the child is on the horse a lot of different muscles are triggered that they wouldn't necessarily feel in the clinic setting, that can only really be felt while they are on horseback."
Admission to the polo match is $40 per carload, with all proceeds going to Westfield Playhouse and Children's TherAplay. Admission can be paid at the gate and they will accept cash, credit cards, PayPal, and Venmo. You are welcome to bring your own pop-up tents, chairs, picnics, and refreshments. Grills are not allowed. Leashed pets are allowed as long as you clean up after them.
About Hickory Hills Polo Club
For over 20 years the Hickory Hall Polo Club has been servicing Indiana with a unique family-centered social and sporting venue that helps raise money and awareness to the charities it serves. You are invited to come and watch the Sport of Kings and enjoy what polo has to offer the entire family.
About MSP
The mission of Main Street Productions, Inc. is to create and present quality theatre which balances artistic vision and expression by producing theatre that involves, reflects, and nourishes Westfield and the surrounding areas.
About Children's TherAplay
The Children's TherAplay Foundation, Inc. is the largest pediatric hippotherapy facility in the country, providing physical and occupational therapies using equine movement as a treatment tool for children with special needs such as cerebral palsy, Down syndrome, autism spectrum disorders, spina bifida, traumatic brain injury, developmental delays, and more.
*Rich Campbell and horses Tana (left) and Mystique from the Cincinnati Polo Club took a moment to pose for The Reporter's camera at last year's Polo for the Playhouse fundraiser. (Reporter file photo)