Postponed in 2020 due to the COVID-19 pandemic, the Retired Racehorse Project Thoroughbred Makeover returned to Kentucky Horse Park (Lexington, Kentucky) October 12-17, 2021, featuring participants from both 2020 and 2021 vying for the top place in their respective year's divisions. Polo is one of 10 disciplines represented in the $100,000 competition in which hundreds of trainers compete with a recently-retired racehorse retrained in another discipline. The United States Polo Association® was the official Discipline Sponsor of polo.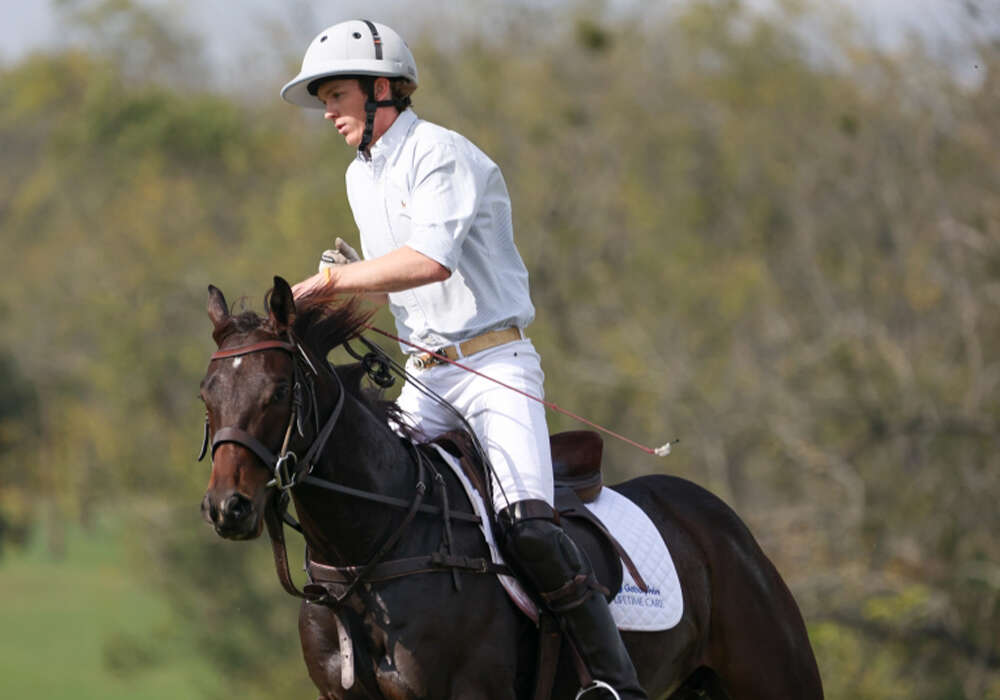 Ramses, trained by Benjamin Lynch received the highest overall score from a field of seven in the 2021 Retired Racehorse Project Thoroughbred Makeover.
2021 POLO ENTRIES
Ramses trained by Benjamin Lynch
Flugel Binder trained by Willowbrook Polo
Honest Gal trained by Willowbrook Polo
Whateverusaydear trained by Graci Brush
Hot Wine trained by Lori Summers
Family Ties trained by Mary Wright
Oxbow Flows trained by Miguel Questel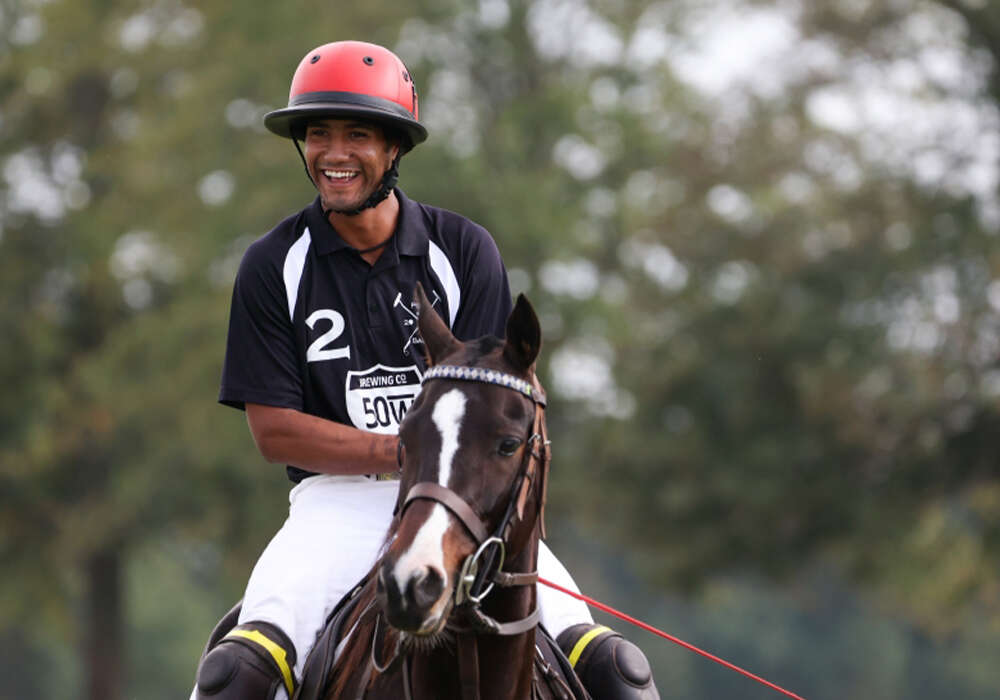 Oxbow Flows, trained by Miguel Questel.
2020 POLO ENTRIES
That's My Bertie trained by Willowbrook
PoloBarwin trained by Sara Kolenda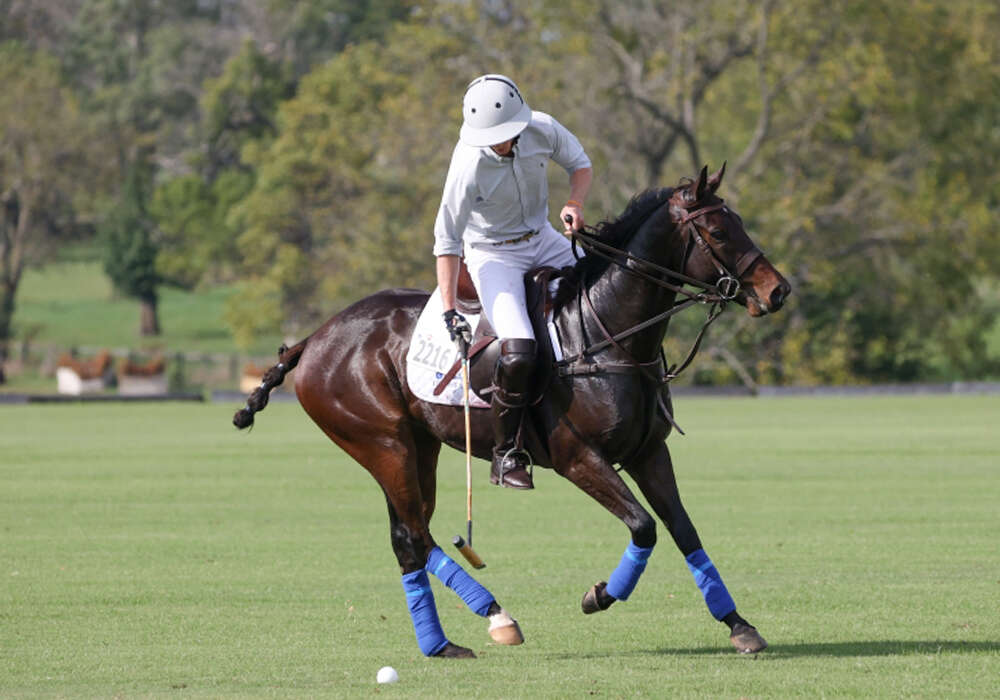 Ramses and Benjamin Lynch during the stick-and-ball portion of the competition.
Completing in a two-part test (short work and stick and ball) in the polo division designed to assess their preparedness to be ridden competitively, the top-scoring horses advanced to the finale for a two-part final performance. Receiving the highest overall score from the field of seven, Benjamin Lynch and Ramses (Pioneer of the Nile x Dancing House by Tapit) were named 2021 polo champions. Bred in Kentucky by global horseracing stable Godolphin, the three-year-old bay gelding also received the Best Conditioned Award, sponsored by Nina Bonnie, and the Top Amateur Award, sponsored by Boehringerus Equine.
A University of Kentucky intercollegiate polo alumnus from Fallston, Maryland, Lynch was proud of what Ramses has been able to accomplish in his new career. "It's been a great time having him; he's a really easy-tempered horse," Lynch said about the homebred. "It was wonderful for Godolphin to give him to me and he was actually bred at Stonerside Farm where I work."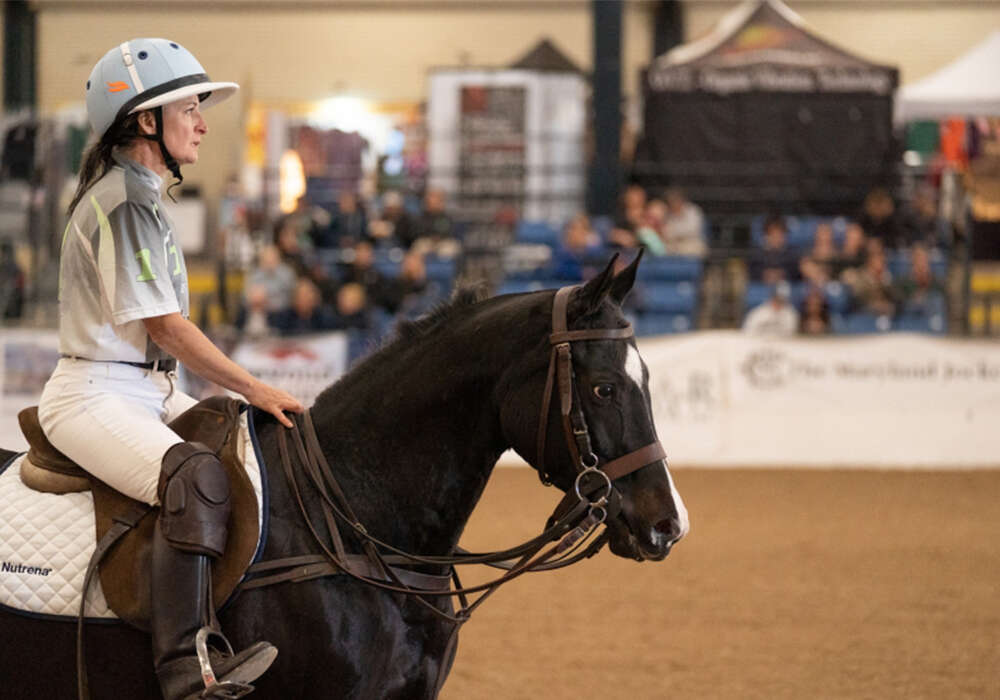 That's My Bertie ridden by Andrea Groubert, trained by Willowbrook Polo.
Taking home the top prize for 2020 competition, Willowbrook Polo and That's My Bertie (Baptistry – Fat Cat Berdie, by Tactical Cat) were named 2020 polo champions. The four-year-old dark bay mare was bred in Ohio by Carol Rettele and made two lifetime starts in her racing career.
Based out of Canfield, Ohio, Willowbrook Polo is made up of husband and wife team Michael and Andrea Groubert. "This is our second year at the RRP Thoroughbred Makeover as a team, but we produce our horses together at home," said Michael Groubert. "It's a good feeling to finally win it!" Both teachers, the pair has found a lot of similarities between their human and equine students. "We train our own horses and for others, but teaching horses is a lot like teaching kids!" That's My Berdie was also named the Top Team horse, sponsored by Equine Equipment Discounts.
All photos courtesy of ©CanterClix.