n an exhilarating start to the 2021 Texas Women's Open at Houston Polo Club (Houston, Texas), San Saba (Dawn Jones, Tiffany Busch, Hope Arellano*, Zoe Cookson) jumped into the lead in the first chukker against Anthonie's Market Grill/Lockton (Kendall Plank, Tiamo Hudspeth*, Joanie Jackson, Izzy Parsons) with three goals by Jones and Busch. Coming back in the second chukker, Anthonie's Market Grill/Lockton found their rhythm and were able to slow down the San Saba scoring machine with the power dynamic of Parsons and Plank finding the goal for the first time of the match. Hope Arellano came back in the second half and blew through the opposition with several stellar runs. Accompanied by Jones on speedy ponies, both were able to convert a field goal each in the second half, taking the 6-1 win.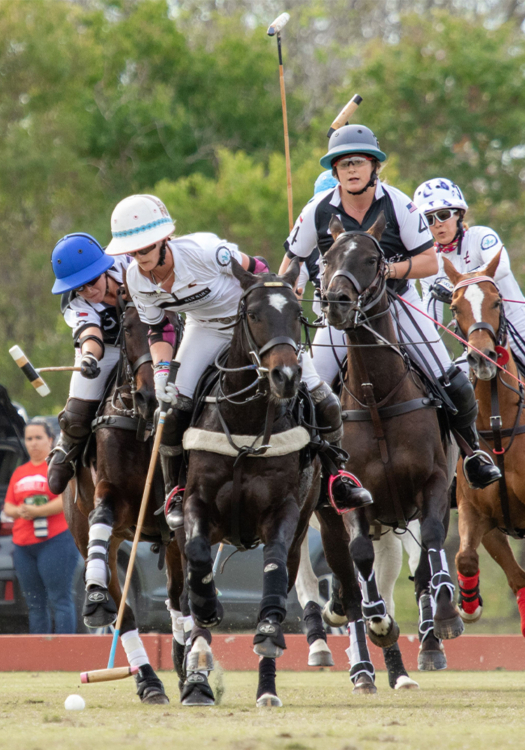 San Saba's Hope Arellano pushes the ball down the field.
The second match of the day saw Engel & Volkers Houston (Grace Mudra, Lily Lequerica, KC Krueger, Sarah Wiseman) battling against Rocking P (Bridget Price, Maitena Marre, Summer Kneece, Milli Sanchez) with Marre coming out strong on a field goal in the first chukker. Engel & Volkers Houston's Krueger answered in the second with a field goal, thanks to the strong backing of Wiseman. After a nail biting opening half of play Krueger came through in the second half with two open goal Penalty 3's, gaining the lead. A close fourth chukker saw both Lequerica and Price adding additional field goals on the board as Engel & Volkers Houston emerged on top 6-4.5.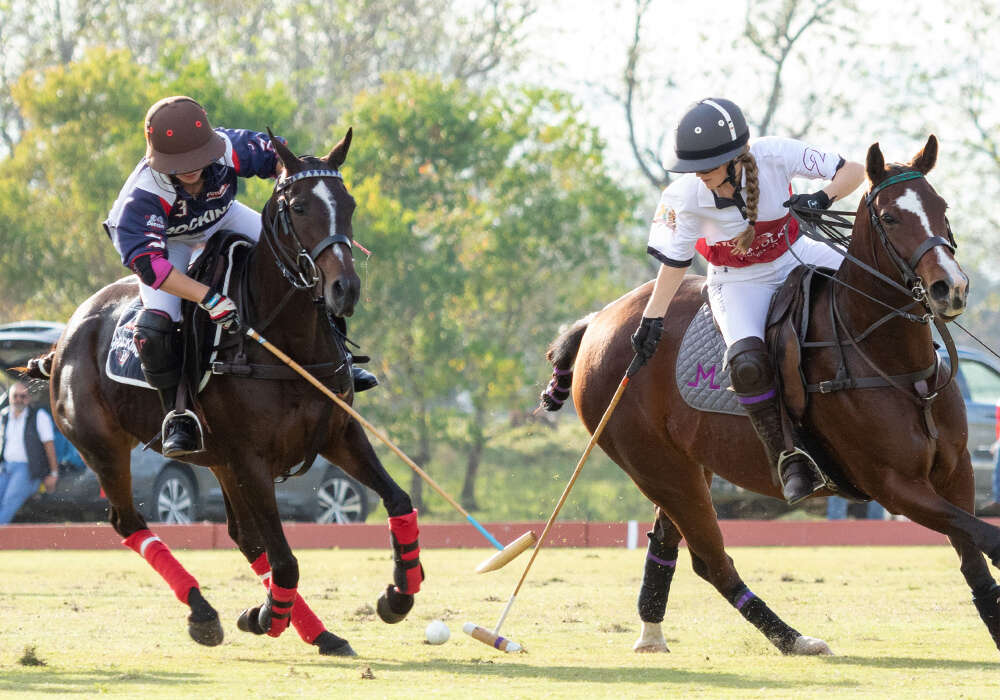 Rocking P's Mili Sanchez reaches for the hook on Engels & Volkers' Lily Lequerica.
The semifinal matches for November 11 are as follows:
Anthonie's Market Grill/Lockton vs Engel & Volkers Houston (2:00pm ET/ 1:00pm CT)
San Saba vs Rocking P (3:30pm ET/ 2:30pm CT)
*Hope Arellano is an Active Team USPA member and Tiamo Hudspeth is a Team USPA alumna. Team USPA is a USPA program designed to enhance and grow the sport of polo in the United States by identifying young, talented American players and providing mentored training and playing opportunities leading to a pool of higher rated amateur and pro players and the resultant giveback to the sport of polo.
All photos courtesy of ©Kaylee Wroe.