Women's polo arrived in the Santa Ynez Valley for the Pacific Coast Circuit Women's Challenge-A-Flight beginning on Wednesday, August 25, when Topo Chico (Maggie Papka, Meghan Gracida, Izzy Parsons, Tiva Gross) and Sotheby's (Elizabeth Humphreys, Dawn Jones, Dayelle Fargey, Victoria Grace Day) met in the first of two matches at La Herradura Polo Club LLC in Santa Ynez, California. Hosting their first USPA circuit event, the 20-goal women's competition concluded on Sunday, August 29, with Topo Chico capturing their second victory over Sotheby's with a sixth chukker charge to secure the 8.5-7 triumph and claim the title.
"It's very special playing with this incredible team, playing alongside one of my best friends Izzy [Parsons], as well as the talented Meghan [Gracida] and Maggie [Papka]. We really complimented each other's polo and trusted each other." – Tiva Gross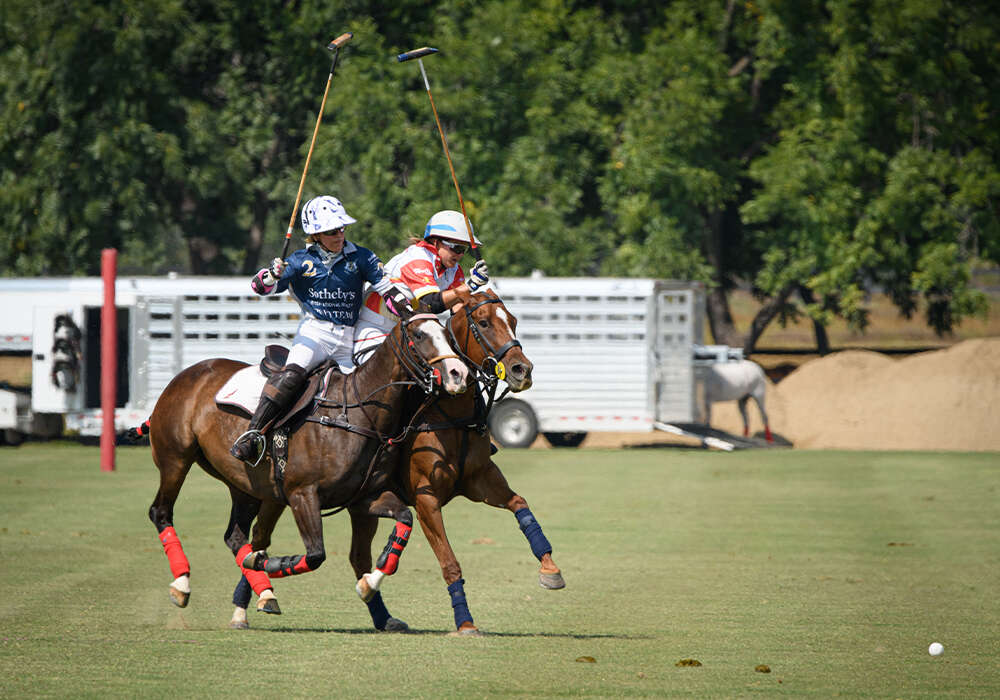 Sotheby's Dawn Jones lays a heavy bump on Topo Chico's Tiva Gross as she prepares to hit the ball on the nearside.
Held over two days, a win in the opening game on Wednesday did not ensure a tournament title but positioned the teams for the final game on Sunday. Holding half a goal on handicap, Topo Chico struck first on a field goal from Gross, but their lead quickly evaporated after consecutive goals for Sotheby's, including a Penalty 2 conversion for Jones to end the first chukker. The momentum swung completely in favor of Topo Chico, displaying a well-rounded lineup that resulted in contributions from all four women. Back-to-back goals from Papka and Gross restored Topo Chico's 1.5 goal advantage by halftime, with a decisive third chukker determining the first match. Encouraging words from legendary coach Memo Gracida resulted in an impressive seven-minute stretch as Topo Chico received one goal from each player, while continuing to hold Sotheby's off the scoreboard to begin the second half. "In Kenya you don't get much or any coaching at all and I'm always eager to learn," Parsons shared. Completing a run of seven unanswered goals, Topo Chico completed the 8.5-3 victory to claim the opening match.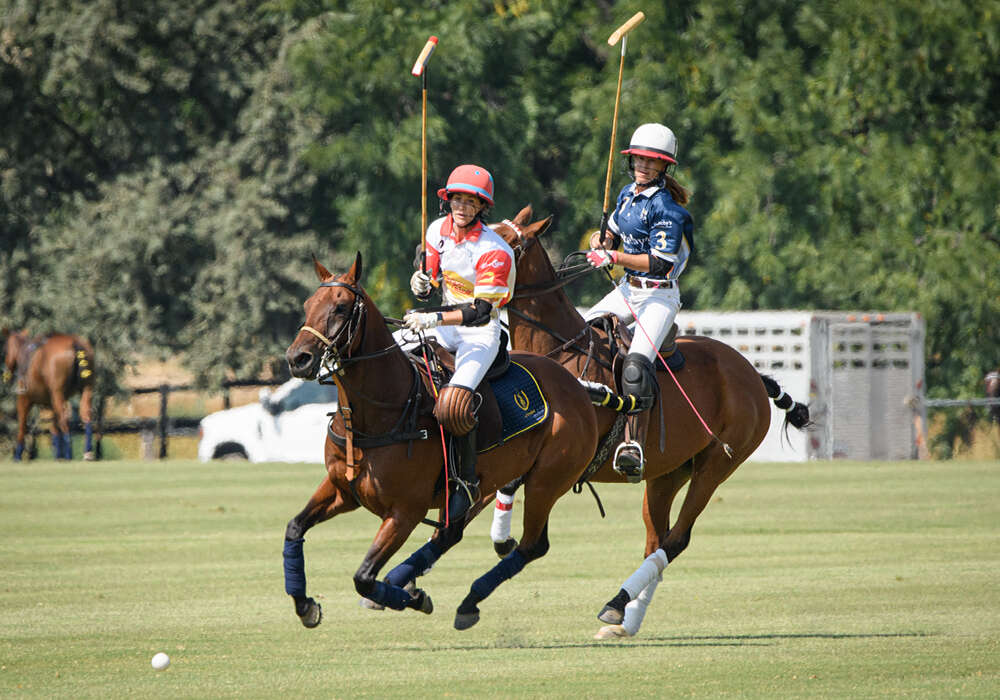 Topo Chico's Meghan Gracida keeps her eyes on the ball with Sotheby's Dayelle Fargey close behind.
The scores reset for the final on Sunday, with a potential Sotheby's victory meaning a sudden death overtime chukker to determine the tournament champion. For the second game, Sotheby's produced a quick start that had three of their teammates find the scoreboard, collecting field goals from Day and Fargey and a penalty conversion from Jones. Following a similar storyline, Topo Chico responded with a strong second chukker that pushed them into the lead after two goals each from Gracida and Gross. "We started off with a slightly different strategy than the previous game," Gracida commented. "We had to change it after the first chukker because it wasn't quite working, but that's what is so fantastic about these ladies is they're able to adapt and work different positions." However, Fargey's second tally kept Sotheby's within 1.5 goals and demonstrated that Topo Chico was in for a tough battle in the second half.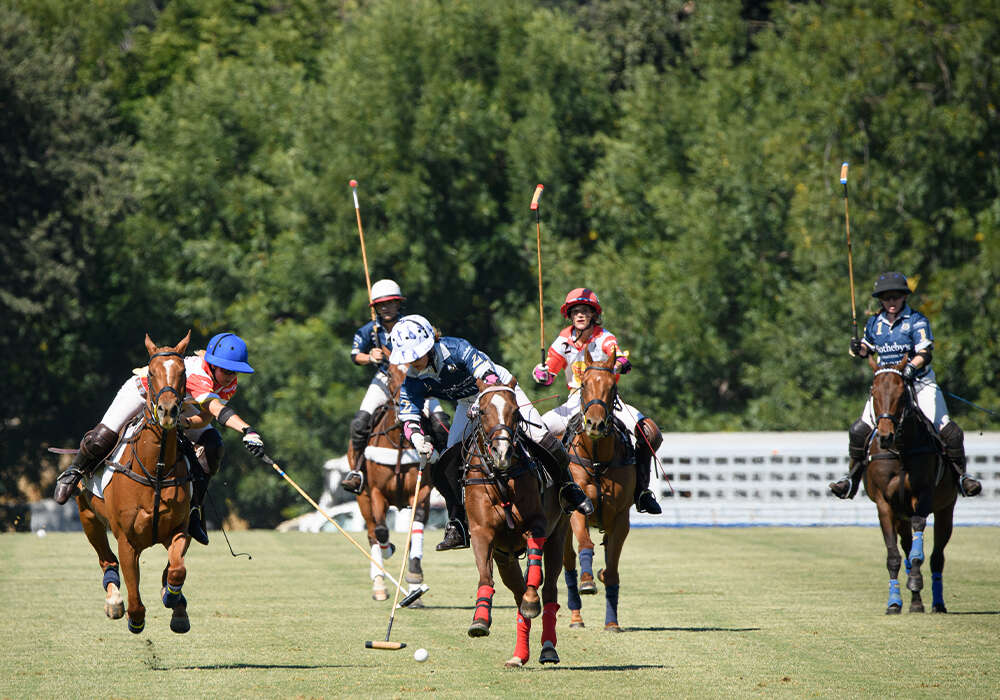 Topo Chico's Izzy Parsons reaches for a hook on Sotheby's Dawn Jones.
A determined Sotheby's team exited halftime with a renewed focus that extended from end-to-end on the field. Their defense stood tall to keep Topo Chico scoreless and allow them to fight their way into the lead after consecutive goals from Fargey and Jones. Ahead by half a goal with one chukker remaining, Sotheby's had their sights set on overtime, but Topo Chico turned to their six and eight-goal players in Parsons and Gross to lead them to victory. Opening the fourth chukker with a field goal from Gross, Topo Chico regained the lead and never looked back despite a late challenge from Sotheby's. Moving in and out of a half-goal difference on the scoreboard, the outcome was secured for Topo Chico after Parsons' second goal of the chukker. "It was a nice pass from Tiva [Gross]," Parsons said. "I wanted to make sure that we didn't go to overtime, the horses had been playing hard, so I was keen to dash off."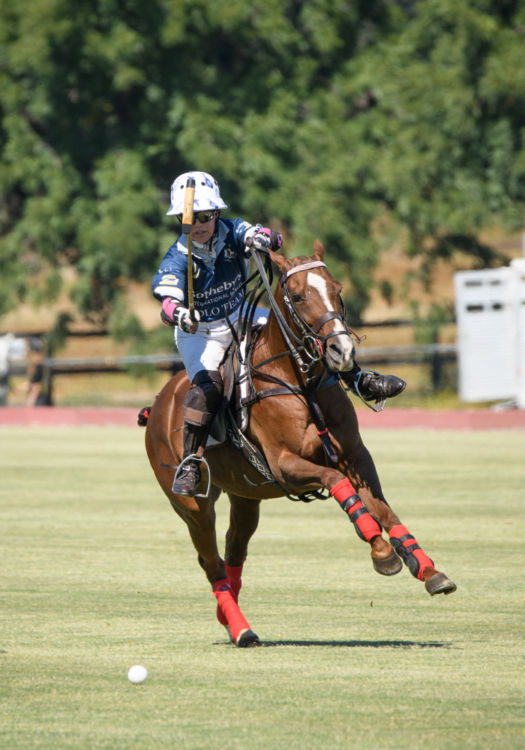 Dawn Jones riding Nicola, named the Pacific Coast Circuit Women's Challenge A-Flight's Best Playing Pony.
Hailing from Kenya, Tiva Gross and Izzy Parsons often find themselves on opposite sides of the ball, but successfully teamed up for Topo Chico, describing the chemistry developed with Meghan [Gracida] and Maggie [Papka] over the past week. "We were lucky enough to arrive about 10 days before this tournament started and we'd been staying with Memo and Meghan Gracida, playing chukkers, riding and getting to know the horses," Parsons explained. "We had a team practice on Sunday which went well with Maggie [Papka] up front, Meghan working hard in the middle, myself at three and Tiva [Gross] at the back." Although taking a little time to find their rhythm in the beginning, Topo Chico recovered to win both their games. "The first chukker of the first game was a little bit sticky finding our feet. Women's polo is quite tricky because you often travel long distances to these games and there's quite a bit of pressure in four chukkers to get the job done in a short amount of time."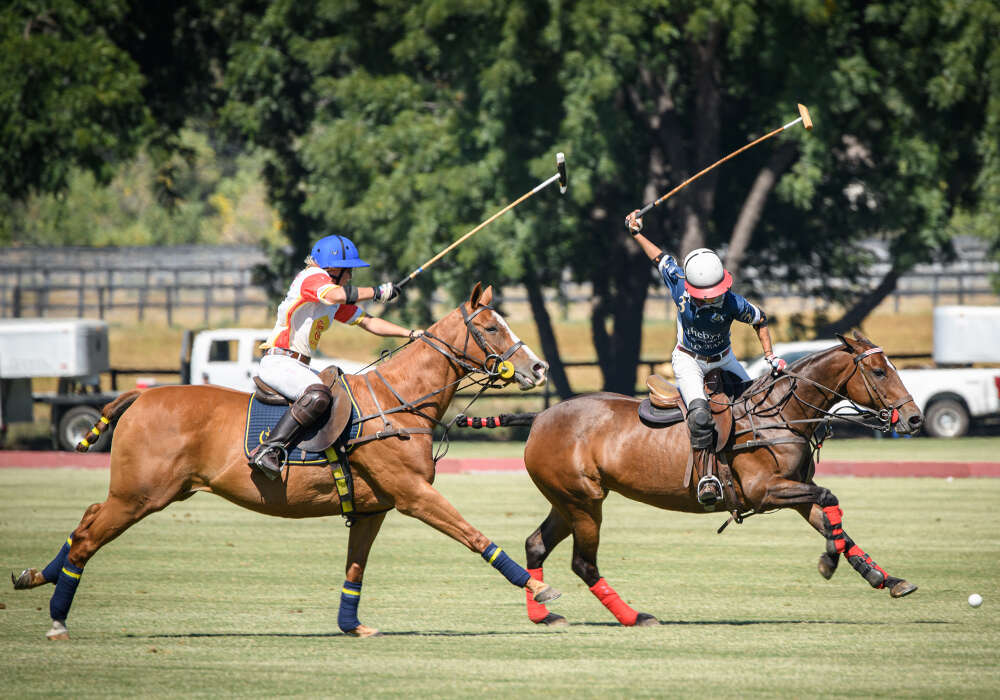 Sotheby's Dayelle Fargey hitting a forehand with Topo Chico's Izzy Parsons following close behind.
After a car accident kept Gross off the polo field for over a year, she returned to play professional women's polo for the first time. "It feels amazing being back," Gross shared. "I feel on a personal level I am more determined and ambitious than before." Invited by Meghan Gracida to compete on a team together, Tiva Gross and Izzy Parsons could not pass up the opportunity. "It's hard to get an opportunity once you've been out for a little bit," Parsons commented. "This is a fantastic opportunity for Tiva [Gross] to be back playing in the States."
The play of the two Kenyan's did not go unnoticed by their teammates. "Tiva and Izzy are amazing," Meghan Gracida exclaimed. "They're such good teammates and not just incredible athletes, but they're super both on and off the field as people."
Claiming the first official USPA tournament at La Herradura Polo Club LLC, Topo Chico won the prize money tournament, but the tournament had a larger purpose, honoring Sunny Hale and benefitting the Susan G. Komen nonprofit organization of Northern and Central California, which highlights breast cancer awareness, prevention and treatment. Donating her winnings to Susan G. Komen, Gracida said, "it's not for the money, I'd rather support an organization like [Susan G. Komen] because cancer is near and dear to my heart."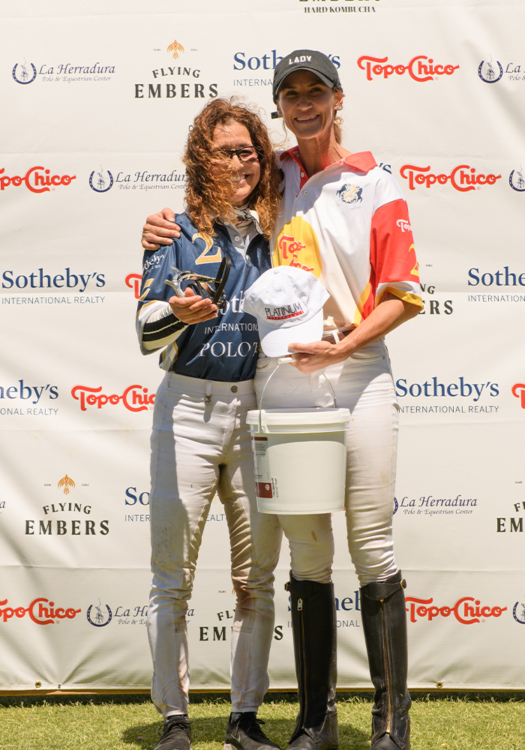 Most Valuable Player Dawn Jones, presented by Meghan Gracida.
""The gratitude I feel to be chosen as MVP in this talented company is impossible to measure. It is especially meaningful as we all remember our much loved friend Sunny [Hale].""
Scoring four goals over two games, Sotheby's Dawn Jones was named Most Valuable Player. "The gratitude I feel to be chosen as MVP in this talented company is impossible to measure," Jones said. "It is especially meaningful as we all remember our much loved friend Sunny [Hale]."
Best Playing Pony honors were presented to 8-year-old Nicola (Mancha Negra x Nicole), played by Dawn Jones in the third chukker of the final game. Nicola's dam Nicole is owned by 10-goaler Sapo Caset and plays in the U.S. Open Polo Championship®, USPA Gold Cup® and in Argentina. "The first time I played Nicola was in the third women's Argentine Open with Fred Segal," Jones shared. "Nicola has remarkable speed, especially her acceleration in the turns headed to goal. She can also reverse direction lightning quick and she never gives up on a play. Although she's a small mare, she's essentially Mighty Mouse without the cape!"
Originally from Wisconsin and an intercollegiate/interscholastic (I/I) alumna from Cal Poly Polo Club (Los Osos, California), Papka was thrilled not only to participate at the highest level she's ever played but also win the tournament. "Meghan Gracida gave me this opportunity and I owe it all to her for making it happen!" Papka exclaimed.
The emergence of La Herradura Polo Club LLC as a USPA tournament host club will ensure women's polo continues to develop at all levels of play.
All photos courtesy of ©Chantal Hasse.