After three weeks of competitive play in a field of nine teams, Vintage Polo (Joe Bob Lequerica, Lily Lequerica, Cody Ellis*, Jimmy Seward) and Rocking P (Bridget Price, Grayson Price, Tommy Costello, Marcos Villanueva) emerged Delegate's Cup finalists at Houston Polo Club (Houston, Texas).

Defending champions Seward and Lily Lequerica were joined by Ellis and Joe Bob (Lily's younger brother) creating a formidable six-goal team that went undefeated in match play. Although Vintage Polo would enter the final with confidence in their record overcoming a stacked field of competitors was no easy task, "we've had some tough games and with nine teams you have to try and win every single one. I think our simple game plan and our really great chemistry has helped us improve every game," said Ellis. "We had a couple of overtime games, but I attribute our wins to hard work and commitment to play team polo," noted Seward.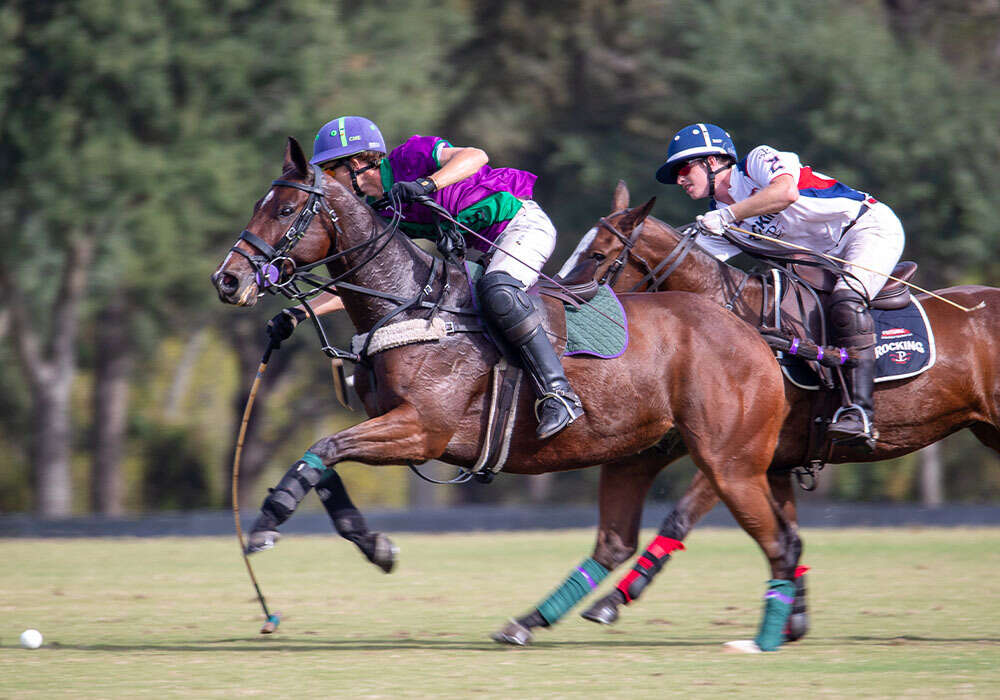 Vintage Polo's Cody Ellis reaches to tap the ball forward ahead of Rocking P's Grayson Price.
A determined Rocking P proved to be a challenging matchup, entering the final with the second-best record of the tournament with three wins, as second sister/brother duo of Bridget and Grayson set the finals for a polo sibling showdown. Rocking P controlled early play capitalizing from the penalty line, but the patience and persistence of Vintage Polo's offense came to life in the second half, as a six goal third chukker propelled them to the Delegate's Cup title 8-4.
"We are fortunate to be undefeated! We had a couple of overtime games, but I attribute our wins to hard work and commitment to play team polo. The kids [Joe Bob Lequerica and Lily Lequerica] are very coachable, unselfish and work for the team."" – Jimmy Seward

Penalties for each team factored heavily in the opening chukker. Despite three Penalty 5 opportunities for Rocking P and three Penalty 5 opportunities for Vintage Polo along with an additional Penalty 3, neither team could convert ending the first scoreless for both teams. Bridget Price reached the scoreboard first in the second chukker, followed by her younger brother knocking in the second goal of the chukker on a Penalty 3. Seward reflected on Vintage Polo's early foul troubles, "we were very rushed and made some silly fouls. Rocking P had us out of our normal in the first half." Costello scored once more for Rocking P to take a three-goal lead before Ellis was finally able to find the goal for Vintage Polo. An additional goal on a Penalty 4 from Villanueva took Rocking P into the half with a 4-1 lead.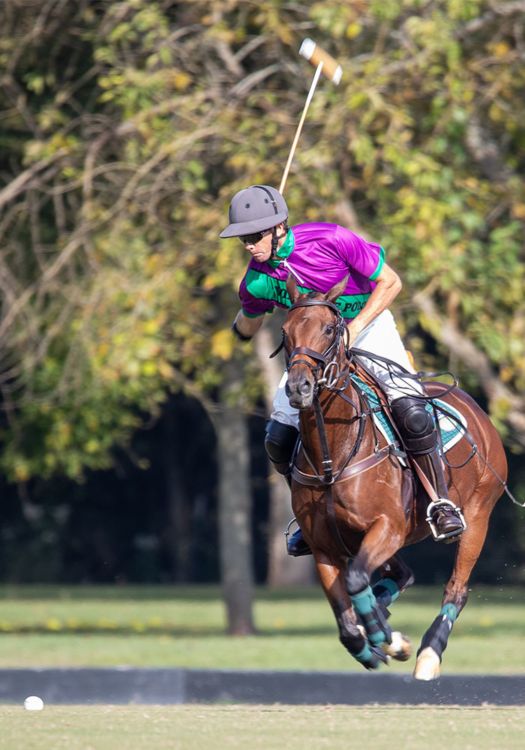 Vintage Polo's Jimmy Seward.
Building off the sole goal for Vintage Polo in the first half, Seward would strike first in the third with back-to-back goals, "we didn't change the strategy, I just kept telling the team to get focused and keep working. We had an amazing third period to change the game." The offense continued to materialize with Ellis finding the goal twice, followed by a third from Seward. A final Penalty 1 awarded to Vintage Polo pushed the team into the lead 7-4 moving into the last chukker, Rocking P kept off the scoreboard entirely.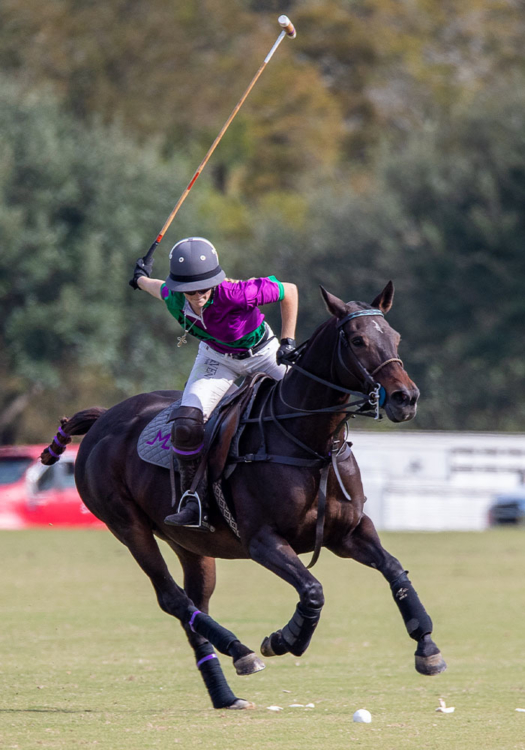 Vintage Polo's Lily Lequerica with a gorgeous forehand shot on Amateur Best Playing Pony Blade.
Regrouping at the half, Lequerica expressed the importance of patience in their game, "we played like we were down, which we were. [We] dug deep and stayed very focused. Jimmy [Seward] and Cody [Ellis] did not change the game plan, instead we had a chat about staying calm and focused, and results would follow." A patient execution and belief in his young teammates was expressed by Ellis, "we try to keep our strategy very simple and we give Lily [Lequerica] and Joe Bob [Lequerica] a task that is probably a little over their heads and watch them do their thing. Our game plan never changed, we just executed better in the second half." Unable to mount any offensive in the second half, Rocking P's strong second chukker resulted in their only scoring as Ellis knocked in the last goal of the match for Vintage Polo to secure the 8-4 victory.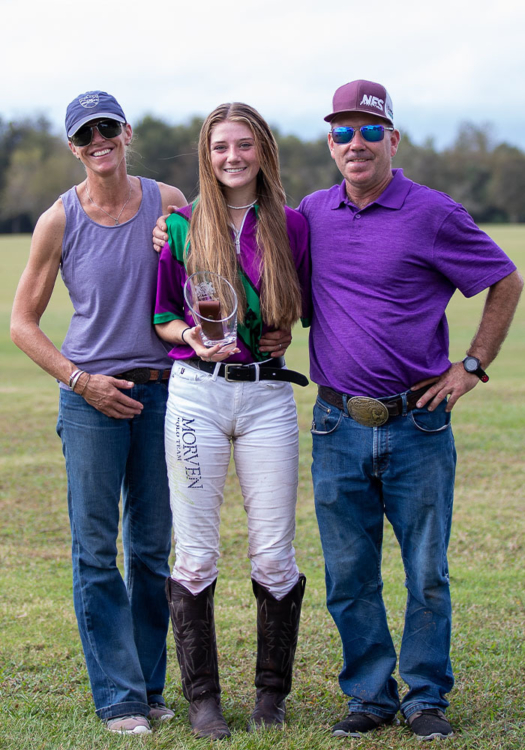 Most Valuable Player Lily Lequerica, pictured with her parents Shelia and CJ Lequerica.
Familial bonds were key to Lequeria's success on Vintage Polo's newly-formed team, "my brother and I play together a fair amount. This is the second time I've had a team with him in 6 goal. There is no one I'd rather play on a team with, we play well for each other and always have confidence in one another."
Lequerica was named Most Valuable Player and Ellis shared the excitement of competing with talented younger players, "Joe Bob [Lequerica] and Lily [Lequerica] have been playing outstanding, they are really great kids. I spend quite a lot of time with them during the week and get to see how hard they work at the game. I love playing with them! Can't wait to see how far they go." Seward echoed his praise for Lily on her Most Valuable Player honors, "Lily has been playing very steady all season she is very good with a man then transitions to the ball quickly! Her success is simple, she is very coachable, works hard on and off the field and has great horses for her rating."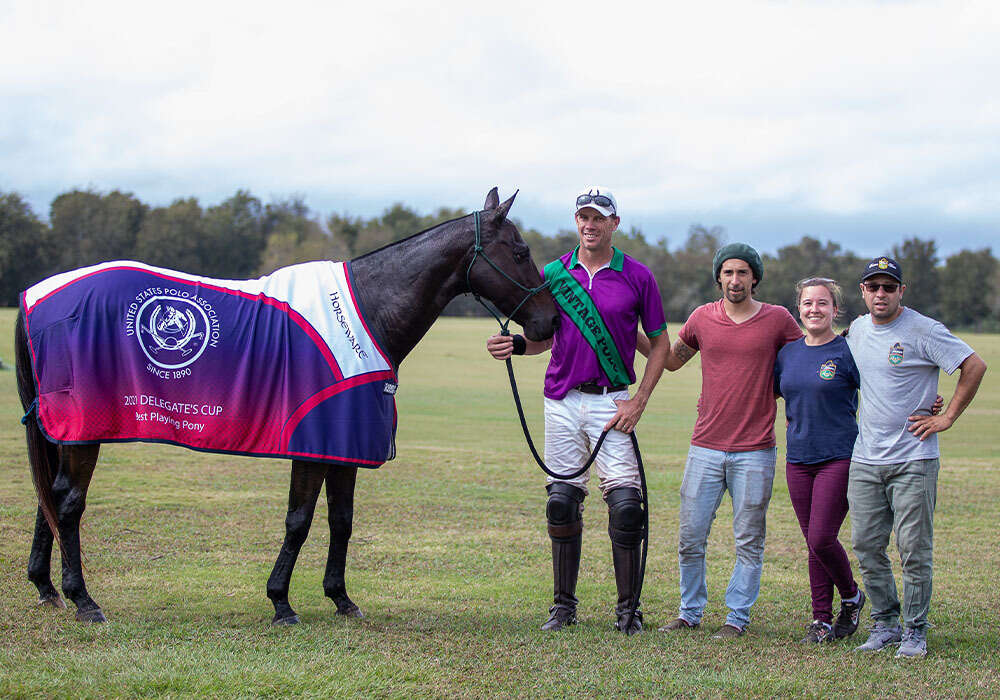 Best Playing Pony, Farolito. Played by Jimmy Seward and owned by Tonkawa, pictured with Fernando Pees, Marcela Banegas and Topo Lara.
Best Play Pony honors were awarded to 12-year-old Farolito played by Seward in the third chukker and owned by the Tonkawa polo organization. The gelding purchased from Paco De Narvaez, "played every level of polo. He is very fast and powerful. He played amazing Saturday getting me to a whole bunch of plays for the whole period. A game changing horse," exclaimed Seward.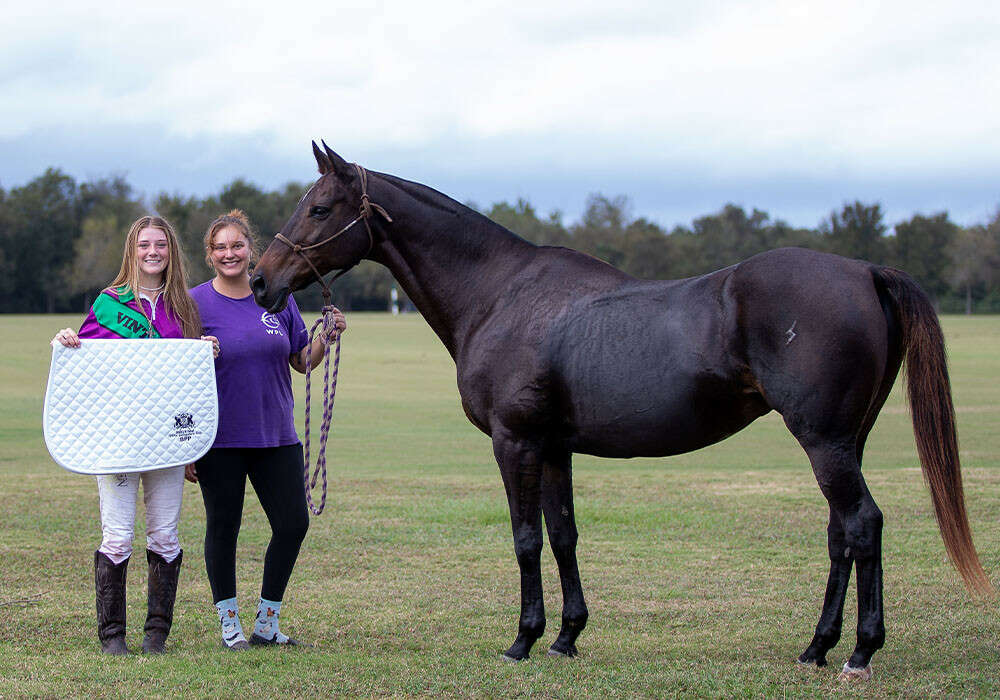 Amateur Best Playing Pony, Blade. Played by Lily Lequerica and owned by the Lequerica family, pictured with Emiline Sylvestre.
Amateur BPP was presented to 15-year-old Blade from the Connell breeding program in Big Horn, Wyoming, played by Lily Lequerica. "I always play Blade in the third, she's an amazing horse to come off halftime with to stay awake and focused. Blade's best quality is that she is always the same no matter what the situation. I can always count on her, and her consistency gives me great confidence." For Lequerica, her next challenge at Houston Polo Club is approaching quickly with consecutive appearances in the Texas Women's Open (Engel & Volker's Houston) and prestigious U.S. Open Women's Handicap® (Quiet Creek Farms) from October 9-15.
All photos courtesy of ©Christina Cantu.