On an absolutely perfect Sunday, January 30, at Eldorado Polo Club (Indio, California), two finals were held in the Pacific Coast Circuit Officer's Cup, beginning with the 4-goal B-Flight final. Never trailing in the match, Nicolas Nierenberg and Kim Kelly's Persyst/K2 (Nicolas Nierenburg, Kim Kelly, Dayelle Fargey, Tim Rudy) claimed the 7-6 victory over Breva Farms (Lisa Slaughter, Piers Bossom, Jessica Bailey, Francisco Guinazu), while the second final of the day featured Antelope riding to an 11-8 triumph against Bush League in the 8-goal A-Flight final to conclude a month-long tournament of 35 matches.
PACIFIC COAST CIRCUIT OFFICER'S CUP B-FLIGHT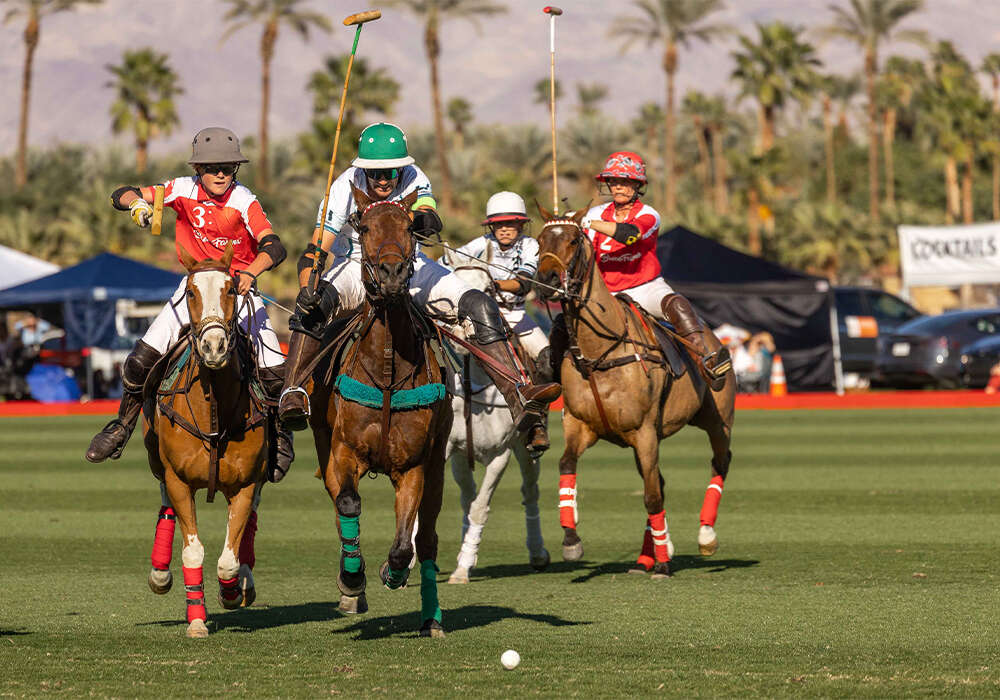 Persyst/K2's Tim Rudy pushes for the ball with Breva Farms' Piers Bossom at his hip. ©Kaile Roos
The opening B-Flight final featured a fast-paced first half with nine combined goals with numerous chances on both sides of the ball. Persyst/K2's Fargey and Rudy scored back-to-back field goals to begin play, but Guinazu ended the first chukker with two goals of his own to bring the game even 2-all. Two penalty conversions for Rudy pushed Persyst/K2 back into the lead as Breva Farms remained a step behind, trailing 5-4 at halftime.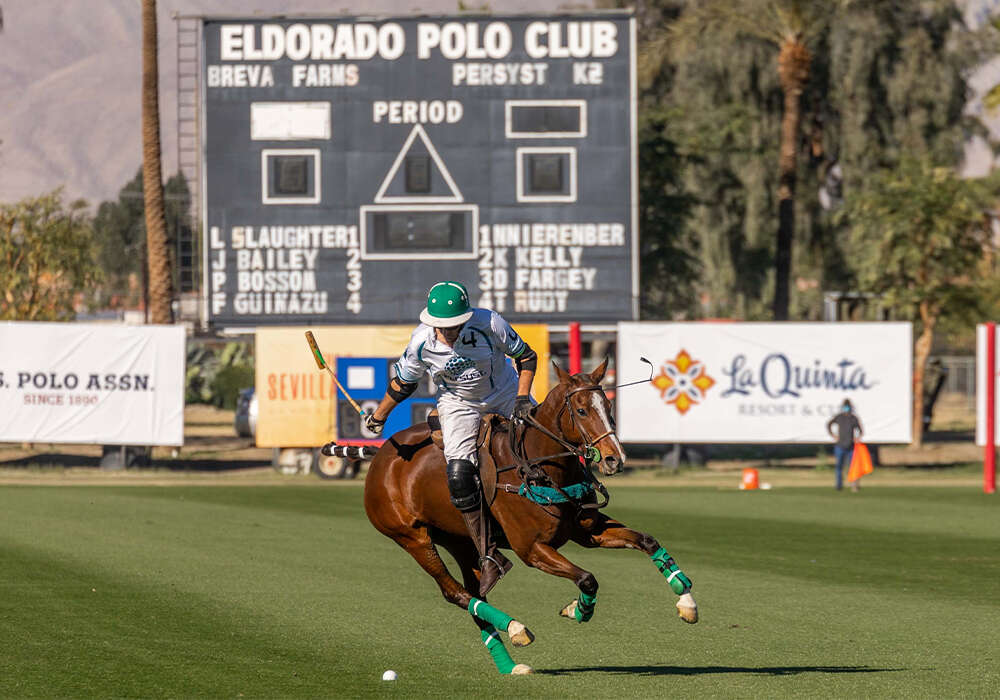 Scoring three goals for Persyst/K2, Tim Rudy was named Most Valuable Player. ©Kaile Roos
Turning to their defense in the second half, Persyst/K2 kept their opponents scoreless in the third chukker to build a 6-4 lead on Fargey's second tally of the game. Extending her team's lead to three in the opening moments of the final chukker, Fargey and the Persyst/K2 team were just steps from victory, but Breva Farm showed a spirited effort in the remaining minutes. Receiving a Penalty 1, Breva Farms trailed 7-6 but could not complete the comeback as the Roenisch Bronzes were awarded to Persyst/K2 in the narrow victory.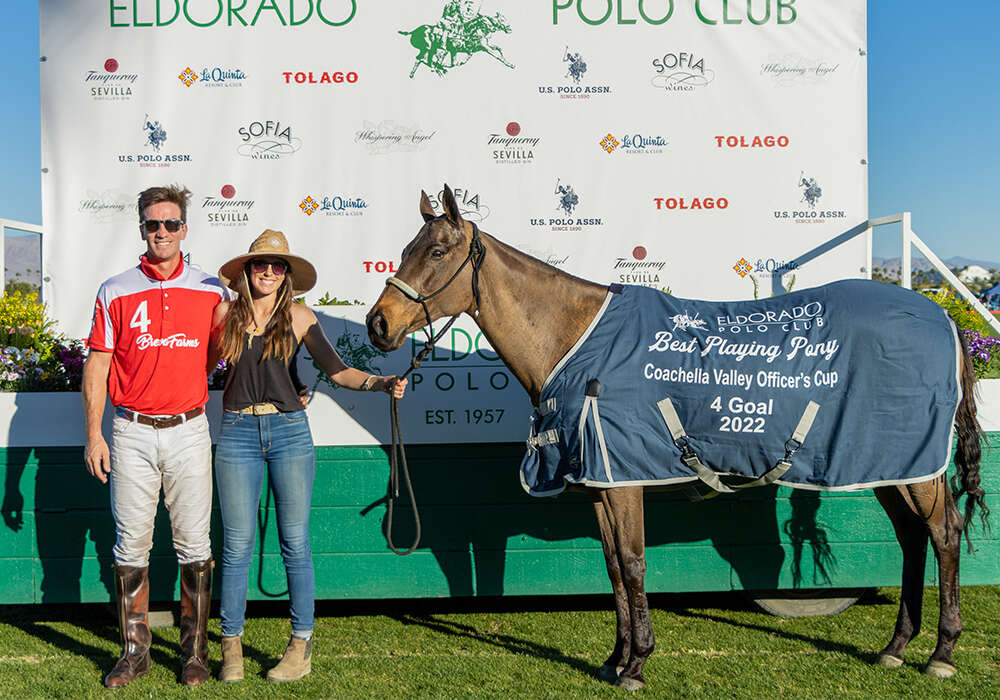 B-Flight Best Playing Pony Ula. Played and owned by Fransisco Guinazu, pictured with Erin Nagle. ©Kerri Kerley
Finishing with three goals, Tim Rudy was chosen as the Most Valuable Player while Ula played by Breva Farm's Francisco Guinazu in the third chukker earned the honor of Best Playing Pony.
PACIFIC COAST CIRCUIT OFFICER'S CUP A-FLIGHT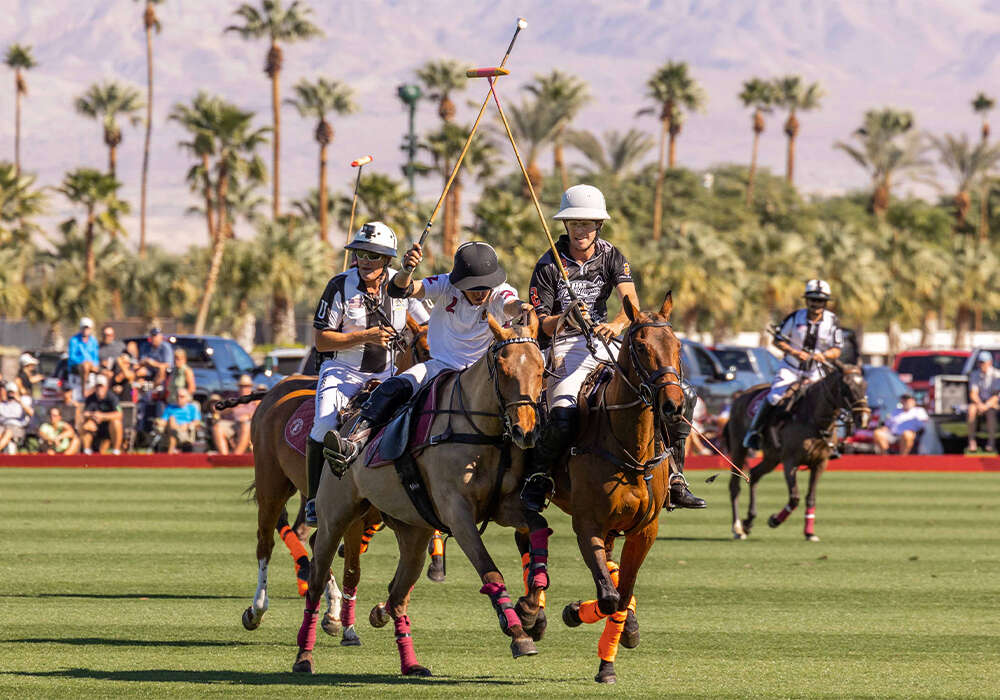 Antelope's Bayne Bossom leans into the bump on and Bush League's Alejandro Gonzalez. ©Kaile Roos
The 8-goal Pacific Coast Circuit Officer's Cup A-Flight final featured Antelope (Grant Palmer, Ian Schnoebelen, Bayne Bossom*, Santiago Trotz) facing off against Bush League (Quinn Kyle, Alejandro Gonzalez, Ulysses Escapite, Virgil Kyle). A strong opening half for Antelope set the tone under sunny skies, building a significant lead while keeping possession away from their opponents. Receiving one goal on handicap, Antelope quickly added to that lead when Bossom broke through in open play for the first goal. Bush League's Escapite brought his team back within one, but a surging Antelope team produced five unanswered goals to end the half, including two each from Bossom and Trotz to hold the 9-3 lead.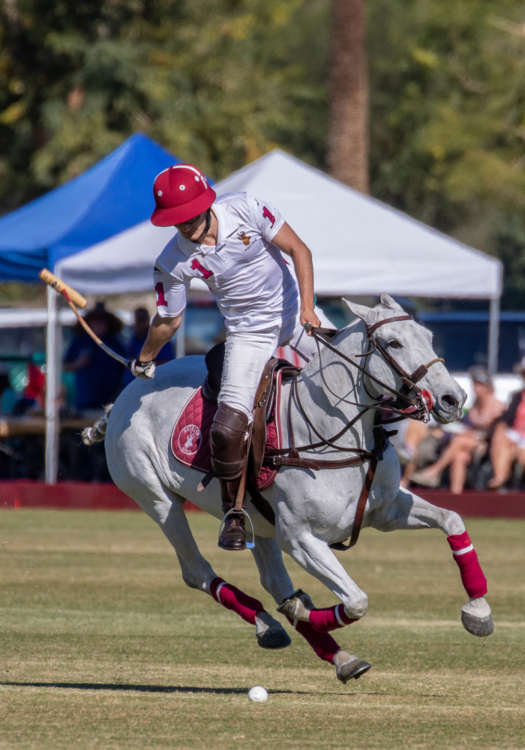 Breaking through for Antelope in the sixth chukker, Grant Palmer was named Most Valuable Player. ©Kerri Kerley
Facing a difficult task in the second half, Bush League were able to hold Antelope scoreless in the fourth and fifth chukkers to slowly chip away at their deficit. Quinn Kyle's second penalty conversion of the half brought Bush League back within three goals entering the sixth chukker trailing by just three. After their electric first half, Antelope finally broke through in the sixth chukker, receiving two field goals off the mallet of Palmer and Trotz to thwart Bush League's comeback and secure the 11-8 victory.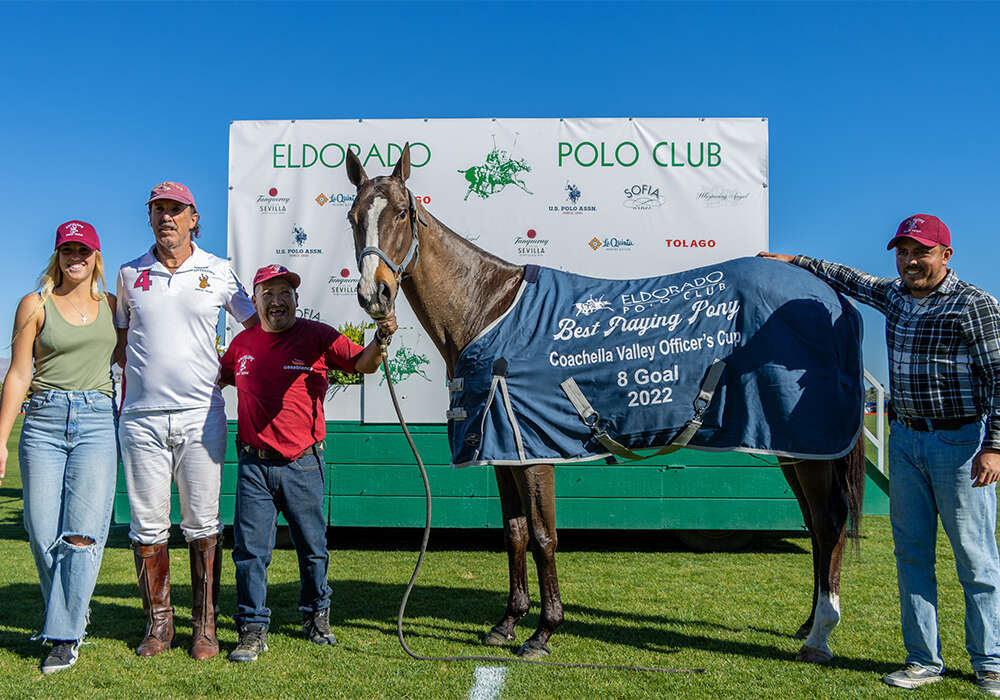 Flight-A Best Playing Pony Sorpresa. Played and owned by Santiago Trotz, pictured with Jazmin Trotz, Emanuel Martinez and Kilos Flores. ©Kerri Kerley
With strong play on both the offensive and defensive ends, Grant Palmer was named Most Valuable Player and Sorpressa, owned and played by Santiago Trotz claimed the Best Playing Pony blanket.
*Bayne Bossom is an Active Team USPA Member. Team USPA is a USPA program designed to enhance and grow the sport of polo in the United States by identifying young, talented American players and providing mentored training and playing opportunities leading to a pool of higher rated amateur and pro players and the resultant giveback to the sport of polo.ELDORADO POLO CLUB