Continuing play in the USPA Gold Cup® playoffs at International Polo Club Palm Beach (IPC), Monday's doubleheader began on Field 5, as an 0-2 Coca-Cola overcame a four-goal deficit to upset previously undefeated La Indiana 11-10, while Dutta Corp/Show+ controlled the pace of the second doubleheader in a complete team effort against CK Shack to take the 10-7 victory and book their ticket into the quarterfinals.
Conceding one goal on handicap to La Indiana, Coca-Cola's Nico Escobar quickly erased the deficit to tie the match at 1-all. With each team committing eight fouls, scoring in the first half was largely driven from the penalty line, with Jeff Hall and Lucas Criado Jr. sharing the shooting duties to account for four La Indiana goals, while Nico Pieres responded with a Penalty 3 to leave Coca-Cola trailing by two. Receiving a double yellow card, Escobar was relegated to the penalty box late in the third chukker to give La Indiana a one-man advantage for two minutes. However, Coca-Cola stood tall and prevented La Indiana from scoring with their extra man, as Escobar galloped back onto the field to facilitate Coca-Cola's first goal in open play from Julian de Lusarreta. Following a last-minute goal from La Indiana's top scorer Criado Jr., La Indiana managed to take a 5-3 lead into halftime.

Resuming play with a slim advantage, La Indiana's Hall burst onto the field to start the second half of play, singlehandedly scoring three goals in the fourth chukker. Still searching for their first win of the tournament, Coca-Cola was unwilling to give in to the pressure and a provided a significant response with a phenomenal run of four unanswered goals, including two off the mallet of Escobar. Fighting all the way to within one goal entering the final chukker of play, Coca-Cola took advantage of the momentum in their favor. Despite a quick goal from Criado Jr. to account for his fifth on the day, Pieres and Escobar bared down to combine for another three goals, with two back-to-back Penalty 2's. Matching each other stride-by-stride in shots with sixteen for Coca-Cola and fifteen for La Indiana, Coca-Coca took the lead in the sixth chukker for the hard-fought 11-10 victory.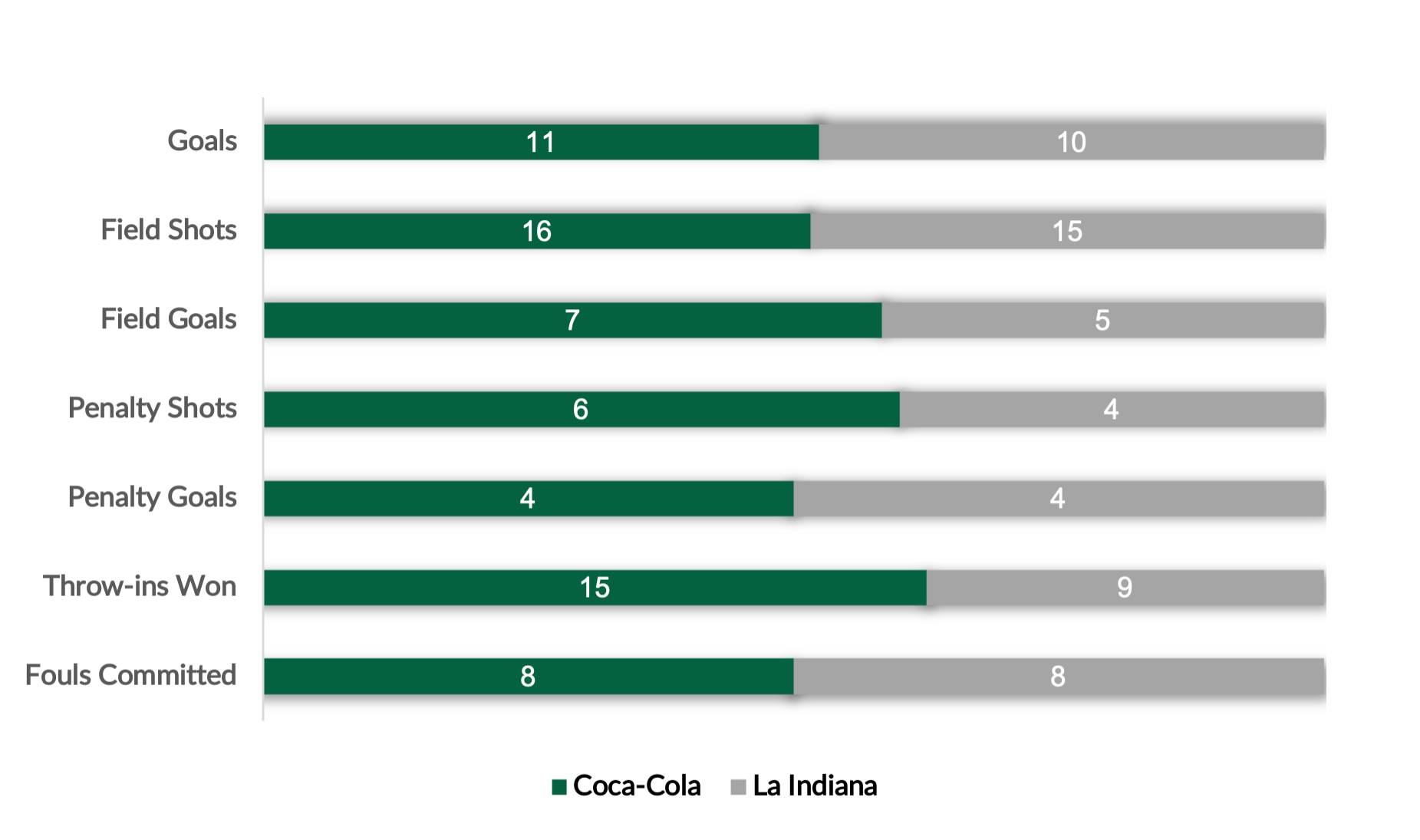 Assembling on Field 3 for the second match of the doubleheader, an undefeated Dutta Corp/Show+ got off to a dominant start. Surrendering two Penalty 2's to Santiago Toccalino and CK Shack in the first chukker, Dutta Corp Show+ produced an eight-goal blitz in the first half to race ahead. With a complete team effort, each member of Dutta Corp/Show+ added their name to the scoresheet, with Tomas Garcia del Rio, Inaki Laprida and Timmy Dutta each adding two goals. Dominating possession and winning the battle in open play, Dutta Corp/Show+ held CK Shack to just two goals from the field in the first half. Scoring all but two of their eight goals from the field, Dutta Corp/Show+'s carried a comfortable 8-2 lead into the break.

Struggling to generate any offensive since the opening chukker, Martin "Facha" Valent finally found the posts on back-to-back goals for CK Shack. Garcia del Rio responded with a safety conversion, but CK Shack's Kampsen built off Valent's success from the field to knock in his first of two goals in the second half. With sixteen combined fouls between the two teams and only four conversions, scoring from the field continued to dominate the day, with back-and-forth play accounting for multiple opportunities for both sides. Dutta Corp/Show+ kept the offensive pressure on a surging CK Shack, as Laprida's third goal of the match extended their lead to five. With time quickly ticking down in regulation, a final push from Kampsen and Toccalino simply wasn't enough to pull themselves back into the match, allowing Dutta Corp/Show+ to cruise into the quarterfinals and remain undefeated with the 10-7 win.
Playoffs in the USPA Gold Cup® will conclude at International Polo Club Palm Beach on Tuesday, March 15 featuring La Fe against Tamera at 11:00am ET at Isla Carroll East, followed by Cessna versus La Elina in the second match of the doubleheader at 3:00pm ET on Field 4.
Photo Credit ©Alex Pacheco