The Colorado State University women's polo team held a series against Montana State University. The teams played in Fort Collins, Colorado, at B.W. Pickett Arena March 26-27 at 11 a.m. both days, with CSU winning each match.
For any Ram fans uninformed on polo, it's a sport in which the athletes have to not only support great teamwork but also an amazing bond with their horses. In the series, the polo matches were played in four chukkers, which are periods, each seven and half minutes long. 
The first day, CSU showed the Bobcats they were not messing around and wanted to win. They had the first goal within two minutes of the first chukker with no sign of stopping, ending the first chukker with a high lead over the Bobcats. The second chukker was no different, with the Rams having amazing shots from further ranges as they continued to grow their lead, not allowing the Bobcats to score. The chukker ended with the Rams on top of the Bobcats 11-0.
The third chukker had a "halftime period," wherein officials had to re-mark the lines with chalk. The Bobcats valiantly fought and gained three goals against the Rams, but the Rams also scored two goals to maintain their lead. Despite the third chukker being won by the Bobcats, the Rams still resided over them 13-3.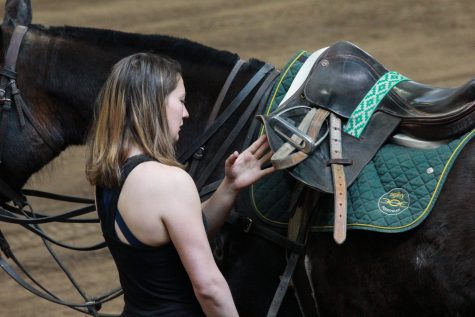 In the fourth and final chukker of day one, the Rams ran away with the score and added six more goals to their lead, while the Bobcats had no answer. The ending score was the Rams blowing out the Bobcats 19-3.
Starting off the second day, the Rams were seemingly ready to execute a repeat of day one, as they held true control of how fast the first chukker went. The Rams ended the first chukker with a 6-0 score over the Bobcats.
In the second chukker, there were a few player switches, horse changes and goal switches made by both teams. This gave the second chukker a slow start, as both teams were battling for control of the ball. Montana State scored their first goal after a few stops because of things falling on the arena from the players. Despite Montana's efforts, the Rams had the advantage with four more goals added to their score, ending the chukker 10-1.
In the third chukker, the ball seemed to get hit around all over the arena, jumping between the walls. The Bobcats had no offensive answer for the Rams, though, leaving them scoreless. The chukker ended 14-1.
The final chukker of the tournament between Colorado State and Montana State ended with another shutout. The Rams defense was impenetrable, not allowing the Bobcats to score. Colorado State closed out with another six goals to end the match with a final score of 20-1.
Reach Bryson Schminke at sports@collegian.com or on Twitter @brysons81.