Human (and horse) athletes ride through pandemic setbacks
WATCHING A HARVARD CLUB POLO match is a bit like finding out what you thought was mayonnaise was actually Miracle Whip all along—it's similar, but just different enough to feel unrecognizable. As head coach Crocker Snow '61, a lifelong polo player and retired journalist, puts it, "Polo is marketed by Ralph Lauren and The Great Gatsby and Prince Charles. And that is one part of polo. But it is absolutely not Harvard polo."
On this particular fall Saturday, six horse-and-rider pairs (three from Harvard and three from Babson College) gallop around the Joseph F. Poor Memorial arena in South Hamilton, Massachusetts, mallets raised, in pursuit of an inflatable white ball the size of a grapefruit. Unlike lawn polo, played on manicured expanses nine times the size of a football field, college polo takes place in small dirt arenas. Clam chowder replaces charcuterie, jeans and barn jackets stand in for designer hats, and a gopher hole behind a tree constitutes the closest thing to a toilet.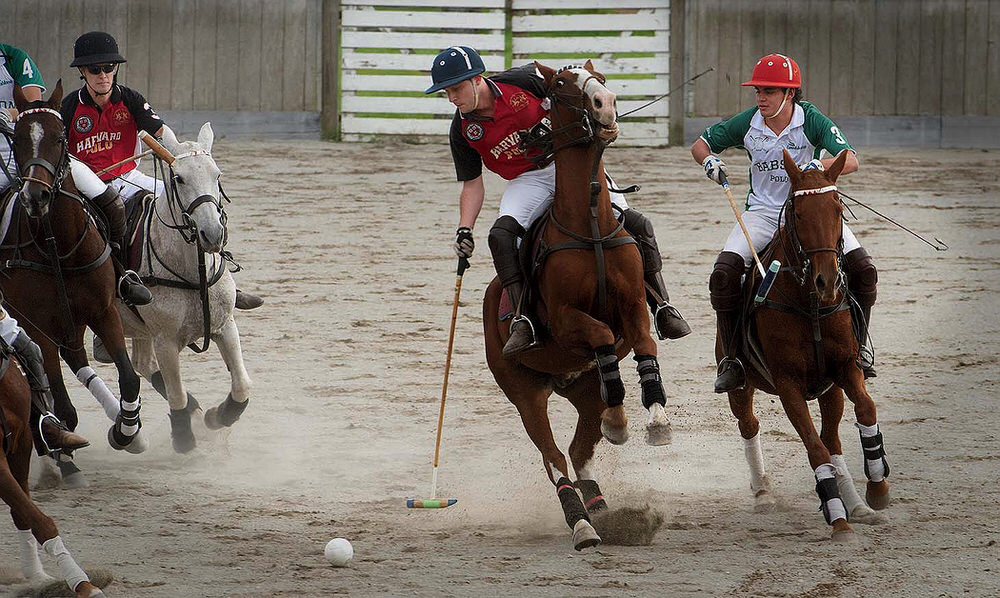 Carlos Roca de Togores, A.L.B. '21, halts and turns his pony
Photograph by Stu Rosner
This match, and polo in general, are intense—Byzantine emperor Alexander (r. 912-913) died from exhaustion during a game. With exhaustion-avoidance in mind, matches are divided into four "chukkers," or seven-and-a-half minute periods of play, with riders swapping ponies after each to let them rest. In college polo, the home team provides horses for the match in the interest of fairness. "The horses do a good 75 to 80 percent of the work," says match announcer Jim Jones, with some following the ball without a rider's cue. Sharing ensures that no one is winning just because of a quality mount, but it's also one of the most difficult parts of the game, says assistant coach Danielle Lussi '14. "You have to be flexible enough to ride so many horses and adjust to them quickly. It takes all-around horsemanship." Polo is one of the few club sports where players can be true beginners; some join the team without ever having ridden a horse. Varsity women's captain Annie Colloredo-Mansfeld '23 recalled a player once asking her how to make the horse go from "not moving" to "moving." Within about a year, beginners can play competitively, but this year's team is greener than usual after losing that practice period to the pandemic. Students who joined junior varsity right before the lockdown are now playing their first matches as varsity players. With 15 students in the program—split between the men's varsity, women's varsity, and co-ed junior varsity teams—recruitment for next year is crucial. To "really attract a crowd," Colloredo-Mansfeld and assistant coach, 19-year-old professional Chilean polo player Tomas Schwenke, cantered a horse around the Yard during the September Student Involvement Fair.
Several times a week, team members drive the club's Ford Transit 350 to their idyllic barn in South Hamilton, purchased in 2014. Raising the funds for the property took "hard work of the Winston Churchill variety: blood, sweat, and tears," says Snow—a combination of fundraising, partnering with Home Base to provide equine therapy for veterans, landing a sponsorship from international equestrian apparel company La Martina, and leasing out the team's horses during the off-season. But now the club has a place to board its horses, apart from the paddocks outside Snow's house they used for many years.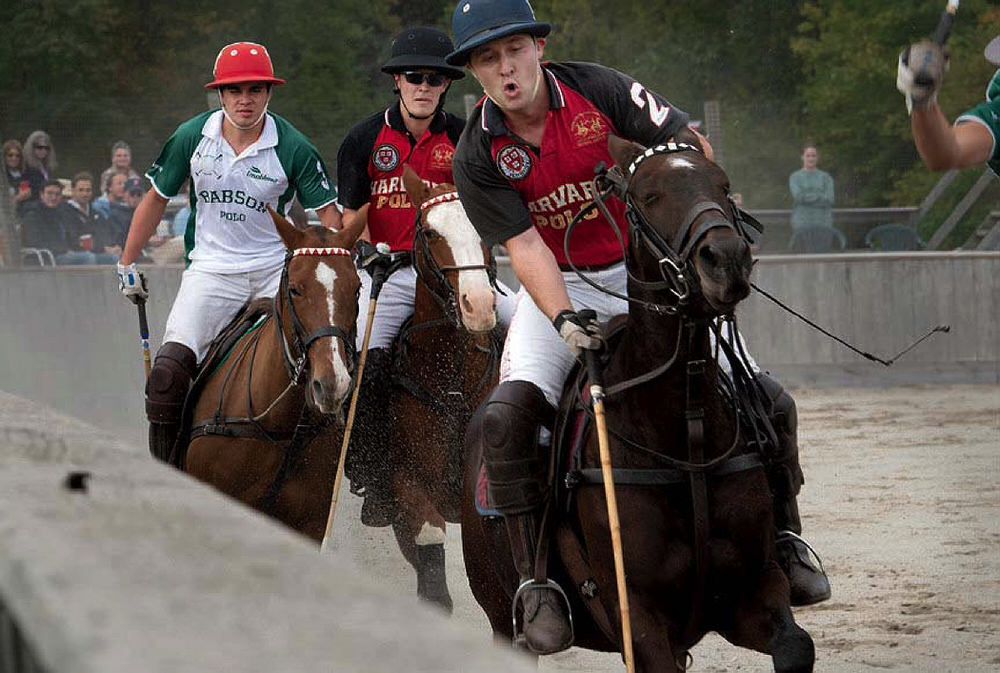 Roca de Togores leads the pack
Photograph by Stu Rosner
Including a stop for Chipotle, the students spend about six hours at the barn every practice—perfecting their mallet swings from a life-size wooden horse, holding scrimmages, and caring for the team's 16 polo ponies, about half of which were donated by actor and polo player Tommy Lee Jones '69. Snow says, "In polo there are human athletes and there are horse athletes," and the team can describe each horse's personality in enthusiastic detail. If anyone asks, Capocha is the patient but slightly spacey grandmother; Pelé, the superstar quarterback; and Amable, the hardworking, reliable sort of friend who will actually bring food to the potluck. The students groom and feed the horses—and help with the less glamorous parts, too. As Colloredo-Mansfeld says, "There's a lot of manure to clean."
As traditionally "Harvard" as something like polo might sound, the sport offers its players something they can't find on campus. "It's so restorative to get out of Cambridge and out of the bubble, to just do something different," Colloredo-Mansfeld says. "You can get off campus and get on a pony. How cool is that?"
Published in the print editon of the March-April 2021 issue (Volume 124, Number 4), under the headline "For the Love of Horses."