Rated 1 goal and proudly sporting a Hawaii Polo Life jersey in the all-new 16-goal Wellington Polo Tour, it's hard to imagine that just four years ago Jack Whitman* was only an enthusiastic polo student at Gardnertown Polo Club (Newburgh, New York) with dreams of becoming the next big name.
Knowing from the moment he picked up a mallet that he wanted to become a professional, the then 13-year-old Whitman immediately went to work with a clear vision, leaving his home state for an opportunity to work and train in Aiken, South Carolina. Following the established trajectory to gain experience through interscholastic polo and the National Youth Tournament Series, it was not until Whitman got a taste of 22-goal polo in 2020 that he boldly wedged his foot in the door of high goal.
At the time a 0-goal player with everything to gain, Whitman took full advantage of his network, and quickly found himself boarding a flight to Argentina for a training opportunity with none other than his idol Hilario Ulloa. Competing with top organizations like Coca-Cola and later sealing the 2021 C.V. Whitney Cup® victory for Park Place in an exhilarating overtime final, Whitman's willingness to seize every opportunity as they come has launched him to new heights in record time. Never losing sight of his ultimate goal, the college freshman balances his growing polo schedule with classes at Liberty University, exploring his interests in sociology, business and marine biology.
Now, with the Outback Invitational behind him and the Continental Cup™ on the horizon, the 17-year-old has truly come full circle from a young polo fan to an actual team member. Not allowing what could be perceived as insurmountable odds to deter his dream, this first-generation polo player is a reminder of what can be achieved with a focused mind and a relentless work ethic.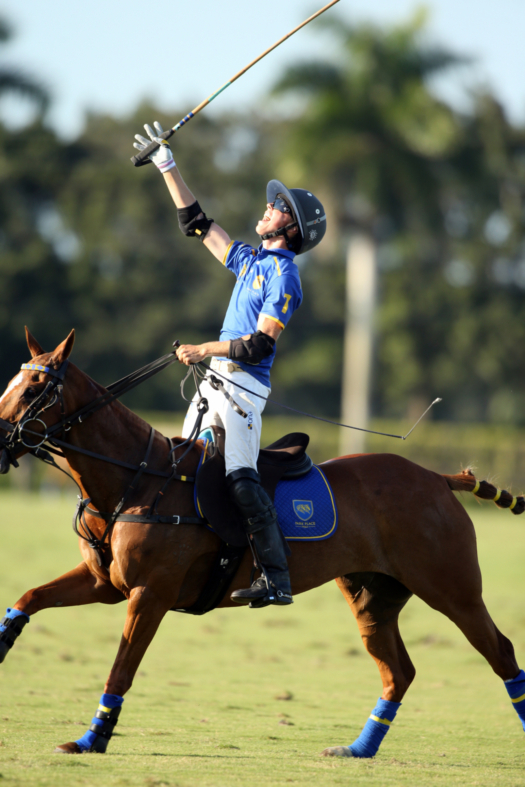 Jack Whitman celebrates his golden-goal moment in the 2021 C.V. Whitney Cup® final. ©David Lominska
How were you first introduced to polo?
"My mom has been riding horses since she was seven years old and competing in hunter/jumpers and equitation. My sister also got into it, but I was playing basketball and not really interested in horses at the time. However, when I was 13 years old I took my first jumping lesson, and although I loved the horses I was so bored with the hunters. I told my mom, 'Horses have really become a new passion that I didn't know I had but I don't like how slow the hunter/jumpers are.' We talked to her trainer to see what else I could do and found out Gardnertown Polo Club was 15 minutes down the road.
That's where my polo career first started. I played in the arena at Gardnertown for a full winter season. My mom had always traveled down to Wellington, Florida, to show with my sister in the Winter Equestrian Festival. I remember one summer in New York, Bill Dencker took all of us to play on the grass and that was when I really got hooked. I really started getting into polo once I started playing on the grass and going to Wellington with my mom."
What inspired your polo career?
"Because I played basketball I loved the idea of a polo jersey you could hang up in your room. When you watch football or basketball, you put on your favorite jersey to support your team but it's different in polo because the jerseys are only for the players. At the time Hawaii Polo Life was the only company that sold jerseys and I bought three colors with my allowance – orange, red and blue. From 2015 to 2018 I would watch two or three polo games on the USPA Polo Network on YouTube every night before I went to bed and I'd always put my jersey on. I still have them although they're way too small for me now! It has really come full circle and to be able to play for HPL now is an incredible opportunity because it's such a competitive 16-goal tournament."
LBL went undefeated in the 2021 fall season at New Bridge Polo & Country Club (Aiken, South Carolina). ©Katie Roth
"I didn't start playing polo as young as some of the other kids and that was always my motivation, to outwork everyone as much as I could. I always told myself I need to work as hard as I can because I wasn't as fortunate to come from a polo family." – Jack Whitman
What has been your most rewarding polo accomplishment to date?
"I remember when I got the call from Hilario Ulloa to play with Park Place in the 2021 C.V. Whitney Cup. It was a Friday night and my family and I were watching Modern Family. All of a sudden I got a text, looked down and saw that Hilario [Ulloa] had sent me a voice message. That was a surreal 'I made it' moment, but at the same time I knew I had such a long journey ahead with all the practices, team meetings, and riding. Of course, winning the 2021 C.V. Whitney Cup was huge, but each game I played with Juan [Britos], Matt [Coppola]* and Hilario [Ulloa] was such a big point in my career because I was able to play with guys I'd looked up to since I first started playing polo."
What is your biggest takeaway from playing with and being coached by Hilario Ulloa?
"I always looked up to Hilario even before I played with Park Place. I remember watching him in 2018 when he won the U.S. Open Polo Championship® final against both Adolfo Cambiaso and Facundo Pieres and thinking, 'this guy is my idol.' He taught me to just play your heart out, never stop and never give up. He never backs down from anyone and that attitude and mindset is what I try to take into all my games. I remember Hilario telling me before we played our first game in the C.V. Whitney Cup®, 'Jack, you have to go to all of your opponents with the same intensity. They're all the same handicap, whether someone is 4-goals or 10-goals, you have to bump them just as hard and show them that you're here to play.'"
"Jack Whitman is an amazing, talented young player and for me one of the future high-goal players in America. He is willing to learn and improve every day and he's mounting himself really well. He will definitely be one of the top American polo players in a few years." – Hilario Ulloa
Tell us a fun fact about you that is not widely known.
"I lived on Bald Head Island, a small island off the coast of North Carolina, for four years. That's where I discovered and developed my passion for marine biology and fishing."
Whitman (with mother Michelle) credits his success and growth in polo to his family and support system. ©Keith Whitman
How do you balance your polo and academic schedules?
"My parents have been very helpful with planning everything out. Normally I go to the gym around 6:00am for an hour and then I do school for two hours in the morning and go about my day. Sometimes there's days that I don't see my parents until 6:00pm because I'm out all day at the barn and going to polo games. I try to space it out and I'll do a couple hours in the afternoon. I have been homeschooled since eighth grade and taking courses online gives me the flexibility to travel for polo."
How do you feel interscholastic polo and the National Youth Tournament Series has prepared you for high goal?
"The first tournament I ever played was in the Middle School League at Gardnertown Polo Club with Winston Painter and I continued playing on their interscholastic team for two years. Polo is very much like a ladder, you have to go up the levels gradually. You cannot just jump from a middle-school tournament to playing 20-goal polo. Playing against opponents who are way above your handicap and more experienced is always going to improve your skills. It gets you to that point where you can play fast but you're going to be safe. Of course, after NYTS you have to continue making steps but having those programs to help you climb the ladder is very important."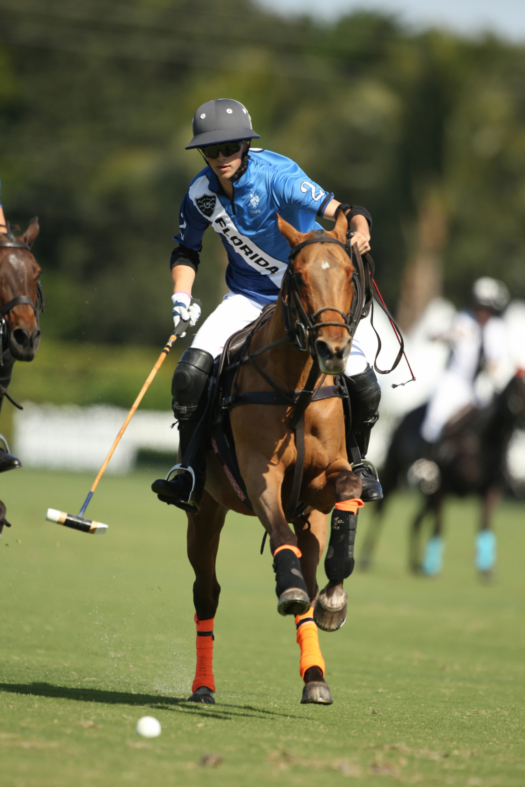 Jack Whitman claimed the 2020 National Youth Tournament Series Championship® with Florida. ©David Lominska
"The people who work the hardest, they're the ones who get the jobs, they're the ones who are able to continue in the sport because that's what it takes. You can't play half-heartedly. You have to give it your everything." – Jack Whitman
How did you get the opportunity to play for Park Place in the 2021 C.V. Whitney Cup®?
"I subbed for Las Monjitas' Camilo Bautista in the 2020 C.V. Whitney Cup for one game against Coca-Cola and I said to myself, 'That's probably it. That's the one high-goal game I can hold onto for the rest of my life.' Once the season was cut short I reached out to Chris Stratemann and Andres Weisz and asked for a bunch of phone numbers of pros and team owners. I wanted to reach out to anyone who had a team with a 0-goal sponsor and see if they needed a substitute for 2021. I remember looking at the 22-goal teams who had played that season and sent either the top player or the team manager a message. Hilario Ulloa was the only one who ever answered and he said, 'Jack we'd love to have you in Argentina and see how you play, maybe you can come with my brother Toly [Ulloa].' He invited me to come to his farm La Hache and it all snowballed from there. My dad always told me, 'What does it hurt to ask? The worst case scenario is that he says no.'"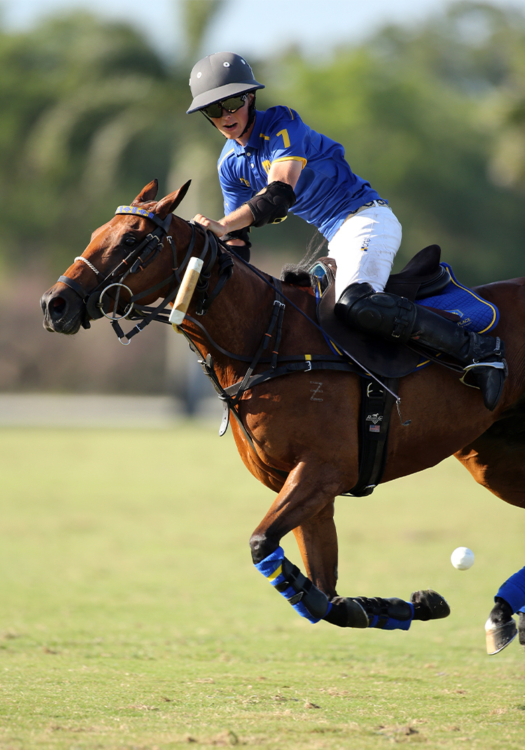 Jack Whitman competing for Park Place in the 2021 C.V. Whitney Cup® at International Polo Club Palm Beach in Wellington, Florida. ©David Lominska
What are your plans after the Wellington Polo Tour (WPT) concludes?
"After the WPT I'm going to continue practicing with Hawaii Polo Life as an alternate and hopefully filling in for practices with Park Place. This summer I'm going to England again with Park Place."
What's the best piece of advice you've received since you started playing polo?
"Work hard. There are so many cases where you see someone who works harder than someone who has natural talent. The people who work the hardest, they're the ones who get the jobs, they're the ones who are able to continue in the sport because that's what it takes. You can't play half-heartedly. You have to give it your everything. Polo is consuming and it takes everything you have to succeed."
*Jack Whitman is an Active Team USPA Member. Matt Coppola is a Graduating Team USPA Member. Team USPA is a USPA program designed to enhance and grow the sport of polo in the United States by identifying young, talented American players and providing mentored training and playing opportunities leading to a pool of higher rated amateur and pro players and the resultant giveback to the sport of polo.