Taking his first polo lesson just two short years ago, Louis Devaleix (pronounced Louie Divalex) is preparing for his second tournament final with his team La Fe in their first Florida season. Born in France but growing up in Rio de Janiero, Brazil, before coming to the United States, Devaleix's newfound passion for polo launched the adrenaline junkie from the golf course to the polo field seemingly overnight. Surrounding himself with elite athletes including 10-goaler Hilario Ulloa and undisputed basketball legend and fellow golfer Michael Jordan, the 41-year-old has already achieved a significant milestone in his budding polo career, raising the 2021 East Coast Open trophy. Originally only planning to compete in the 18-goal season, Devaleix made the last-minute decision to go all in with La Fe in the GAUNTLET OF POLO® and pursue the most prestigious titles in American polo.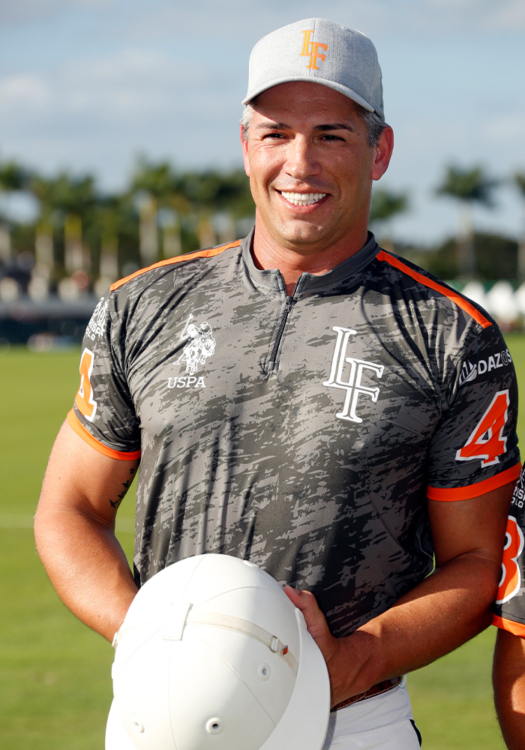 An adrenaline junkie, Devaleix's passion for sport has taken him from the golf course to the polo field.
Although Devaleix does not fit the typical polo player mold at a brawny 6'4", he is a strong defensive presence and devoted student of the game. Humbled by the sacrifices of his pros which have allowed him to play polo, Devaleix is soaking up every opportunity to learn from their experience while finding the time to bond over Argentine asado and Brazilian barbeque, he stresses. Since living in the United States full time he balances his career in healthcare IT with his young son and now a full polo schedule. Quickly becoming an ambassador for the sport both locally and internationally, Devaleix's path has introduced his family and friends to polo through Global Polo TV and even inspired his business partner to take up the sport. Although coming in as a 20-goal team, La Fe's commitment to their game is evident as Devaleix aims to make an even stronger showing in his GAUNTLET debut.
How were you first introduced to polo?
"In Brazil my family belonged to a golf and polo club, but I grew up playing golf and my sister was a jumper. I got on a horse for the first time two years ago in my late thirties when our team vet set up my first polo lesson with Carlos Gonzalez at Sunset Polo Club [Loxahatchee Groves, Florida]. I remember hitting the ball a couple feet forward at a stand-still and immediately I was hooked. After that I was able to play a couple of easy games in the arena, and although I fell off a lot (and I still fall a lot), I fell in love with the sport. Polo truly is the most amazing sport that anyone can play so I'm just very fortunate."
"I continue to learn so much from Hilario Ulloa. He was on the sidelines of an Ylvisaker Cup game we played recently and gave me instructions on what I'm doing wrong and where I can improve. He pushed the whole team to really step it up a notch." – Louis Devaleix
What has been your most rewarding or memorable polo accomplishment to date?
"I would definitely say winning the 2021 East Coast Open for Ellipse Polo with Hilario Ulloa, Matt Coppola, and Robi Bilbao was a fantastic experience. Hilario [Ulloa] was playing in England and Sotogrande, Spain, and he basically rerouted his whole family prior to going to Argentina and made it possible for us to play with him. To play with one of the best players in the world when you're just starting out and win the East Coast Open is an accomplishment that still hasn't sunk in."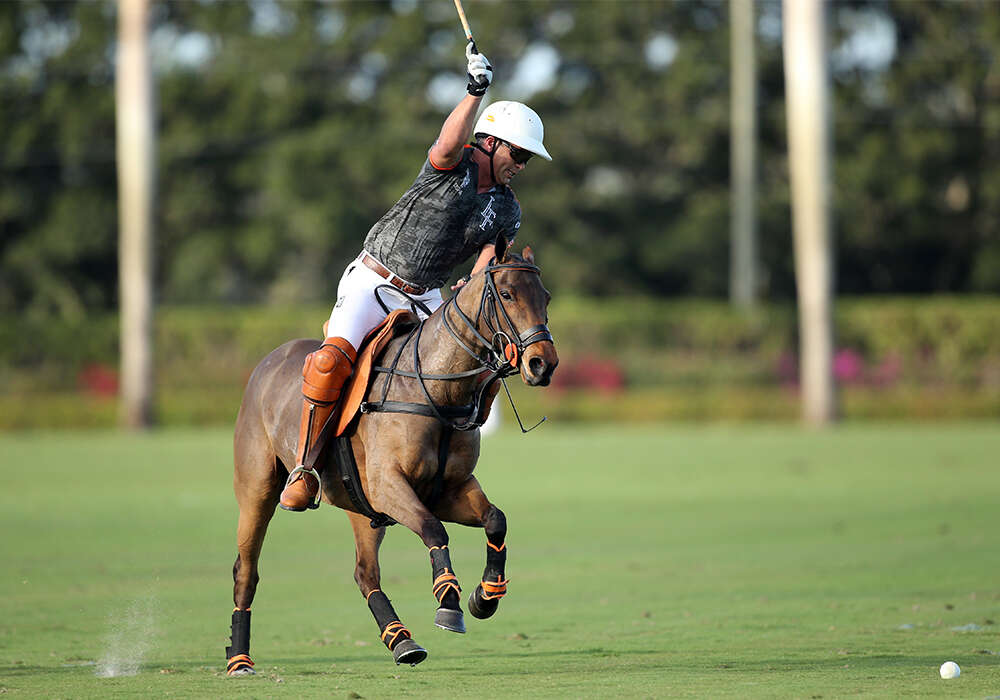 Devaleix will be competing for his second 18-goal title in his first season in Florida.
How did the La Fe team come together for the 2022 Florida season?
"I've been playing with Robi [Bilbao] for almost a year and a half and he's one of the reasons I get to play polo. He provides me with all his horses and makes it possible for me to play although he could make a lot more money working with another team. He's just passionate about the sport and he made me passionate about it also, the horses especially, because they're such a huge component of the sport.
We planned to play in the 18-goal but we had no intention of playing in the GAUNTLET this season, it was not feasible. Fran Elizalde was originally scheduled to play for La Indiana before Michael Bickford was injured. Then Fran told us he'd work something out where it would be feasible to play with Robi and I. I felt it was only fitting to name the team after Robi's farm in Argentina after all the sacrifices he makes both with his time and resources. Almost all the horses we play are Robi's or from a gentleman named Santiago Chavanne who he buys a lot of horses from."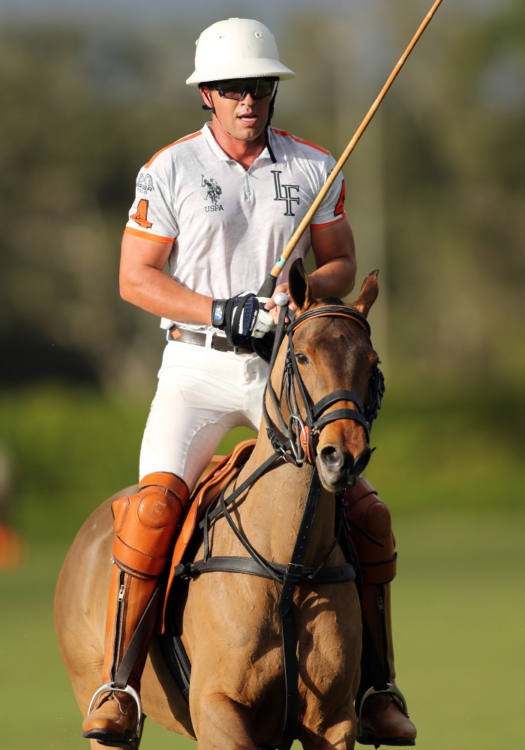 Striving to improve everyday, Devaleix has leaned on mentors Francisco Elizalde and Hilario Ulloa for training and preparation.
How has La Fe been training for the Florida high-goal season and specifically the GAUNTLET?
"I never thought I'd have the privilege to play with somebody like Fran Elizalde on a daily basis. We are stabling at Maureen Brennan's Iconica [Farm in Wellington, Florida] and play practices at least three times a week and games once or twice a week. Typically, after I leave the office I go back to the farm for practice and stick-and-ball. Fran really likes to push the limit and he bumps me a lot harder than the other guys do! We definitely took our practice regimen up a notch as soon as we found out we were playing in the GAUNTLET. Fran said to us, 'by December 20, everybody needs to be in the United States because we need to start training. We have to get better as a team since we don't know each other, so we need to get started right away.' As a team we watch game tape just about every day and try to determine how we can improve. We also have eight more horses arriving the first week of February. We're also going to bring in more from Argentina for the last two tournaments between Robi and Santiago Chavanne."
"It's obviously such an amazing experience to spend time with the best athlete of all time [Michael Jordan], and the most competitive person you could possibly meet. Not just in basketball, but in general, Michael Jordan is just a really great role model. He knows how to push your buttons and tries to make you better in all aspects of life and sports, and playing golf with him is definitely one of the reasons why I've picked up some of my competitive spirit." – Louis Devaleix
What has been the most important lesson polo has taught you so far?
"Playing polo has put a big emphasis on discipline and what it means to be a teammate. If you want to play polo the right way you really have to be involved and mesh with your team—not just the players, but the farriers, grooms, and vets. There's a lot that goes on behind the scenes and it's a question of how involved you want to be. I want to learn as much as possible so I want to be involved in every facet of the sport."
Do you have any hobbies outside of polo?
"I've been skydiving since I was 18 years old and I've done 2,200 jumps so far. I typically jump from 13,500 feet and I've jumped in some beautiful places around the world including off hot air balloons in Norway. Skydiving is a worldwide sport and small community similar to polo, if you do it long enough everybody knows everybody. The most beautiful place I've ever jumped is back home in Rio de Janeiro, Brazil. The drop zone there is right off the beach and it's really nice, especially at sunset.
Robi [Bilbao] loves skydiving so I'm definitely going to take as a many people as possible but I'm going to take it easy for a little bit and wait until the 22-goal season is over."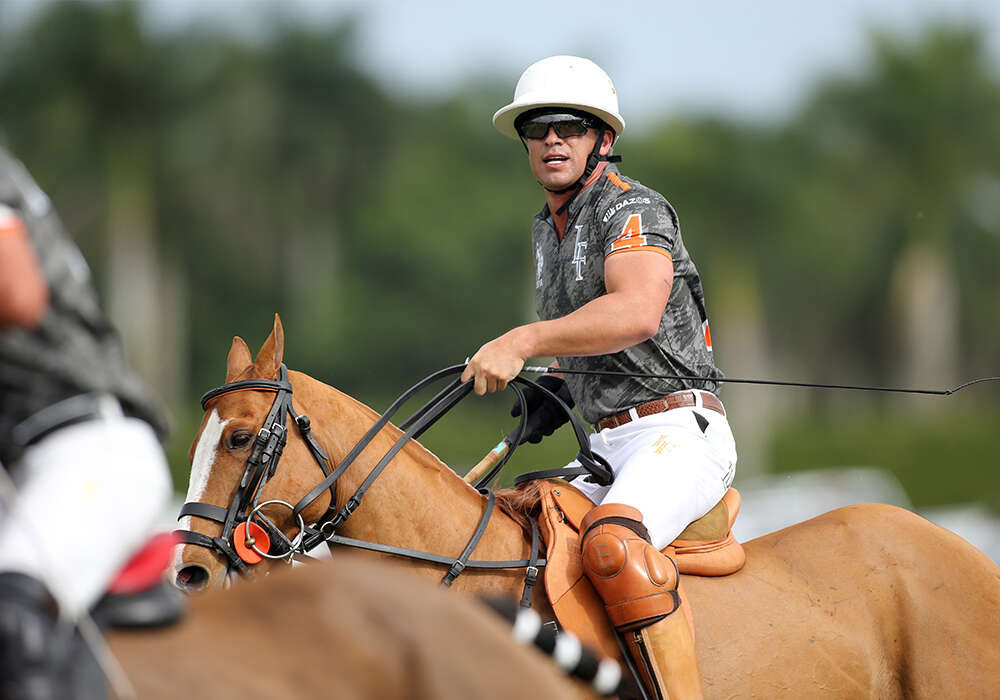 Usually seen in the Number 4 defensive position, Devaleix has contributed three goals for La Fe in 18-goal competition.
"Polo is the only sport where you get to play in the Super Bowl with the Tom Brady's of the world. It truly is hands down the most beautiful sport I've come across and I'm thankful to be a part of it." – Louis Devaleix
What are your plans after the Florida season concludes?
"During the summer we're based out of Mashomack Polo Club [Pine Plains, New York] and we will travel to Greenwich Polo Club [Greenwich, Connecticut] for tournaments. We will play in the 8-goal and have plans to play in the 16-goal with Lucas Diaz Alberdi so we can keep the same team and build on our progress throughout the season. We'll compete in the East Coast Open and then in 2023 we'll return to Florida with the same team."
Watch La Fe compete for the Ylvisaker Cup trophy in the final this Sunday, February 6, only on Global Polo TV. Louis Devaleix will make his GAUNTLET OF POLO® debut in La Fe's first game of the C.V. Whitney Cup® Thursday, February 10.