Story courtesy of International Polo Club Palm Beach.
Following up a thrilling Iglehart Cup final that treated spectators to an overtime victory for Beverly Polo over La Fe, the 2022 season at the International Polo Club Palm Beach (IPC) (Wellington, Florida) continues with the 18-goal Joe Barry Memorial where four teams will compete for the heralded title.
Beginning with a rematch of last Sunday's final, Beverly Polo and La Fe kick off the tournament on Sunday, January 6, while the feature game of the week on U.S. Polo Assn. Field 1 showcases the debuts of Patagones and CK Shack.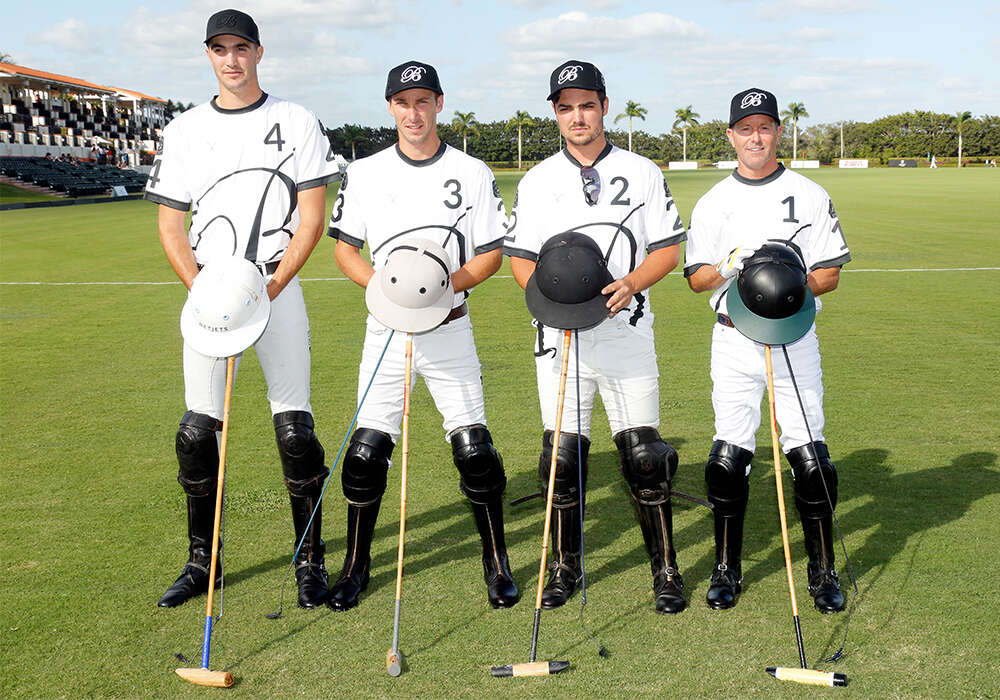 Beverly Polo- Hilario Figueras, Jorge "Tolito" Fernandez Ocampo Jr., Lucas Diaz Alberdi, Bill Ballhaus.
BEVERLY POLO
Emerging as a premiere organization in 18-goal polo at IPC, Beverly Polo (Bill Ballhaus, Lucas Diaz Alberdi, Jorge 'Tolito' Fernandez Ocampo Jr., Hilario Figueras) return for a second season after capturing the 2021 Ylvisaker Cup. Ranking second and fourth last year in 18-goal play with 31 and 26 goals respectively, Figueras and Ocampo Jr. highlight Beverly Polo's attack while effectively transitioning back to defense.
Scoring eight goals in their Iglehart Cup victory, Ocampo Jr. excelled from the penalty line with five goals, while teammate Alberdi produced two goals in a strong showing after an injury last year limited his time with the team. Crucial in developing his team's chemistry, Ballhaus and his Beverly Polo team draw on their experience playing together in Virginia to try and capture the Joe Barry Memorial title.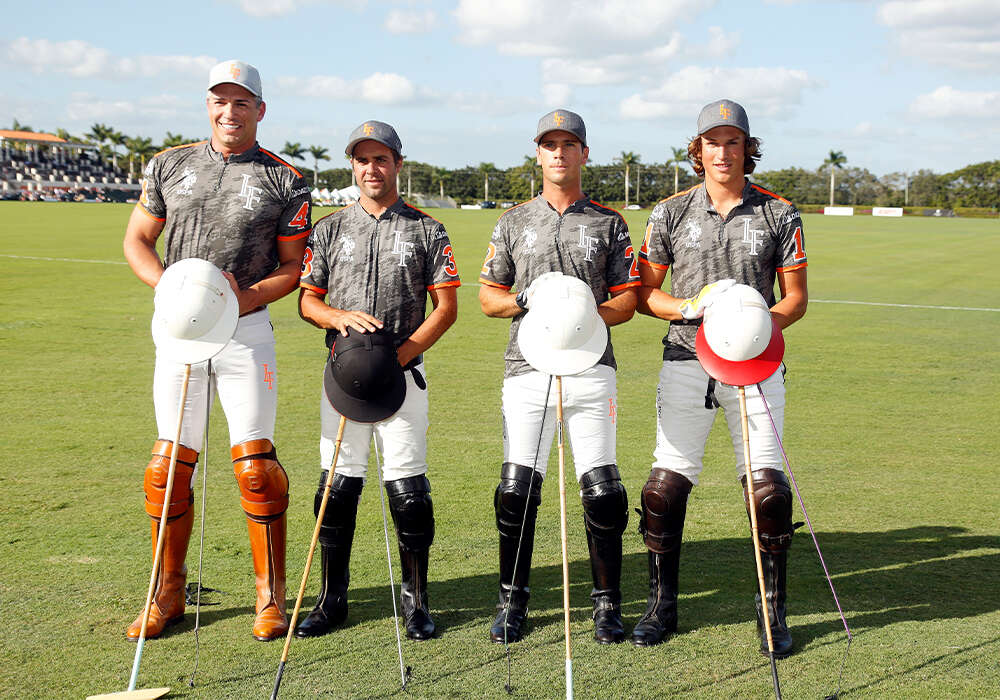 La Fe- Louis Devaleix, Francisco Elizalde, Robi Bilbao, Lucas Escobar.
LA FE
A newcomer to IPC, La Fe (Lucas Escobar*, Robi Bilbao, Francisco Elizalde, Louis Devaleix) impressed in their opening game despite the overtime loss with a balanced line-up where all four players found the scoresheet. Claiming the East Coast Open at Greenwich Polo Club in 2021 as Ellipse, Devaleix and Bilbao brought their success to Wellington, adding experienced 9-goaler Elizalde, who recently competed with La Dolfina in Argentina, along with Tonkawa in last year's GAUNTLET OF POLO®.
Ranking sixth in scoring with 36 goals in 22-goal play, Elizalde is joined by young American and Team USPA Member Escobar, who is looking to claim his second consecutive Joe Barry Memorial title after winning last year with Santa Clara. A team to watch, La Fe showcased an efficient attack from the field that was led by four goals from Bilbao last Sunday as they look for redemption against Beverly Polo in the opening game of the tournament.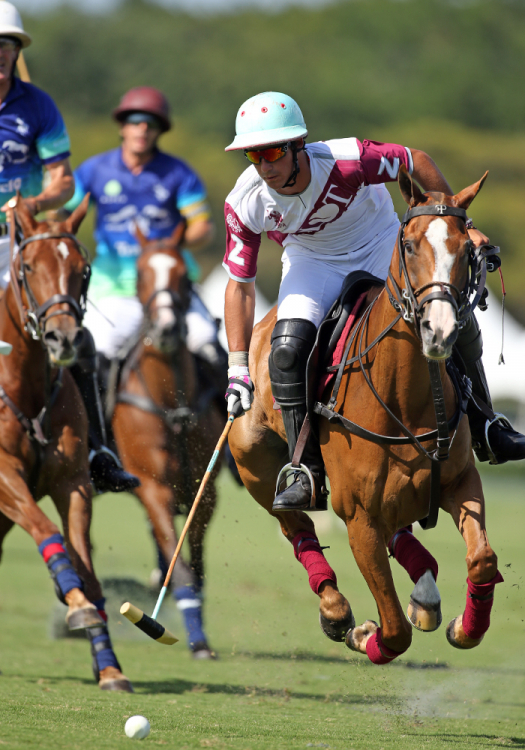 Kristos "Keko" Magrini competing for Pilot in the 2021 GAUNTLET OF POLO® U.S. Open Polo Championship® at International Polo Club Palm Beach in Wellington, Florida.
CK SHACK
Although CK Shack (Dominic State, Kris Kampsen, Matias Magrini, Kristos 'Keko' Magrini*) is a new name on the fields at IPC, they field a team of familiar faces including returning champions Matias and Keko Magrini. Emerging on the scene in 2021, Keko Magrini warranted an increase in handicap after tying for fourth with nine goals in the Joe Barry Memorial, while his father Matias effectively patrolled the back of the game to headline Santa Clara's defensive effort.
CK Shack adds experienced Kampsen, who has regularly competed at IPC in both 18-goal and 22-goal competitions, showcasing an ability to play end-to-end polo and shoot accurately from the penalty line. Playing their first game in front of the grandstand, CK Shack are tasked with facing a Patagones team that have played together in past seasons.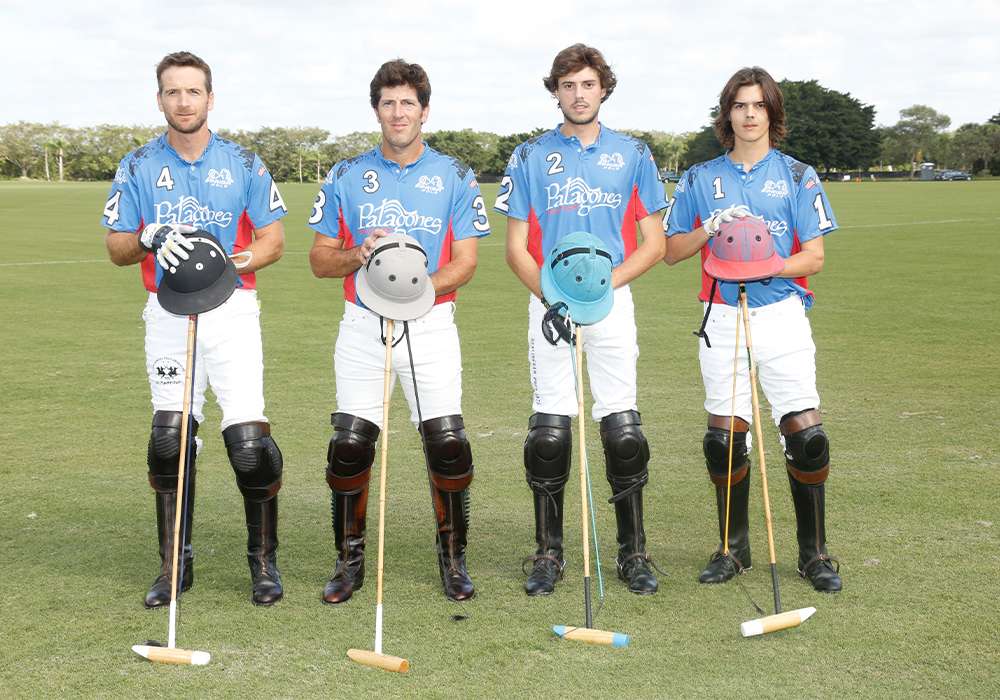 Patagones- Tomas Garcia del Rio, Santiago Wulff, Benjamin Avendano, Joaquin Avendano.
PATAGONES
Participating in the Joe Barry Memorial in 2020 with the identical line-up, Patagones (Joaquin Avendano, Benjamin Avendano, Santiago Wulff, Tomas Garcia del Rio) is in search of another 18-goal tournament title after raising the 2020 Ylvisaker Cup. The young Avendano brothers have demonstrated an ability to finish with accuracy at the front of the game with both Wulff and Garcia del Rio being willing distributors from the back positions.
Gaining experience in Santa Barbara during the summer, the Avendanos and Wulff are reunited with Garcia del Rio, who is coming from the Argentine Triple Crown where he competed with Alegria Standard Wealth among the best players in the world.
Play in the 2022 Joe Barry Memorial begins at 11:00am ET on Sunday between Beverly Polo and La Fe, while the second game of the day at 3:00pm ET on U.S. Polo Assn. Field 1 features CK Shack against Patagones. All games of the Joe Barry Memorial will be available exclusively on Global Polo TV.
*Lucas Escobar and Kristos 'Keko' Magrini are Active Team USPA Members. Team USPA is a USPA program designed to enhance and grow the sport of polo in the United States by identifying young, talented American players and providing mentored training and playing opportunities leading to a pool of higher rated amateur and pro players and the resultant giveback to the sport of polo.
All photos courtesy of ©David Lominska.