After a two-year hiatus from polo, Rileigh Tibbott returned to the Polo School Grand Champions Women's League this season and couldn't be happer.
By Sharon Robb

Tibbott, despite playing with a stress fracture in her foot, scored a goal during Wednesday's weekly women's game at Santa Rita Polo Farm.

"It was so much fun," said the 24-year-old. "I haven't played in two years but I really missed it. Obviously, I have some work to do to get back to where I was but I'm happy to be back."

Stage Hill (Rileigh Tibbott, Ava Nunez, Alyson Poor, Hope Arellano, Laura Farrell) defeated CrossFit El Cid (Racheal Spencer, Malicia van Falkenhausen, Ava Hinkson, Cecilia Cochran, Pamela Flanagan), 6-3.

Arellano scored a game-high four goals and Poor added one. Van Falkenhausen and Cochran each had one goal.

With ten players on two teams, players of all ages and playing ability, were able to sub in and out of the five-chukker game.

Tibbott has the best of both worlds. She is a professional grand prix show jumper and trainer, winning several grand prixs throughout the U.S. She also has a passion for polo which she started playing a few years ago.

"With my love for horses I really wanted to try polo," Tibbott said. "Polo became an addiction for me. I love playing on Wednesdays. This is the most perfect league to get back into polo."

Tibbott, who lives in Wellington year-round and runs her farm Tibbott Equestrian, said she "loves to challenge myself. Having a team to support you behind you challenging yourself is what I absolutely love about it. Being a team sport is perfect. With the jumpers it's you and your horse. So if it's not their problem it's your problem or vice versa.

"What I love about polo is that you can be not in the right mindset or thinking about other things but having your team there to kind of bring you back into it is my favorite part."

Tibbott doesn't hesitate when asked what she likes more, polo or show jumping.

"I will gladly tell you I do enjoy playing polo more," she said. "I've always said that and I will tell anyone that. For me, I can make a profession for myself with the jumpers. I can import horses, I can train them, I have clients that I train. So I think it makes a little bit easier for me from a business standpoint to do the jumpers. If you ask me if I would rather go to the horse show and jump around or play a game, I would much rather play a game."

The Polo School Grand Champions Women's League, now in its sixth year, is playing a key role in developing women players. The league, for all levels of playing ability, is held every Wednesday at 10 a.m. through April.

"I was surprised at how many new people were playing," Tibbott said. "If you love horses polo is one of the best things. All my jumper friends always say how they want to try polo. It's one of those things that it's so different than what we do every day. I can tell a big difference when I'm playing and when I'm jumping. Playing has really improved my riding. It's cool to see new people trying it. For sure, this league has really helped women's polo."

The only full-time weekly women's polo league in the world was created by Alina Carta, a polo pioneer and one of the highest ranked women in the U.S. in the 1980s, and Melissa Ganzi, Grand Champions Polo Club President, World Polo League co-founder and avid player. Ganzi is the first woman in history to win the prestigious 35th Snow Polo World Cup St. Moritz and is competing for the sixth time in Switzerland this weekend.

"I'm very happy with the progress from week to week," Carta said. "I think it's great. The girls are really enthusiastic. Everybody had a good time."

All team entry fees benefit The Polo School, a stand-alone USPA-sanctioned club. The Polo School offers lessons to men, women and children of all ages and ability levels and offers scholarships.

The league, along with the March 30-April 3 WCT Finals at Grand Champions, honors Sunny Hale, the all-time greatest women's polo player, mentor and Hall of Famer.

Grand Champions, the nation's largest polo club, celebrating its 15th anniversary, is coming off its most successful fall season. Club officials hope to build off that success when it hosts 23 tournaments from January through April.

The 26-goal World Polo League, co-founded by Marc and Melissa Ganzi, returns for a fourth season. The All-Star Challenge opens the high goal season Feb. 8-26 followed by the Tommy Hitchcock Legacy Memorial, Feb. 27; Founders Cup, Feb. 23-March 13; Palm Beach Open, March 9-27; Triple Crown of Polo, March 23-April 16 and Beach Polo World Cup Miami Beach, April 29-May 1.

The high goal club tournaments feature the Feb. 2-12 Sterling Cup, Feb. 9-26 100,000 World Cup and Mar. 1-13 Santa Rita Abierto.

The 16-goal league play includes the Feb. 14-Mar. 5 Grand Champions Cup, Mar. 8-26 Power Horse Invitational and Mar. 29-Apr. 16 Pedro Morrison Memorial.

The 12-goal league will be the Jan. 25-Feb. 12 Limited Edition 12-Goal Series, Feb. 15-Mar. 5 Sieber Memorial Trophy, Feb. 16-27 $50,000 National 12-Goal and Mar. 8-26 Top Pony 12-Goal.

In addition to the Aspen Valley Cup, the 8-goal tournament lineup is the Feb. 15-Mar. 5 Top Pony 8-Goal and Mar. 8-26 Limited Edition 8-Goal.

The 6-goal schedule features the Jan. 25-Feb. 12 Metropolitan Cup, Feb. 15-Mar. 5 Halo Polo Trophy and Mar. 8-26 Madelon Bourdieu Memorial.

There is also the Polo School Grand Champions Women's League, co-founded by Melissa Ganzi and Alina Carta, for all ages and playing ability held Wednesdays at 10 a.m. at Santa Rita Polo Farm.

Grand Champions has added Sunset Chukkers and Cocktails, presented by Seminole Casino Coconut Creek held Tuesday late afternoon on Field One for players and guests.

Grand Champions Polo Club and Santa Rita Polo Farm is the largest and most unique private 100-acre polo facility in Wellington with 120 stalls in several self-contained barns, exercise track, five climate-controlled tack rooms, vet room, staff quarters, guest house and polo fields with state-of-the-art underground irrigation and stick-and-ball fields.

During fall, winter and spring seasons, Grand Champions Polo Club, the nation's largest club with 13 well-manicured, world-class fields at GCPC and Santa Rita Polo Farm, hosts polo tournaments ranging from six to 26-goal including the 26-goal World Polo League in addition to special events.

The Polo School, now located at the former Pony Express facility owned by Melissa and Marc Ganzi, operates in Wellington January through May and September through November. For more information on the Fall Leagues or Polo School contact Director of Operations Juan Bollini at 561-346-1099 or General Manager Cale Newman at 561-876-2930.

Grand Champions Polo Club caters to men, women and youth polo players at all levels. Its' expert staff can customize a complete playing experience including horses, pros and certified umpires in addition to lessons and practice sessions as part of its' Polo On Demand program, the only polo club in the U.S. to offer the unique program.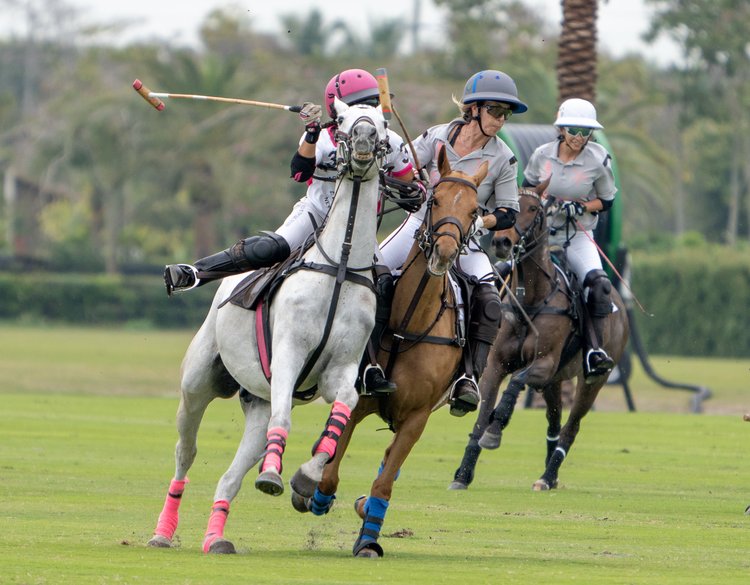 CANDACE FERREIRAJANUARY 27, 2022