Monterosso Remain Undefeated in the Talacrest Prince of Wales's Championship Cup
With just two matches remaining before the semi-finals of the Talacrest Prince of Wales's Championship Cup, Monterosso and Billingbear Polo Team took to the historic Queen's Ground in Saturday's sole game. Receiving one goal on handicap, 21-goal Billingbear Polo Team made the most of the opening chukka with two unanswered goals from Bautista Garcia from the field and Marcos Di Paola at the penalty line to take an early 3-0 advantage over Monterosso. Entering Saturday's contest with a 2-0 record, Monterosso quickly utilised their cohesive, attacking strength to overpower their opponents in the second with penalty contributions from Mackenzie Weisz and a successful drive from Alessandro Bazzoni to pull Monterosso even, 3-all, with Billingbear Polo Team. Following a final goal from Billingbear Polo Team's Di Paola to retake a one goal lead, Monterosso strung together their second three goal chukka with Bazzoni, Weisz and Guillermo Terrera silencing Billingbear Polo Team's defensive attempts to give Bazzoni's team a 6-4 lead at half-time.

Stepping up for Monterosso once more at the penalty line, Weisz opened the second half of play when converting Monterosso's fourth penalty conversion of the match to increase their lead by three. Unable to score a goal since the second chukka, two goals from Billingbear Polo Teams' Di Paola and Jamie Huidobro from the field cut into their deficit and now just trailed by just one. Although Billingbear Polo Team's attempt to pull themselves back level with Monterosso fell short when Weisz and Terrera each broke through in open play to push Monterosso's lead back to three with a 9-6 advantage. Still within reach, a key conversion from Di Paola gave momentum to Billingbear Polo Team in the fifth as Garcia hit his first of two field goals in this chukka. Billingbear Polo Team pushed to outscore Monterosso in the final chukka, but one last goal from Mackenzie Weisz gave Monterosso all the separation they needed to collect the 10-9 victory and finish atop group play as the only undefeated team of the tournament.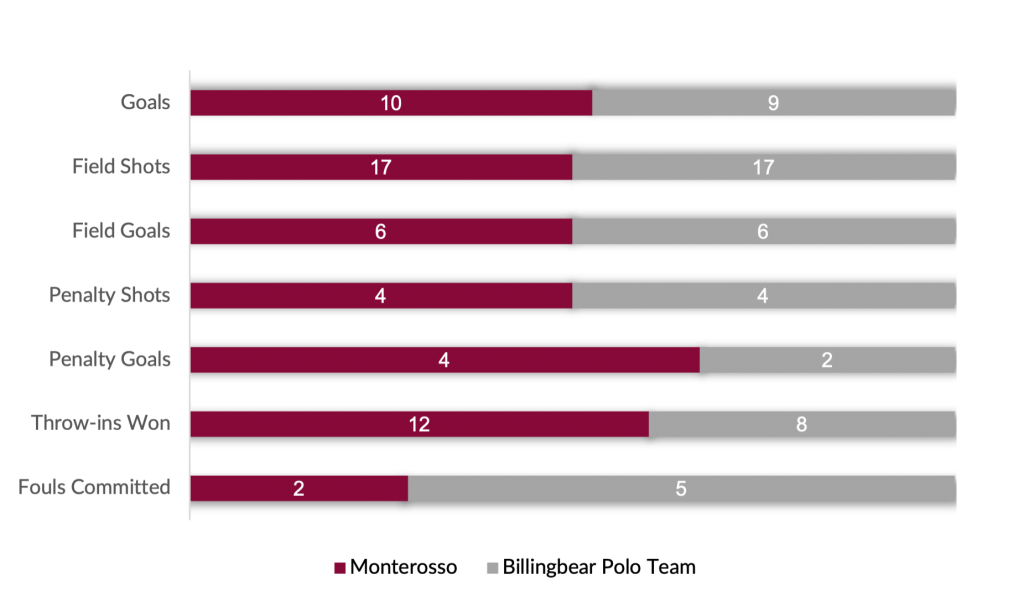 Next fixture: Sunday 7 August
3pm: BP Polo vs Green Gates
Photo Credit ©Images of Polo