The Thoroughbred Makeover is a training competition designed to showcase the versatility and athleticism of the Thoroughbred horse. The most lucrative of any training competition of its kind, the event offers at least $100,000 in prize money, distributed across top finishers in 10 disciplines. Riders (referred to as "trainers" regardless of professional status) first apply to participate based on their demonstrated riding ability. Once accepted, trainers then register a recently retired racehorse and prepare it over the course of the year, culminating in competition in October in the heart of the Thoroughbred racing industry at the iconic Kentucky Horse Park in Lexington, Kentucky. Formats for competition are designed to test the quality and progress of each horse's training.
The Thoroughbred Makeover and National Symposium takes place at the Kentucky Horse Park on October 12-15, 2022. It includes seminars, a vendor fair, a horse sale (the Makeover Marketplace), and the Thoroughbred Makeover competition itself.
The Thoroughbred Makeover and National Symposium is organized by the Retired Racehorse Project (RRP), a 501(c)(3) charitable organization dedicated to facilitating placement of Thoroughbred ex-racehorses in second careers.
The RRP created the Thoroughbred Makeover to showcase the trainability and talent of off-track Thoroughbreds, and to inspire trainers to secure the futures of these animals through correct and thorough re-training. In addition to benefiting the horses, the Thoroughbred Makeover is intended to help trainers establish themselves professionally or as amateurs in their respective disciplines. Without good trainers, Thoroughbred racehorses cannot become great riding horses.
Learn more at www.tbmakeover.org.
2022 RETIRED RACEHORSE PROJECT THOROUGHBRED MAKEOVER POLO WEBINAR
SAVE THE DATE! Register now for the Retired Racehorse Project Thoroughbred Makeover webinar Thursday, January 6, at 7:00 PM ET. Get all your questions answered and learn more about the competition offering over $100,000 in prize money. Your Thoroughbred just might be the 2022 polo division champion!
Webinar Panelists
Kirsten Green – Interim Executive Director, Retired Racehorse Project (RRP)
Carlucho Arellano – USPA Executive Director of Services
Charlie Muldoon – Executive Director, USPA Umpires LLC
Ben Lynch – 2021 Retired Racehorse Project Thoroughbred Makeover Polo Division Champion
RRP POLO WEBINAR AGENDAREGISTER HERE FOR RRP POLO WEBINAR
2022 RETIRED RACEHORSE PROJECT THOROUGHBRED MAKEOVER FAQ'S
When do I have to apply?
2022 applications are open for preview and drafting starting on December 15, 2021. Applications will open for submission on January 3, 2022, through the end of the business day on January 21. Accepted trainers will be announced on or before February 15, 2022. This application process only assesses the trainer; there is no need to have a horse registered at this time.
What prizes are available to the winners?
The RRP guarantees a base prize money pot of $100,000 for the retraining competition. Here's the breakdown of prize money for each discipline:
Winner: $5,000
Second: $1,000
Third: $700
Fourth: $500
Fifth: $300
Additionally, each discipline awards $500 to the top-placed amateur, junior and team. Private donors and sponsors may also elect to fund special awards for causes that support their own initiatives; special awards are not guaranteed from year-to-year and are still being determined for 2022.

Finally, the Thoroughbred Makeover Champion is the overall winner of the event, chosen from the ten discipline winners by the judges from all disciplines. The Thoroughbred Makeover Champion receives a cash prize of $10,000!
Who is eligible?
Any individual in good standing with the RRP aged 12 or older may submit an application! That includes professionals, amateurs, or juniors, as well as team entries which can consist of any mix of statuses — perfect for polo teams! Team entries work together to prepare their horse(s) for competition, and any entry status may be involved with up to three horses.
When do I have to select a horse?
Horses can be registered with the trainer application, or registered any time after trainers are accepted, through July 29, 2022. The RRP encourages trainers to register their horses as soon as they are acquired in order, but trainers may swap horses throughout the registration period as different horses enter or exit their training programs. After July 29, only horses with an active registration can make final entry to the Makeover event.
What makes a horse eligible?
To be eligible for the 2022 Thoroughbred Makeover, horses must be Jockey Club-registered and have a lip tattoo or Jockey Club microchip (or must be registered with a foreign equivalent). Horses must have raced or had a published work on or after July 1, 2020, and cannot have started retraining for a second career before December 1, 2021 other than a maximum of 15 allowable retraining rides. More detailed rules can be found in the rule book at TBMakeover.org.
How much does it cost?
The application fee is $300 per horse, and trainers may enter to bring up to three horses. For team entry, the team captain pays the $300 application fee, and additional team members pay $150. This fee is non-refundable if the applicant is accepted; this fee includes entry into one discipline at the Makeover but supports the year-round administrative expenses associated with running the event. Horses may be swapped within the entry as they are registered, but a trainer may only enter as many horses as they've applied for.
Additional fees to consider, due with final entry in August, include a $75 second discipline fee, a Makeover Marketplace fee ranging from $50 to $100 for horses marketed for sale during the event, a $200 stabling fee per stall (or the $40 Kentucky Horse Park ship-in fee for those stabling off the grounds), a $20 schooling fee, and a $7 drug testing fee. A full breakdown of fees can be found in the rule book at TBMakeover.org.
When is the competition? How long does it last?
The 2022 Thoroughbred Makeover and National Symposium is October 12-15 at the Kentucky Horse Park in Lexington. Preliminary competition takes place on October 12 and 13, and the top five in each discipline return for the Finale championship event on October 15.
What if I decide I want to enter after the deadline?
Wait list applications will be available at the close of the regular application period. Wait list applications close at end of business day on June 30, 2022. Applicants will be issued a provisional acceptance within two weeks of their completed application submission, but may not hear anything about their entry status until after the July 29, 2022 horse registration deadline.
Still not sure if the Thoroughbred Makeover is right for you? Check out "Want to Apply?" at TBMakeover.org!
2022 RETIRED RACEHORSE PROJECT THOROUGHBRED MAKEOVER APPLICATION TIMELINE
Starting on Wednesday, December 15, the trainer application will be available for preview and drafting at TBMakeover.org. You'll be able to work on your application and save your progress within the trainer portal.

Starting on Monday, January 3, 2022, trainer applications can be submitted with all required additional documents (signed waiver, letter of recommendation from a vet, riding videos, and application fee), through end of business day on Friday, January 21, 2022.RRP WEBINAR: SO YOU WANT TO APPLY FOR THE 2022 TB MAKEOVER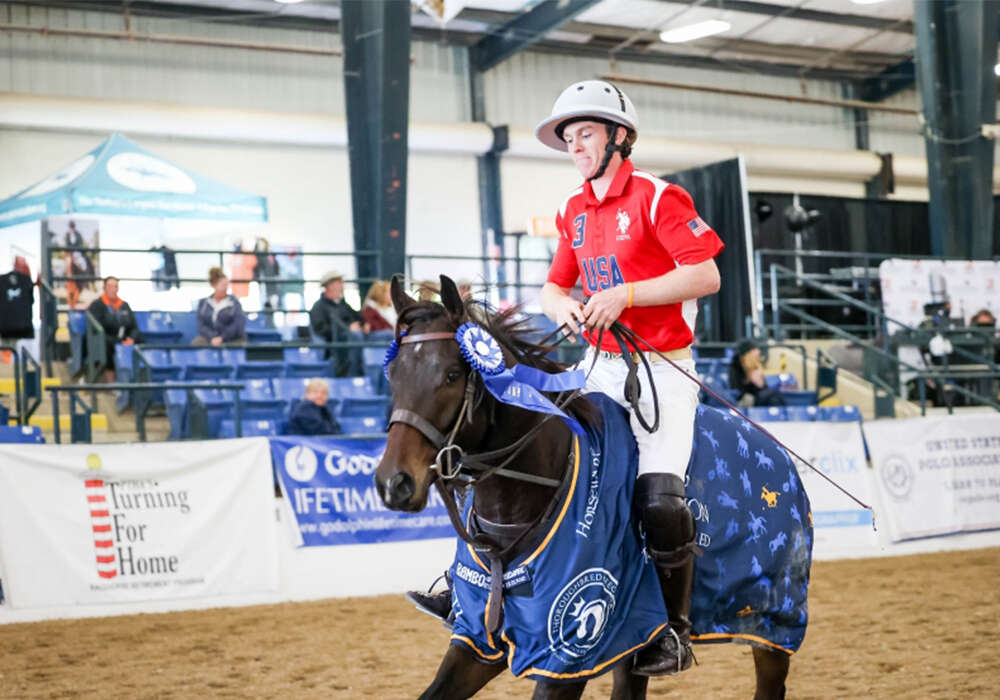 2021 Retired Racehorse Project Thoroughbred Makeover Polo Champion Ramses, trained by Ben Lynch. ©Canter Clix
2022 RETIRED RACEHORSE PROJECT THOROUGHBRED MAKEOVER RULEBOOK
The 2022 update of the rulebook for the Thoroughbred Makeover and National Symposium, presented by Thoroughbred Charities of America, is now available.Notable rule changes for 2022:All applicants, regardless of past Makeover experience, must submit video no more than two years old demonstrating riding ability on the flat as well as any discipline-specific skills, such as a barrel pattern, cattle work, stick and ball work, or obstacle work. All applicants declaring expertise in a jumping discipline should furnish video demonstrating a course at 2'6" or higher. All video should be submitted on a more finished horse, not current Makeover hopefulsAll team members must submit an application. The application fee for team captains remains at $300; the application fee for team members is $150Ribbons (1st-10th) and special awards will be awarded at a Friday night competitors' party based on preliminary competition. The top five in each discipline will return for Saturday's Finale, which will be judged on a blank slate and placed as separate championship eventThe 2022 Thoroughbred Makeover Rulebook outlines all rules and information relevant to the competition, with changes for 2022 marked in red and clarifying information marked in blue.