Story courtesy of International Polo Club Palm Beach.
Returning to the GAUNTLET OF POLO® for the first time since the inaugural season in 2019, SD Farms have proven to be a well-rounded competitive team, needing overtime to decide two of their four games thus far. Team owner Sayyu Dantata along with Peco Polledo represent SD Farms for a second time, while adding Team USPA member Lucas Escobar* and notable 10-goaler David 'Pelon' Stirling to the fold. With injuries forcing Stirling to the sideline, he has been replaced by former La Dolfina teammates and fellow 10-goalers Pablo MacDonough and Adolfo Cambiaso, SD Farms has maintained their quick-rotating attack through the first game of the USPA Gold Cup®.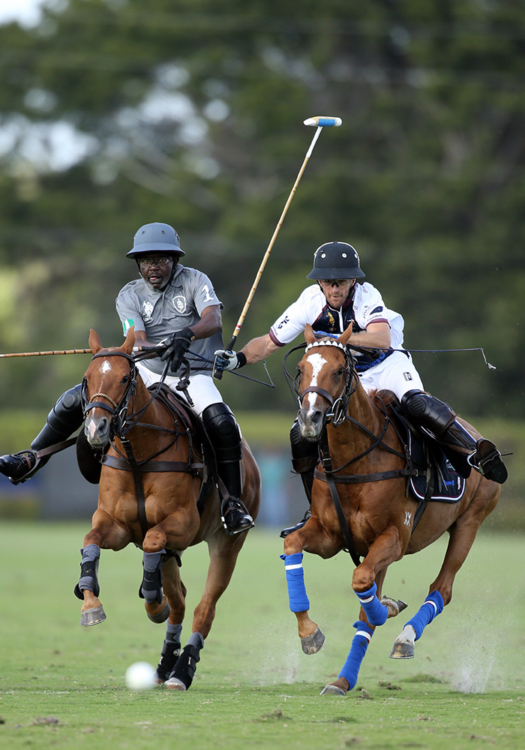 SD Farms' team owner Sayyu Dantata seen in the #1 position, races Dutta Corp/Show+'s Tomas Garcia del Rio for possession.
Of the nine teams that also played in the C.V. Whitney Cup®, SD Farms are the only team with three players averaging at least 2.8 goals per game, with all four players contributing near one assist per game. Ensuring the ball continues to move and does not get stuck on the mallet of one player, SD Farms are led by 3.3 goals per game from Stirling, with Escobar and Polledo just behind with 2.8 goals per game each. The willingness to share in the attack has even translated to the penalty line, with the trio each contributing penalty goals through their four games. Holding a 2-2 record, SD Farms have excelled with their four-man attack that has shot 50% from the field on the season, trailing only Park Place for those teams that have played more than one game.
In the #1 position, Dantata has showed a fearlessness to enter the play and make his impact on the game. Second on SD Farms with 2.3 throw-in wins per game, Dantata has helped gain the extra possessions for his team and move the ball downfield but has also been effective around goal.
Converting two-thirds of his shot attempts, Dantata has been counted on for a goal each game, showcasing the skill to match his 2-goal rating. Playing alongside Dantata for multiple years, Polledo has demonstrated a more proficient attack than when he was last seen in 2019. Scoring 1.2 more goals per game than in 2019, Polledo has moved into a more prominent role for SD Farms as a crucial component of their transition from defense to offense while providing stability defensively when his teammates drive forward.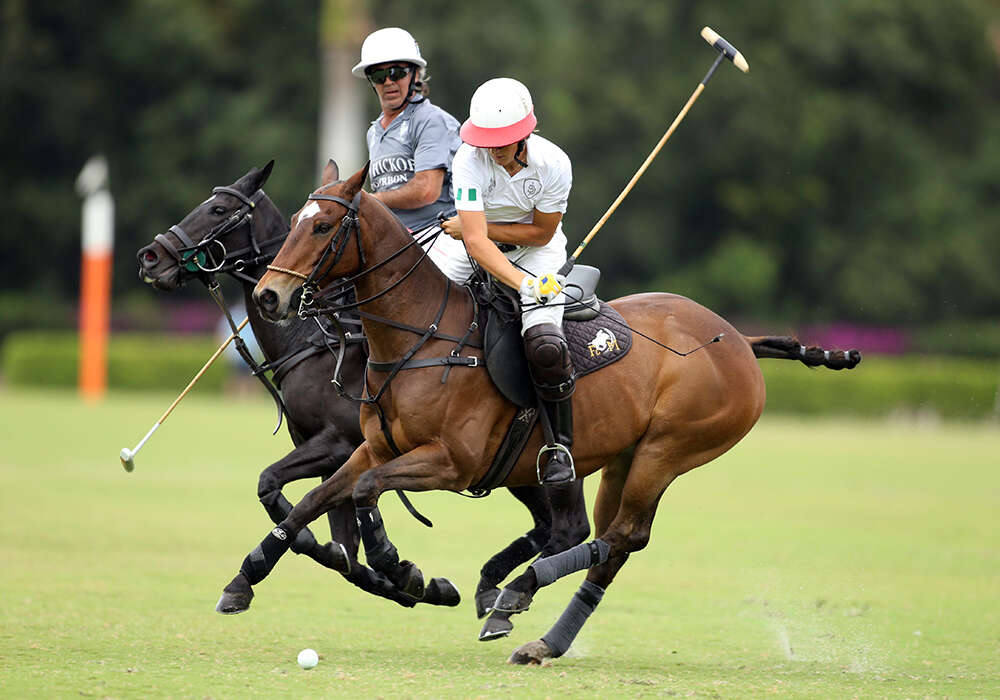 SD Farm's Lucas Escobar returns for his third consecutive GAUNTLET OF POLO®.
Competing in the GAUNTLET OF POLO® for the third consecutive year after playing with Santa Clara in 2020 and Tonkawa in 2021, Lucas Escobar has continued his steady progression, increasing his handicap by one each year. Only Scone's Keko Magrini has averaged more goals than Escobar at a 4-goal rating or lower, indicating Escobar's impact in the middle of the game for SD Farms. On the receiving end of passes from the duo of Polledo and Stirling, Escobar has been adept at finishing, while also converting six of his seven penalty attempts on the season.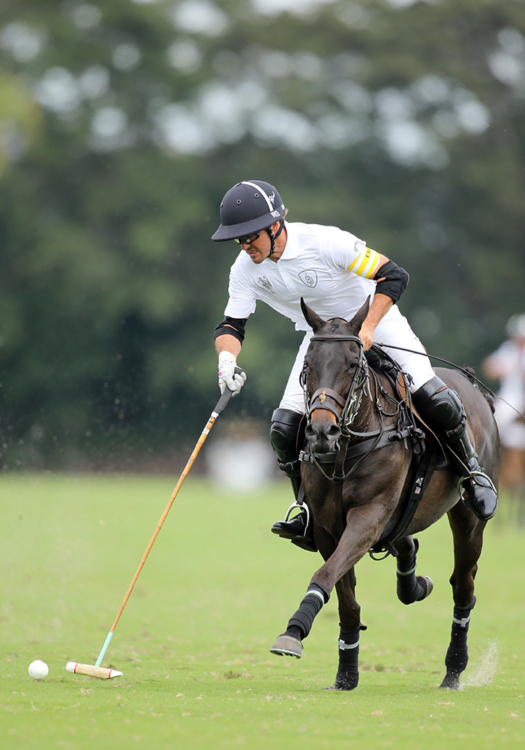 10-goaler Pelon Stirling is currently averaging 3.3 goals per game for SD Farms in the GAUNTLET.
Anchoring the team is Stirling, who provides a depth of experience of playing at the highest levels of polo in the world as a member of La Dolfina Polo that captured the Argentine Open for seven consecutive years. At IPC, Stirling was last seen raising the C.V. Whitney Cup® in 2020 with Las Monjitas and has returned with SD Farms to effectively direct play and lead the team on both sides of the ball. While injuries prevented Stirling from competing in the first game of the USPA Gold Cup®, SD Farms will hope for a quick return to play to help guide SD Farms into contention for the second leg of the GAUNTLET OF POLO®.
SD Farms returns to play Thursday after a victory in their first game, looking for redemption against Dutta Corp/Show+, the team that eliminated them in the C.V. Whitney Cup® quarterfinals.
All photos courtesy of ©David Lominska.