Patagones Remain Steady and CK Polo Overcome Adversity in Ylvisaker Cup Victories
Action began in the Ylvisaker Cup on a crisp Sunday morning with Patagones and La Fe assembling on Field 5 at the International Polo Club Palm Beach. Fresh off their win in the Joe Barry Memorial, Patagones defeated La Fe 11-9, while in the feature game of the week on the U.S. Polo Assn. Field 1, Ylvisaker Cup defending champions Beverly Polo fell 10-9 in overtime to CK Polo on a Penalty 4 conversion from Keko Magrini.
Utilizing their recent championship experience, brothers Benjamin and Joaquin Avendano combined for four goals in the first half to give Patagones an early lead, while Tomas Garcia del Rio continued his strong penalty shooting on the season to finish a perfect 5 for 5 in the game. A determined La Fe completed the second half comeback with Lucas Escobar and Francisco Elizalde leading the charge, however, Patagones excelled in the sixth chukker, adding two penalty goals and field goal to secure the 11-9 victory.

Converting 15 of 20 penalty attempts in the Joe Barry Memorial, sharp shooting Tomas Garcia del Rio got Patagones on the board first, hitting a quick Penalty 2 to begin an effective first half. Utilizing a classic style of hit-and-run polo, the Avendano brothers made their mark in the early stages of the game with Benjamin assisting on a goal to Garcia del Rio in the first, followed by Joaquin scoring his first of the half. Left off the scoreboard in the first chukker 3-0, a trailing La Fe managed to score only three goals in the early stages of the game, including two from Lucas Escobar, however, the presence of the young Avendano brothers could not be denied, as they combined for three more goals to take a 7-3 lead for Patagones into halftime.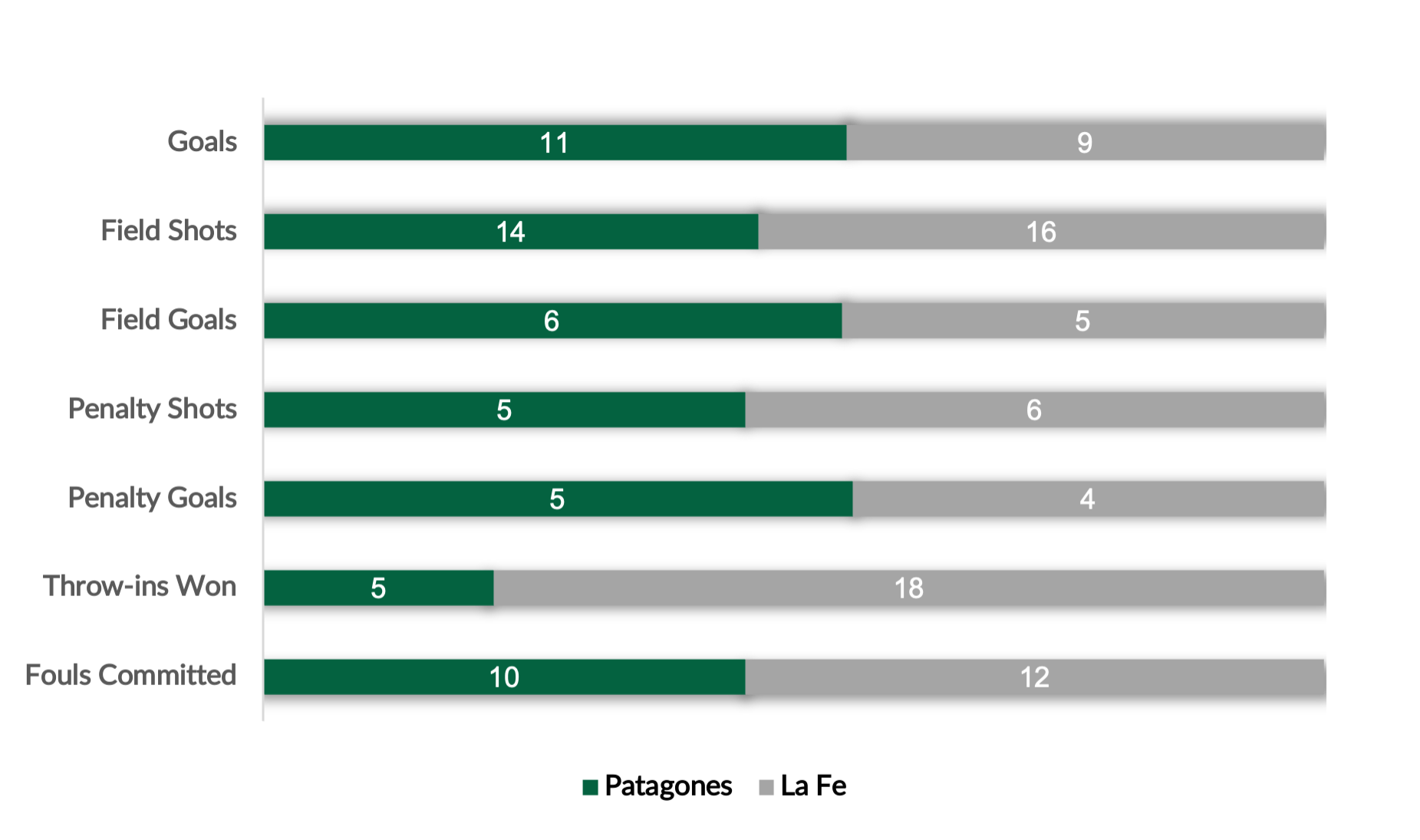 In a tale of two halves, La Fe regrouped to begin their second half comeback. Following La Fe's first goal from Elizalde at the line on a Penalty 4, a building momentum allowed La Fe to strike with precision, totalling five goals, including one from strident defender Devaleix, while successfully holding Patagones to only one goal in the fourth chukker. The ability to send a talented Escobar undefended to the front allowed him to find the posts twice in the second half on a 60% shooting percentage from the field, as La Fe tied the game 8-all at the end of the fifth chukker. Regrouping from their recent offensive drought, Patagones turned to their winning ability to generate fouls with Garcia del Rio hitting back-to-back penalty conversions to finish a perfect 5 for 5 on the day, while Joaquin Avendano finished with his fourth goal to end the match 11-9 in favour of Patagones.

The second match began on U.S. Polo Assn. Field 1 where the competition unfortunately began on a collision between CK Polo's Santino Magrini and Martin Valent, resulting in a red card for Magrini, with Valent unable to continue due to injury. Implementing a fresh lineup from the Joe Barry Memorial, CK Polo was suddenly faced with integrating two new substitutes in Pedro Gutierrez and Bautista Panelo. Taking advantage of CK Polo's new unexpected lineup, Beverly Polo came out with a charge in the first, scoring three unanswered goals to take the early lead. Adjusting to their adversity in the second chukker, Keko Magrini found the goal on back-to-back penalty conversions, as CK Polo continued to forge ahead by pinning Beverly Polo inside their half of the field. Trading goals between CK Polo's Bautista Panelo and Jorge "Tolito" Fernandez Ocampo Jr., the two teams took a 4-all tie into the break.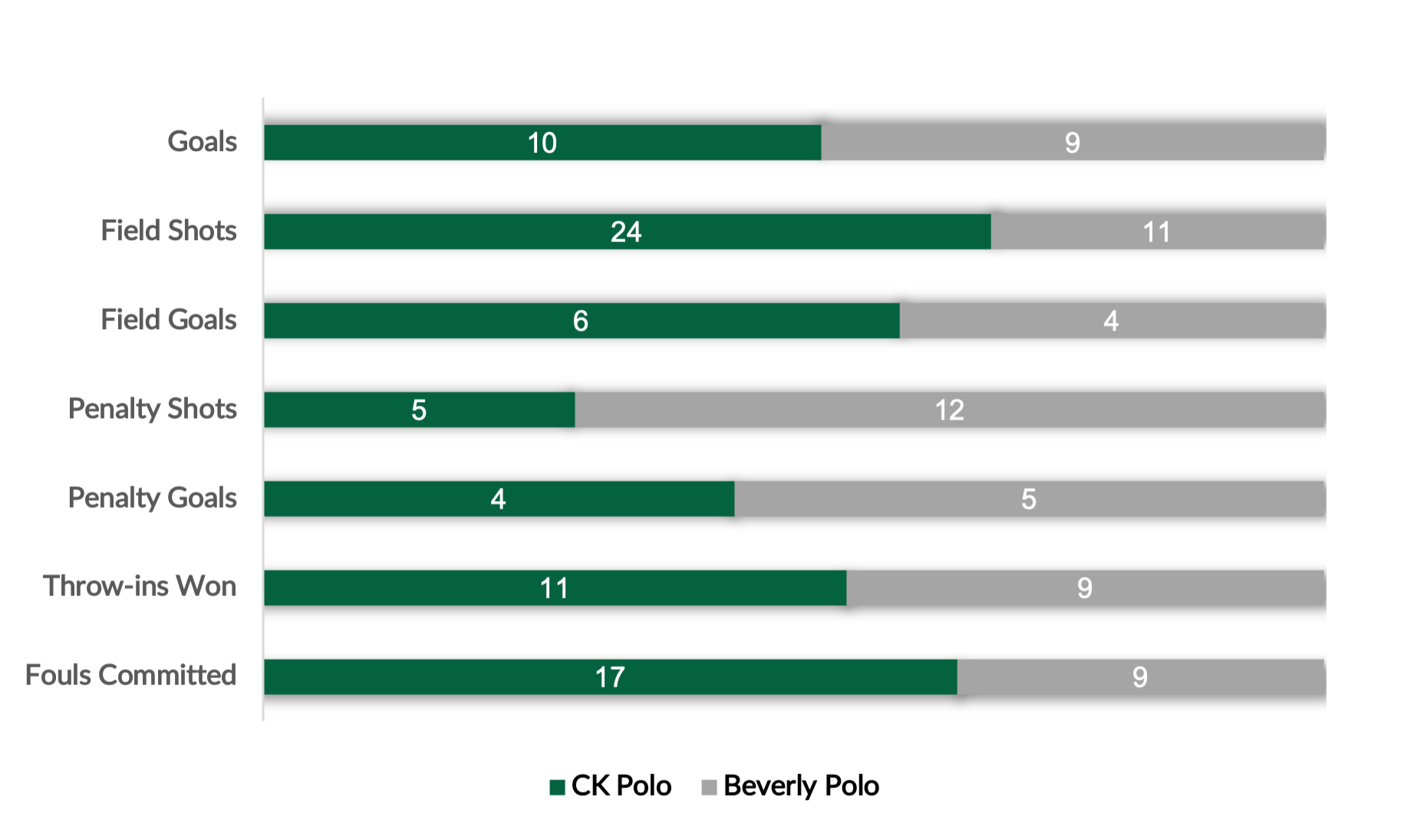 Despite Ocampo Jr. hitting a Penalty 2 to begin the fourth chukker, two missed Penalty 4's for Beverly Polo allowed CK Polo to rebound off Ocampo Jr.'s struggles from the 60-yard line, as Keko Magrini found the goal on two consecutive goals from the field. Back-and-forth play continued in the fifth chukker with two goals from each team, including Joaquin Panelo's first of the day to give CK Polo an 8-7 lead going into the sixth. Joaquin Panelo would strike once more for CK Polo in the final chukker of regulation, but Beverly Polo's Hilario Figueras made two crucial goals from the penalty line to force overtime. Finishing just 5 for 12 on their penalties, Beverly Polo were unable to claim the victory in regulation and sent Keko Magrini to the penalty line to decide the game. Just moments into overtime, Magrini stepped up to hit the Penalty 4 to score the golden goal for a 10-9 victory.
Leading CK Shack with seven goals, including the overtime winner, Keko Magrini was named Most Valuable Player, while Magrini's "Los Machitos Misa" was also awarded Best Playing Pony.
Play in the Ylvisaker Cup continues on Wednesday, January 30 between La Fe and CK Polo at 11:00am ET, followed by Patagones against Beverly Polo at 3:00pm ET.
Photo Credit ©Alex Pacheco