Continuing play in the British Open Polo Championship for the Cowdray Gold Cup hosted by Cowdray Park Polo Club, Talandracas and Marques de Riscal clashed to produce a gripping match, as Marques de Riscal earned their second victory of League play 14-8.
Outshooting Talandracas in the field, Marques de Riscal was able to control the game on multiple offensive fronts, converting 11 of 24 in open play and scoring three penalty goals on four attempts. 9-goaler Pablo Pieres led a talented Talandracas team with five-goals in the contest, but it was no match for the firepower of Guillermo Caset's spectacular 10-goal performance to deliver Marques de Riscal the six-goal victory.

Trading goals in the field to opening scoring, Marques de Riscal managed to outshoot Talandracas early as Chris Mackenzie and Caset boosted their team to a 3-2 lead. Maintaining pressure in the third, back-to-back drives from Caset was just enough to overcome Muzzio's first of the match to take a narrow 5-3 lead into the tents.
In a low scoring first half with just eight goals between the two teams, Mackenzie and Marques de Riscal stepped up their offensive efforts and created space in the field to assemble a three-goal unanswered run. Determined to keep themselves within striking distance, contributions from Pieres and Muzzio held Talandracas within three. Taking advantage of Talandracas' foul troubles in the fifth, Caset sank three crucial penalty attempts to expand Marques de Riscal's lead 11-6 entering the final chukka of play. In a flurry of offense, Talandracas' Marcos Araya and Pieres each found the goal, but another three-goal chukka from Marques de Riscal saw two off the mallet of Aznar to earn the convincing 14-8 win.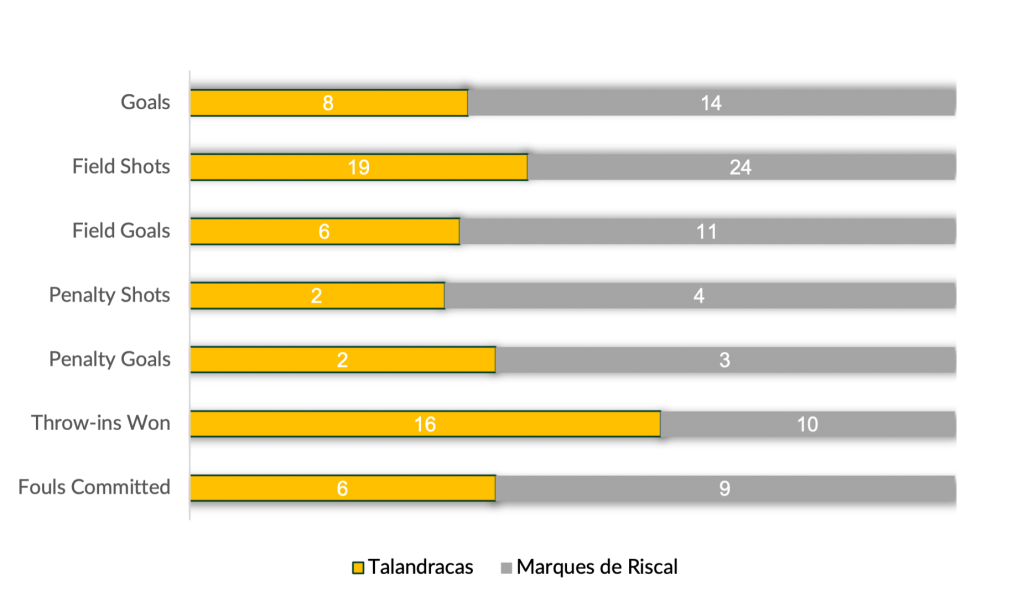 Finishing-off Tuesday's doubleheader, a captivating match between BP Polo and Vikings saw the team in white emerge victorious 12-6.
Matching each other in field shots, Vikings' accuracy was on display, shooting 37% and converting seven goals on eighteen attempts. Struggling to find the posts and shooting just 16% in open play, BP Polo kept themselves in contention converting three penalty goals on five attempts. Taking advantage of BP Polo's struggles from the field, Vikings' organized attack and team leading six-goal effort from Diego Cavanagh earned Vikings the convincing six-goal triumph.

Following an early conversion from BP Polo's Benjamin Panelo, Vikings asserted their offensive prowess, assembling a five-goal run, including three from Juan Martin Zubia to seize a 5-2 advantage. Trading two goals apiece in the third, Vikings' ability to pin BP Polo to a single field goal in the half combined with a forceful shooting effort gave them a commanding 7-4 lead at the half.
Carrying their strong play into the fourth, a three-goal chukka increased Vikings lead to six. Managing to temporarily stifle the dominance of Vikings in the fifth, BP Polo kept their opponents off the scoreboard for the first time in the match, with Panelo accounting for the only goal in the frame. Regrouping in the final chukka, Vikings' Cavanagh was back on the attack, as back-to-back goals capped off the 12-6 victory.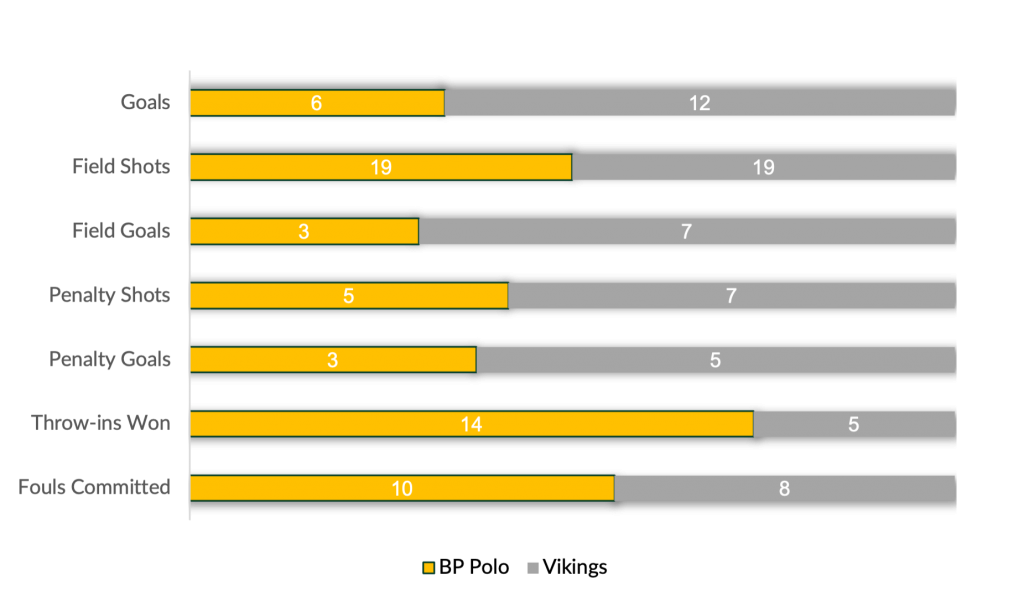 Photo Credit: ©Mark Beaumont