The Casa de Campo Polo Challenge 2023 came to an exciting close on Saturday, with the Casa de Campo team emerging as the Casa de Campo Open Cup winners. Casa de Campo triumphed 9-7 over the Power Infrastructure team in a nail-biting match that had spectators on the edge of their seats.
Hundreds of domestic and international visitors flocked to the event during the Semana Santa holidays to enjoy this high-level sport. The atmosphere was lively, with music, drinks, and tastings from various sponsors adding to the festive spirit.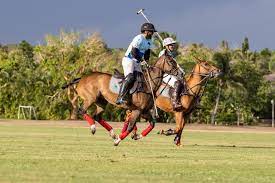 The audience was captivated by each chukker, which was packed with intrigue due to the players' high performance and the horses' skill. Casa de Campo's winning team comprised Alex Schad, Leo Matos, Dennys Santana, and Pablo Avalos. The Power Infrastructure team comprised Bijai Singh, Julián Díaz, Gilberto Constanza, and Miguel Mendoza.
Denis Santana was named the most valuable player, and Alberta Storm was awarded the best horse of the tournament.